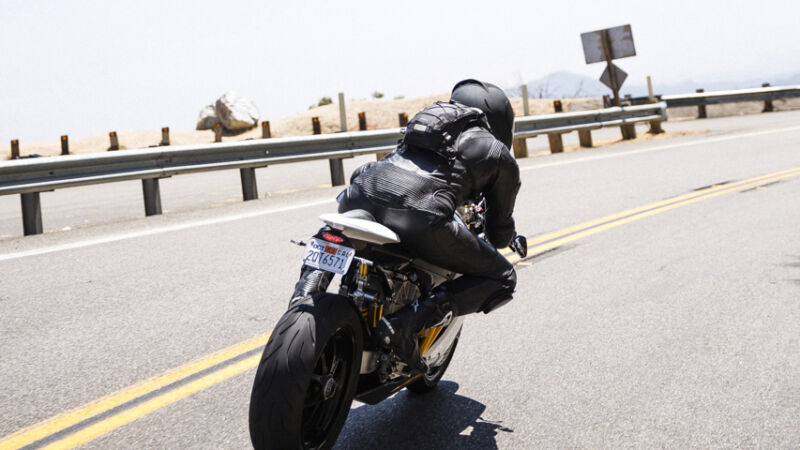 Law in Western Australia states.....
Protective clothing reduces the severity of injuries sustained in a crash, and bright coloured protective clothing will help other road users see you.

The law in Western Australia states that riders must wear helmets.

Helmets - A securely fitted helmet will last 1-5 years, depending on use. They are designed to absorb only ONE impact or drop.

Jackets - Choose either leather or non-leather alternative. Select a jacket with built-in shoulder, elbow and back protection that is abrasion-resistant.

Eye protection - Ensure you wear quality glasses with open-faced helmets or when riding without a visor.

Gloves - Should fit securely but comfortably, be reinforced, padded and able to improve your grip.

Boots - Buy boots that are light, secure and reinforced.

Pants - Choose pants that are comfortable and have built-in reinforcement.

Pillion passengers should be as well protected as you are, as their needs are the same.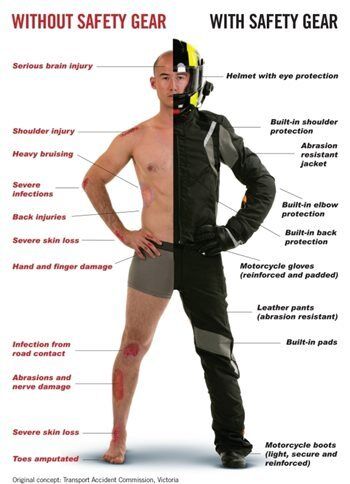 Motorcycle Maintenance
Get into the habit of getting your motorcycle regularly checked and serviced throughout its life. Before each journey you should be confident that your motorcycle will not let you down at a critical moment. Your owner's manual will list checks you should carry out.

Tyres - these should be in good condition and have a tread that is at least 1.5mm deep across the tread surface. Also ensure that the sidewalls do not have any cuts, cracks or bumps and that the tyres do not have any worn or uneven tread.

Tyre pressure - a bike handles correctly when the tyre pressure is set to the optimal level. Checking the pressure is best done when the tyres are cold, before you ride and approximately every two weeks.

Chain tension - riding with a slack worn chain can cause the rear wheel to lock, so it's important to ensure that your chain is correctly tensioned, as per your owners manual.

Lubricate the chain - lubricant should be applied to the pivot points of the chain to ensure optimal operation.

Brake Pads for wear - ensure that the brake pads have sufficient material to stop the bike when the brakes are fully applied.

Level of engine oil - ensure that the level of engine oil is in-between the high and low marks on the inspection window.

Level of brake fluid -the level of brake fluid on both the rear and master cylinder resevoirs should be checked regularly.

Level of coolant - check the level of coolant that is being used and top up as required.

Fork legs - ensure that the fork legs are operational and that there is no evidence of oil leakage

Electronics - check that all front lights, high beams, low beams, brake lights, front and rear brakes and the horn are working. Also ensure that your battery contains the correct level of fluid, topping up if levels are low.

Mirrors - ensure that all cables are in good condition, lubricated and free of kinks.