Balcony Bras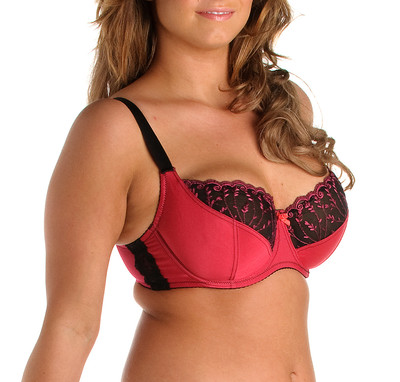 A 3/4 coverage bra, generally with a low horizontal cut, designed to be worn under a low-cut top. A balcony bra normally provides one half to three fourths the coverage of a full cup bra and the straps of a balcony bra are set wider apart than most bras.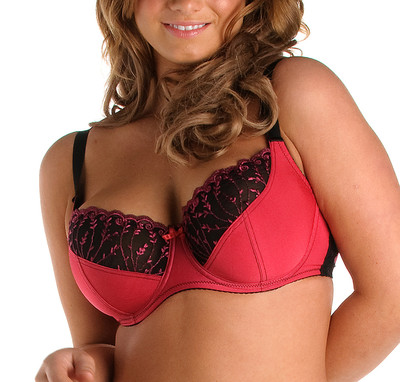 A balcony bra has the visual effect is somewhat similar to a push up bra but with a more natural, separated look and a lower cut. A balcony bra gives the appearance of your breasts being pushed up, creating cleavage in tops that's appropriate for lower cut necklines on shirts, blouses and dresses.
Because of the versatility in balcony bras - the ability to be worn with most tops and the sexy style of balcony bra designs - these bras have easily become one of the most popular bra styles. Many bra designers contribute to this cause, creating a versatile amount of styles and designs of balcony bras.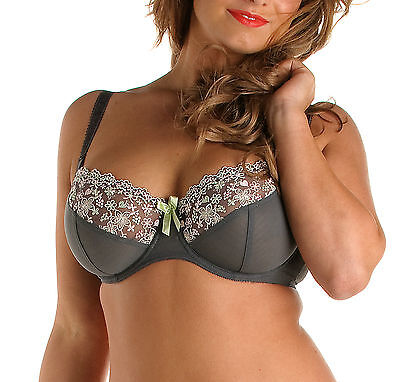 We offer many great, elegant balconette bras throughout our collections, such as the Tacy, Leonie, Daisy, LoveMe, Gigi, Ivory, Fancy Me, Marigold, White Lily, and Playful that offer better value for lesser price. You can take advantage of all of our balcony bra styles.
Structure of a Balcony Bra
The balconette bra offers less coverage which means that the support has to come from the bottom. In order to provide support, most balcony bras have an underwire. Without the underwire, the bra would not be able to support medium to large-sized breasts. Additional support comes from its wide band. The cups of a balcony style bra are cut in a way that reveal more of the top and inner parts of the breasts. The straps are also set wider so that more of the chest and shoulder area is exposed. Many balconette bras have padding to help lift the breasts.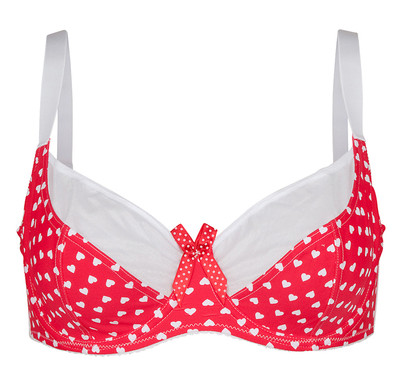 Benefits of a Balcony Bra
The balcony bra has several benefits which is why many women have at least one balcony bra in their wardrobe. These benefits range from its versatility to how the breasts appear in the bra. The benefits far outweigh the drawbacks of the bra. The table below lists some of the benefits of a balcony style bra.
| Benefit | Description |
| --- | --- |
| Added Cleavage | The strong support from the bottom of the bra creates an upward push that enhances the appearance of the cleavage. Breasts appear fuller and rounder. |
| Breast Size Enhancement | Many balcony bras have padding on the underside which add volume to the breasts when they are pushed upward. The unlined balcony would have extra strong wires. |
| Design and Appearance | Balcony style bras come in a wide variety of colors, patterns and fabrics. Additionally, the cut of the bra is flattering for the breasts. |
| Versatility | Because the balcony style bra is supportive, visually appealing, and enhances the appearance of the breasts, it can be worn with just about any outfit. |
Unlike many other specialty bras, balcony bras are supportive yet visually appealing. Usually women have to choose whether they want to wear a sexy bra or they want the added support. With a balcony style bra, women can have both.
When to Wear a Balcony Style Bra
The appeal of a balcony style bra is both in its appearance and its versatility. With so many different styles of bras, there are several that can only be worn on certain occasions or with certain outfits. Balcony style bras can be worn with just about any outfit and can be a better investment when bra shopping. Because balcony style bras provide a minimal amount of coverage, they can be worn with tops that have a very low-cut neckline. Some support is lost due to the reduced coverage, but not enough to make a difference for most everyday purposes. Since a good amount of support is coming from the bottom and the band, the balconette style bra can be worn for all occasions and with all outfits. The only limitation would be during times of physical activity when additional support is necessary.

FROM LINGERIEMODA