How to determine what size watch band to purchase.
There are a number of ways to determine what size is correct for your watch. If the old band is missing or doesn't have anything legible on it, then you need to measure the watch itself.
Measure the distance between the lugs of the watch as shown. If the gap between the lugs is 20mm,
then you require a 20mm watch band.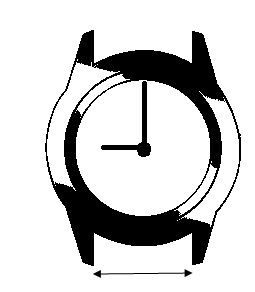 The length, width and hole placements of your watchband may also be important. Remember that when measuring your watch band, it is better for it to be a little tight than loose. This is because if it is loose, it can easily slip out of the watch lugs damaging the watch casing. When measuring the length of a watchband, it is easy to get a band with your exact measurements.
Leather watchbands have several holes making it easy to adjust the size, and can be adjusted to fit perfectly on most average size wrists. Extra large bands are available for those with a larger size wrist.

Watches with metal watchbands require may need some of the links removed. This is best done by a professional jeweler because if you do attempt to size your own watch, you could end up scratching both the timepiece and the watchband.
It is equally important that you save removed links because replacing them can be extremely expensive.

Sprinbars / spring pins
On a similar note, measuring what size springbars you need also depends on the space between the lugs of your watch. If that space is 20mm, order 20mm springbars. Don't use the exact measurement of your old springbars because they are designed to be longer than the gap they must fill.