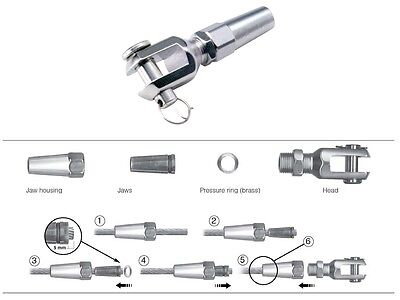 What is a Swageless Terminal?

Swageless terminals are designed to fasten to wire without the use of hydraulic swaging to create a pressure weld. They act with either a collet or a expanding cone to secure the wire underneath a threaded collar. They look lovely and seem convenient, but their construction has implications when used out of doors.


Add a caption
Top - Swaged "Jaw/Swage Rigging Screw", Left "2 of 6mm Lag Screw Eyes", Right Swaged "Fork Terminal"
What are Swaged Terminals?
When you are using Wire Rope, you need to fasten it to something. This something is a 'fitting'. The act of fastening a fitting to Wire Rope is called Swaging and there are two kinds (1) Manual and (2) Hydraulic.

Manual Swaging is done on copper or aluminium swages (ferrules) using a glorified pair of pliers with specially sized and shaped grooves. Hydraulic swaging is done on tubular stainless steel fittings

Basically, swaging involves crimping, squishing, bits of metal (parts of the fittings) so that the fitting is pressure welded to the wire very securely. The target is a secured fitting that has strength equal to or exceeding that of the wire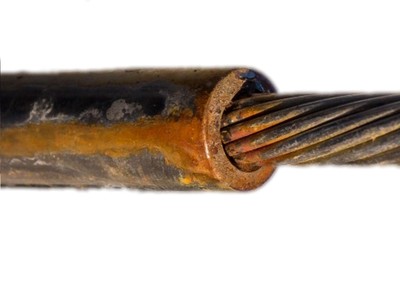 Are Swageless Terminals Recommended?
Sorry - not recommended on any level.

The implications are:
(1) Swageless Terminals are more complex in design and construction, requiring more parts, more machining, and greater precision therefore they are much more expensive - at a cost and a retail level. Even if used indoors for more than about 4 wires, Swageless Terminals are more expensive than either Pre-Swaged wire (cut and built wires with fittings) or Swaged Terminals plus Tools.

(2) Swageless Terminals do not have a strength equal to a swaged terminal simply because under load - properly executed welds are at least as strong as the original material,
(3) Swageless Terminals have a structure that produces a 'pocket' or space inside the fitting once it is properly fitted. If the fitting is used outside without caulking, then the pocket WILL fill with water and dissolved contaminants (salt, acid, etc). Capillary action will both fill the pocket and then distribute the contents of the pocket throughout the wire - resulting in Tea Staining and Corrosion over time (the length of time before it looks like something Orange died on your wire depends on the weather, the wire structure, and the quality of the installation)
Okay - now What?
Given that Swageless Fittings are nice to look at and seem convenient at the time – experience says that they are
prone to causing corrosion in the attached wire,
expensive to install,
lack integrity and strength , and over time
look like Hell incarnate (…reminds me of my ex LOL)
We don't recommend them or stock them.
I am sure that others do – but then again someone will probably marry my ex…
But we DO have kits and bits for both mechanically and hydraulically swaged fittings that are listed on eBay - or you can call us on 1300 601 514