SHADOWLESS POKEMON CARDS
Please vote YES (at the bottom of the page) if you appreciate the time and effort it took a group of us to write this guide. The guide has had over four thousand views but only 80 people have voted. :(
An easy to understand guide teaching you the basic differences between Shadowless and non-Shadowless Pokemon Cards.
Copyright iCollected
VISIT MY STORE FRONT FOR MORE GUIDES
Shadowless
Only 2 sets contain SHADOWLESS cards, the 1st edition English Base Set (Often just 1st Edition Base Set) and Unlimited Shadowless English Base Set (Often just Shadowless Base Set).
Shadowless cards do not have a smudgy black "shadow" around the box of the Pokemon Artwork. Furthermore, the HEALTH POINT of the pokemon is thinner
(less
bold
).
A 1st ED shadowless will have the extra "1st Edition" insignia (worth about 10 times more than unlimited).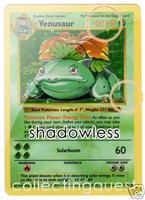 Regular

All cards after the first two series contain a shadow around the box and the Hit Point text is
bolder.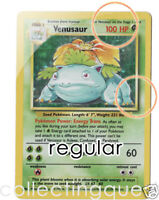 Trainers/Energies
Trainers and Energy cards from the base set do not have shadows even for the unlimited print. To distinguish the unlimited from the limited shadowless run, look at the printed year it should read:
1995, 96, 98,
99
Nintendo, Creatures, GAMEFREAK (c) 1999 Wizards.
The bolded "99" is
not
present on the
unlimited print.
Whilst neither prints have a shadow, they are printed in the same run as the shadowless monster cards and are as such, still considered under the banner of "shadowless".
value:
Value of each card depends on market availability and demand and as such, fluctuates greatly throughout the years.
However, let's consider the above VENUSAUR as an example to give you a basic average between the pricing of each series.
MINT 1st Edition Venusaur (SHADOWLESS) Base Set: $50AUD-$400AUD (depending on its quality, if it is GRADED 10.0 then it'll be around $400).
MINT Unlimited Venusaur (SHADOWLESS) Base Set: $20AUD - $100AUD (again depending on quality).
MINT Unlimited Venusaur (regular) Base Set: $8AUD-$20AUD
That's all for now! I hope this guide helped clarify some issues! CHEERS.
iCollected Team