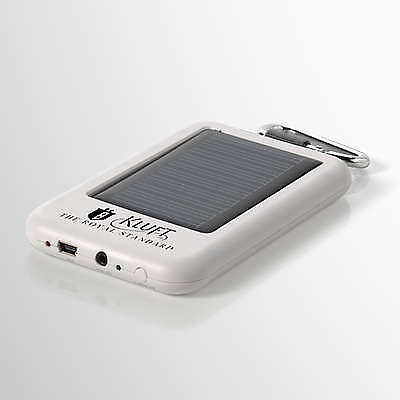 There are all kinds of commonly used devices, such as mobile phones, digital cameras and MP3 players, which need to be frequently charged up before use. Solar chargers offer a convenient and simple way to recharge these devices anywhere.
These chargers work similarly to traditional chargers, in that a device can be plugged into them with the use of a charging cable to recharge a battery. The solar charger, however, does not need to be plugged into a mains outlet, instead converting sunlight into electricity. Solar chargers are useful for a wide range of electronic devices, and a variety can be found on eBay.
Types of Solar Charger
There are a number of different types of solar charger available which can be useful for recharging different items.
| | |
| --- | --- |
| Folding | Some solar chargers can be folded. These folding chargers often consist of a number of panels which can be folded into one another, and closed up when not in use to greatly reduce the surface area of the device. These chargers are ideal for use as if they will be frequently transported, and the folding mechanism may also mean that additional protection is offered for the panels when they are not in use. |
| Rollable | Rollable solar chargers are similar to folding chargers, in that they can be easily and quickly closed up for travel or storage. While folding chargers are often made up of separate panels which fold into one another, rollable solar chargers make use of thin film technology which allows the whole panel to be rolled up. |
| Portable | Many solar chargers are designed specifically to be portable. These will often be very small in size, which can be easily put away in a car, or carried in a bag or even pocket. This means they can be carried around and used anywhere, whenever a phone or other device needs to be charged. However, due to their reduced size, they may not offer as much power as larger devices. |
| USB | Solar chargers featuring a USB input. These can be used to connect and charge devices which are compatible with USB ports, which enable the charger to connect to an enormous range of devices. USB cables are also affordable and widely available. |
| Multi Device | Solar chargers which are capable of charging multiple devices are also available. These typically offer a wide variety of outputs and inputs, meaning that they are compatible for use with a wide range of different electronic devices. In addition, larger devices may be capable of charging more than one device at once, which can be useful for those with a number of different rechargeable devices. |
| Battery Charger | While many solar chargers make use of internal batteries, which are charged up and then used to transfer the power to a device, solar powered battery chargers are also available. These are used to charge up rechargeable batteries, which can then be placed in other devices. It is important to check the compatibilities of these devices, as solar chargers can often only be used with specific sizes and types of battery. |
| Flashlights and Radios | Solar chargers are available which offer inbuilt features to add utility to the device. A popular type is those which have a built in flashlight that is solar powered and sometimes can also be powered with a hand crank. Another popular type is the radio solar charger, which features a radio that draws power from the solar panel and internal battery. |
Solar Charger Key Specifications
Solar chargers can be differentiated by a number of key specifications, which can determine what uses the charger is most suited for.
· A key aspect of any solar panel, including those used in solar chargers, is the size. Larger solar panels have more surface area which means they can make use of more light at a time, generally increasing the power output of the device.
· Size is only one factor on how much power a panel generates. The brightness of the sun and angle of the panel will also be impacted. The best results can be obtained from placing the panel at a 90 degree angle from the sun on a bright day.
· Many solar chargers will offer an average power output, which can suggest what the charger can be used to effectively charge. Around 14 watts, or 15.4 volts can be useful for powering satellite phones or charging a laptop, while 4.5 watt chargers may be more suited to smaller devices.
· Some chargers may also include a power meter, which can give an indication of the level of power currently available in the charger.
Solar Charger Accessories
A wide range of accessories which can be used with solar chargers are available.
· A variety of cables can be useful, often enabling the charger to charge different items. This can include USB cables, or charger cables which are often designed for use with specific models of MP3 player or phone handsets.
· If a larger solar charger needs to be transported or stored, a carry bag or case may also be a useful accessory. This can make moving them easier, as well as offering some protection for the panels.
· If a solar battery charger is being used, then a supply of rechargeable batteries will be required. Take note of the size and type of battery the charger is designed for use with, as it may not function properly with the wrong size or kind of battery.
How to Buy a Solar Charger on eBay
There is a wide range of solar chargers and accessories available in eBay which can be used with a variety of different devices.
· The full listing of solar chargers available for purchase can be viewed through the Electronics portal. Solar chargers can be found in the Chargers, Inverters section of the Solar category.
· Important information about a solar charger, such as the power output and type of charger, will often be prominently displayed in the item listing, making it easy to quickly establish if an item meets any specific requirements.
· More detailed information can be found on the item page. This includes information about the seller, such as item reviews and feedback ratings, which can help to ensure that a purchase can be made with confidence.
· If a specific solar charger or accessory is required, it may be easier and more effective to make use of the search function, which can be found at the top of every page. Entering a keyword into the search bar will return relevant results from across the site, or from within a specified category.
· Look out for any deals which may be available on solar chargers in the Electronics category.
Conclusion
Solar chargers can be used to recharge a wide variety of electronic devices, including mobile phones, cameras and MP3 players, when access to an electricity outlet is not available. Chargers are available which can be folded or rolled away, making them an ideal choice for those with limited space, or who will travel with their charger regularly. The power output of a charger can depend on the strength of the sunlight, as well as the size of the panels themselves. A wide range of solar chargers and other solar items can be found on eBay.