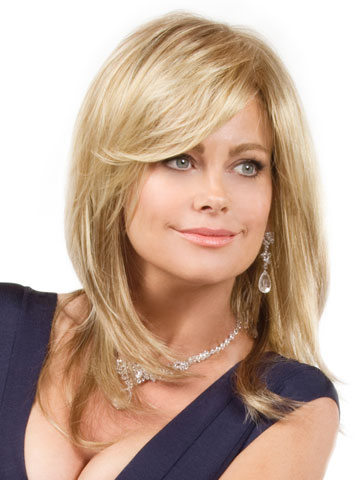 Every woman wants long, luscious locks – just look at any of the hundreds of adverts on television on a daily basis and it is clear that soft, shiny, lustrous hair is big business. But not all of us are lucky enough to have great hair – fine and lackluster hair combined with slow growth is enough to frustrate many women, and some women suffer hair loss from skin conditions such as Alopecia or from aggressive cancer treatment.
This is where wigs can help, and eBay has a wide range of wigs in different styles to suit the needs of all women. It is easy to find wigs at an affordable price online, compared to buying in specialist stores, so women can afford to have several wigs for different occasions.
Why Wear a Wig?
There are many different reasons why women may choose to wear a wig – some of the most common reasons are listed below:
Fine, lackluster or flyaway hair which is difficult to style
Wanting to try a different style without changing hair (for example a different colour, or curly instead of straight)
Thinning hair or hair loss due to a condition or medical treatment
Damaged hair from perming solution, bleach or dye
Whatever a woman's reason for wearing a wig, the frequency with which it is worn will dictate the type and style of wig chosen. Acrylic or synthetic fibre wigs are ideal for occasional use but not best for everyday wear, whereas wigs made from natural human hair are the best for wearing on a daily basis.
Different Styles of Wigs Available
There are many different styles of wigs to choose from, and it can be difficult to know where to start. Shopping online on websites such as eBay is a great option as it allows the buyer to search for specific criteria when hunting for the perfect wig. Here is a guide to some of the different types and styles of wigs available to choose from:
| | | |
| --- | --- | --- |
| Wig Type | Features | Designed for |
| | Most natural looking wigs – these are breathable and lightweight, and offer a realistic look. The parting can be changed and the wig can be worn in a variety of styles including up-dos, braids and ponytails | Ideal for everyday wear for those suffering from thinning hair or hair loss. |
| | Whilst some brands of synthetic wig can look very natural, the synthetic fibers do not last very long – generally a 3 to 6 month lifespan on average. These also cannot be heat styled. | Whilst some women like to wear them on a daily basis, they are not as breathable or comfortable as lace wigs so more suited for occasional use or for special events. |
| | These give the appearance of natural hair growing from the scalp so the wig can be parted in the desired direction. One of the most popular types of wig thanks to its natural look, comfort and ventilation which prevents itching and moisture build up. | Ideal for everyday wear and the preferred type of wig for many women - a wide range is available to choose from on eBay. |
| | Because human hair is used in these wigs, they can be washed, dried and heat styled as with natural hair. They are durable and feel natural but require more maintenance than synthetic wigs. | These offer the most natural look and feel for everyday wear but require more maintenance so may not be the best option for women looking for a low maintenance wig. |
| Dermafix Wigs | Dermafix wigs use 'artificial skin' material, which allows for a comfortable, lightweight feel. Dermafix strips 'glue' the wig to the wearer's head using the natural body heat and are one of the most secure types of wigs available. | These are extremely secure so perfect for women suffering hair loss or thinning hair and whom are self-conscious about their wig remaining in place. |
| | Hand-tied wigs use monofilament fibers and are very natural looking. It is easy to part them and they give a natural scalp appearance – it is possible to find both human and synthetic hair hand-tied wigs. | The natural look of the scalp is perfect for women who may be concerned about wearing a wig. Hand-tied wigs can be easily found online – eBay has a wide range to choose from. |
Popular Wig Brands
Whilst some women will opt to have a wig custom made, there are many popular brands and it is easy to find most of these on eBay. Here are some of the most popular wig brands around today:
It can be difficult to know which brand to choose, but by browsing on eBay it is easy to read about each wig's characteristics and benefits. Remember that opting for a lightweight and comfortable wig is important if it is to be worn on a daily basis. Selecting a brand is a personal choice and will depend on budget and the type of wig desired, as well as the length, style and colour desired.
Finding the Perfect Fit
When shopping online, websites such as eBay often have size charts in the product listing, which can be referred to when searching for the perfect size of wig. Size charts can vary depending on the manufacturer, and it is important to follow their guidelines when measuring for a new wig.
Many wigs listed on eBay come in an 'average' cap size, although it is possible to find larger and smaller sizes as well as wig manufacturers who can make items to order. If in doubt, always contact the seller with your measurements to check the wig will fit before purchasing.
How to Choose the Right Type of Wig
Choosing the right type of wig will depend on a number of factors including personal style and budget. Here are a few important factors to take into account when choosing the right type of wig:
Budget – how much money is available to spend on the wig?
Type of wig – for example full lace or monofilament. This will depend on budget and desired look.
Synthetic or real hair – this decision will depend on available budget as well as the occasion the wig is to be worn for.
Style – a long, curly chestnut wig may be easier to find than a short red bob wig, but eBay has a wide range of styles available to choose from.
Length – there are both short and long wigs to choose from, but bear in mind that a longer wig will be harder to maintain, particularly if it is made of human hair.
Brand – is the brand important? Is there a specific brand that is desired – perhaps one which has been recommended by a hair salon or a friend.
There is no 'perfect' wig that will suit everyone and it is important to consider the above factors and take time to choose the right wig. If in doubt, it might be a good idea to visit a local wig specialist and try on various styles before finally purchasing online, on websites such as eBay, where wigs are far more affordable.
Synthetic or Real Hair – Which is Best?
Neither synthetic nor human hair is best when it comes to wigs – it is a personal decision which to choose and budget, taste and the desired longevity of the wig will all come into play.
Whilst synthetic wigs require less styling and maintenance, they can sometimes be hotter and less comfortable to wear, and they will only last between 3 to 6 months on average. Human hair wigs offer a natural look and feel but require more maintenance and styling to keep their beautiful appearance – although one of the benefits of human hair wigs is that they can be heat styled like natural hair.
How Buy Different Styles of Wigs on eBay
When shopping online for wigs, eBay should be the first port of call – there is a wide range to choose from to suit all tastes and budgets and it's easy to find some great deals on wigs on eBay. Visit eBay and head for the drop-down menu marked 'Shop by Category' which is located at the left-hand side of the page. Click to open up a list of categories and scroll down to click on 'Fashion'. In the left-hand menu, hover over Women's Accessories' and click on Wigs, Extensions & Supplies.
Because there are so many different types of wigs available to choose from, it can be helpful to narrow a search using a certain term if looking for something specific. By typing the words related to the search, such as 'Long Red Wig' into the main search box, a list of all the available items will be shown.
Conclusion
With so many different styles of wigs to choose from, it can be difficult to know where to start when shopping for a new wig. Those looking for a wig to wear on a daily basis need a comfortable, lightweight wig which allows the scalp to breathe, and lace and monofilament wigs are most popular for these reasons.
eBay has a huge range of wigs in various types, colours and styles to choose from, from many leading brands, and it is easy to find the desired type of wig using the search function. It is possible to find both new and pre-owned wigs at very affordable prices online, compared to shopping at a specialist wig retailer.