A Smart TV, like your smartphone, connects to the internet in order to offer a variety of internet-connected services. These TVs give you access to apps, media streaming - movies, music, videos, etc, web browsing, games and more.

Video streaming services include On Demand or Catch Up programs from the major TV broadcasters, such as ABC iView, SBS and Plus 7. This means you can watch your favourite TV shows anytime you like, from the comfort of your couch, on a large, clear TV screen.

Stay in touch with the world from the comfort of your couch, with apps for Facebook, Twitter, email and more. You and your friends can easily gather around to view photos, articles and posts from one big screen.

Find the answer to your question: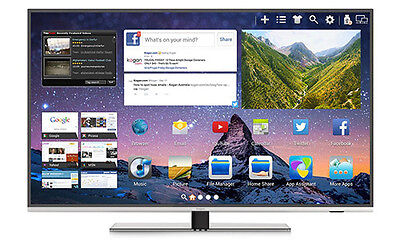 How does Smart TV work?
Connect: The TV connects to your home internet connection via an Ethernet cable or a Wi-Fi connection.

Access: You can access the smart functions via the Home Menu. This lets you choose from the various functions available, as well as providing access to app stores where you can download new apps such as games, internet radio, weather and entertainment.

Control: Smart TVs can be controlled with the included remote control. However to experience complete, effortless control, a wireless keyboard with trackpad is recommended.

What can you do on a Smart TV?
Watch TV shows and movies on demand via streaming and download services
Stream live sports
Watch YouTube
Browse the internet
Check Facebook, Twitter and more
Stream and listen to a wide range of music
Play games
Make Skype calls to family and friends
Shop online
What is IPTV?
'Internet Protocol Television' is the technology that allows television services to be provided through the internet rather than an antenna or coaxial cable. This means you can set up your TV anywhere, as long as it is within Wi-Fi range and has a power source. You can even watch it outside!
What is DLNA?
DLNA, or 'Digital Living Network Alliance', allows you to stream media from other DLNA-compatible devices such as smartphones, tablets, laptops or computers to your Smart TV. This means you can watch a video that's stored on your laptop, on your Smart TV.
What is Home Share?
Home Share lets you share files with multiple devices in one household, or network. This is an excellent way to save space and ensure everyone has access to shared movie and music collections.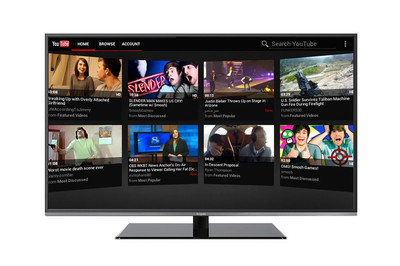 How do I connect my TV to the internet?
You can do this via Wi-Fi connection or by plugging an Ethernet cable directly into the TV.

Setup is is different for each model but this will be outlined inside your units user manual.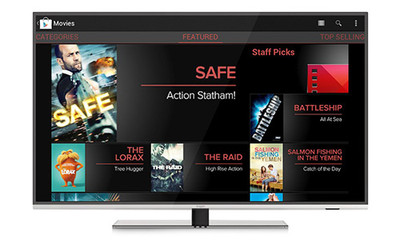 What kind of apps can I get? Where do I get them from?
The most popular app store for Smart TVs is Google Play. When you visit the Google Play store on your TV, you will be presented with all the apps available. Apps for Smart TVs cover a wide range of categories, from news, entertainment and games, to apps that let you use your TV in new ways, for example by mirroring the display on your mobile device to your TV.
Here are some of our favourites:
Kogan App - Browse our extensive range from the comfort of your sofa :)
Skype - Free voice and video calls to internet connected devices.
Spotify - Stream any music you like.
Chromecast - Mirror the display of your mobile device to your TV
YouTube - Watch hilarious videos of cats, children and other ridiculous things.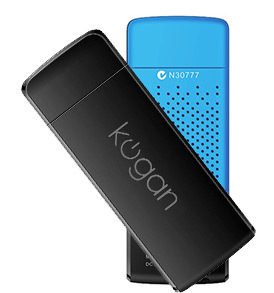 Can I access "Smart" features on a regular TV?
YES! If you don't want to replace your TV just yet, you can get the same smart features on a regular TV by purchasing a smart Set Top Box, Media Player or Dongle. The only requirement is that the TV has an HDMI input socket.

We recommend the Kogan Agora Smart+ HDMI TV Dongle - a tiny device that plugs into the HDMI input at the back of your TV. It allows all the same functions as a Smart TV, such as the streaming of your favourite online movies, TV shows, music, games and more.