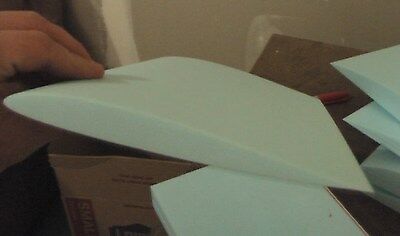 Add a caption
StyroFoam - Perfect Choice for Wings & Model making
Click to Edit Caption
3 popular types of air foil!
Cutting a wing shape is the most critical step in your scratch build project.
I have given below three types of popular wing cuts
Flat bottom, Symmetrical & Semi symmetrical wing cuts.
What's an air foil : If you face the wing tip of the plane and cut it from front to back, the cross section exposed would be the wing's air foil.
The Flat-Bottom
Air foil will develop the most lift at low speeds and helps return the model to upright when tilted. This is ideal for trainers and first-time pilots.
A Symmetrical Air foil
's top and bottom have the same shape, allowing it to produce lift equally whether right side up or upside down and to transition between the two smoothly. This is recommended for advanced pilots.
Lastly, a
Semi-Symmetrical Air
foil
is a combination of the other two and favoured by intermediate and sport pilots.
"In our next guide we'll discuss about the Wing Position/Placement. Wing placement, for the most part, falls into two major categories—high wing design and low wing design. "
VISIT OUR eBAY STORE FOR LOADS OF MODELLING FOAM IN VARIOUS SIZES AND SHAPES :)