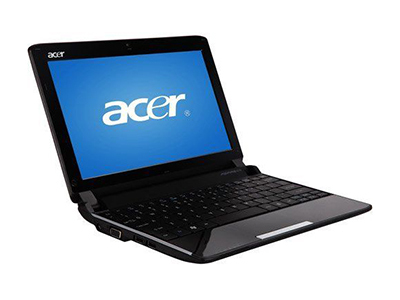 The word "netbook" refers to a type of small-format, portable computers which were produced between 2007 and 2013. They have remained popular with consumers because of their convenient size and affordable prices. Here is a look at how netbooks fit into the rapidly evolving lineage of mobile computing options.
Creating a New Market Niche
Although laptop computers were growing smaller and lighter throughout the 1990s and the 2000s, the word "netbook" first appeared in 2007. It was used by Asus to describe its Eee PC 700, a computer that had an 18-centimetre screen and weighed less than one kilogram. This miniature laptop was intended for use in developing countries where its affordable price would allow many more people to join the online world. With a keyboard that was 15 percent smaller than the standard size and a lightweight Linux operating system, the first netbook sacrificed some functionality in the interest of price and size. The response from the public was highly enthusiastic. When Dell and Acer saw that over 300,000 of the little Asus netbooks were sold in the first four months, they quickly developed their own versions.

Netbooks in Their Prime
By 2008, consumers were showing a preference for netbooks over standard laptops. These simple, affordable devices were an ideal solution for people who simply wanted to surf the net and send email. In 2009, all the year nine students in New South Wales received a Lenovo IdeaPad S10e netbook from the NSW Department of Education and Training. It was estimated that netbook sales in 2008 exceeded those in 2007 by a factor of 30 worldwide.

Netbooks Led to Tablet Development
When manufacturers saw that consumers were excited by a small, streamlined mobile computing device, they went to work on creating tablet computers. After the first iPad appeared in 2010, tablet computers began to win over the part of the market that netbooks had briefly ruled. Many people who were looking for a second computer to tuck into their purse or briefcase now turned to the iPad, and netbook computers gave way to tablets.

Netbooks Still Fill a Need
Although netbooks have not been manufactured since the end of 2012, they are abundantly available and offer one important functionality: the ability to type easily. Unlike tablets, netbooks feature a traditional keyboard. In some cases, this keyboard is even a standard size. For consumers who aren't looking for the graphics capacity and computing power of an ultralight laptop but want to type out their emails on a regular keyboard, netbooks provide a practical and affordable option.
Wide Selection of New Netbooks
Shoppers searching for a small portable computer can find many new netbooks on online retailers. These netbooks offer the choice of several different processors. Memory capacity ranges from 512 MB to 8 GB. Consumers who have a fondness for straightforward technology may find that a netbook can meet their mobile computing needs for years to come.