What is Message Jewellery?
There is a huge trend at the moment in jewellery. You've probably seen it around and noticed it becoming more and more popular lately. What I'm talking about is jewellery with writing on it. There are necklaces, bangles and rings. And they all have a message.
Some are perfect as gifts for a friend or sometimes the message means something to the buyer. But the trend is growing every day and the types of messages you can find are very inspirational and positive. It's a bit like all of those signs that you see everywhere. "Live Love Laugh", "Dance as though no-one is watching". Same sort of thing, except now you can wear the message.

Why is the price range in this jewellery so vast?
Prices for Message Jewellery vary greatly depending on the material used to make it. You can find cheap copper or brass bangles from $5 each, right up to Solid Sterling Silver ones for $100. As with most things, if you stick to the middle price range you will buy something that is well made, and of a good quality that will last. If you buy too cheap the colour will wear off very soon when you wear it. If you spend too much then you have to be sure you really really like the piece. If you spend around $30 to $40 you will usually find the jewellery is Silver Plated and very well made.

What does it look like?
Basically Message Jewellery has been engraved but on the outside of the jewellery so that everyone can see it. In the old days, sometimes jewellery was engraved on the inside with a personal message or a name/date etc. Now the engraving is on the outside and showing a message for the whole world to see.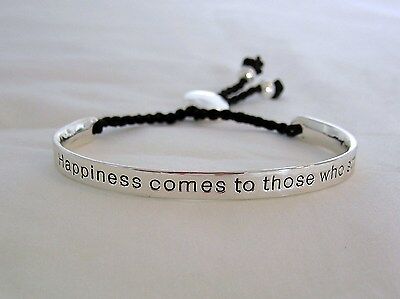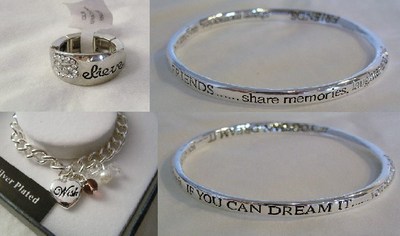 After reading this guide, please take a moment to vote so that I know if it was helpful to you or not. thankyou!!
Why is this trend so popular?
Giving a gift with a "message" has become a popular trend in the last 10 years. It could be a sign or a piece of jewellery. But basically we love to state our feelings and to let everyone know what we think. We are learning, as human beings, to express ourselves more freely. This is a good trend because it helps to encourage honesty. In the old days people didn't talk about their feelings and there were a lot of misunderstandings. There was a lot less "love" in the world. This current trend probably encourages even more "love" than the hippy trend in the 60s did. Children are being given a real 'childhood' and there is no shame in having fun and acting like a child even when you're not. I must say I do like this trend!!