While choosing the sunglasses, it is always important to read and understand what is written inside them.
Just having a quick look inside, you can understand where the sunglasses were produced, their exact dimension and a model, safety requirements they comply to, appropriate weather conditions for using them.
So, what we can find inside?
Brand's name

This is pretty much simple. We have never seen good sunglasses without its brand written inside even though it might be a brand's logo outside


CE mark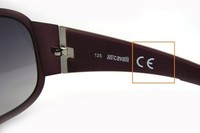 The mark ensures that the sunglasses were produced in the EU and comply to European Standard on safety EN 1836:2005, the American standard ANSI Z80.3 as well as the Australian Standard AS 1067.1


Combination of numbers and letters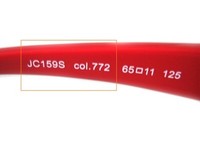 In this code the manufacturer specifies a brand, a model and a color:
- a brand is usually abbreviated with 2 letters (Miss Sixty - MS, Just Cavalli - JC, Tom Ford - TF, Replay - RE)
- a model can be specified either in numbers (318S, 640S/S, 591S) or in name ("Rodrigo" by Tom Ford, "Sophia" by Tom Ford, "Fedra" by Roberto Cavalli, etc.). Some models might have both variants at the same time. Needless to say, that the knowledge of exact specification of a model can simplify a lot its search
- a color specification that might start from the word "col.". Different producers have different coding of colors.


Dimension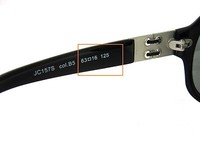 This code can help to understand the actual dimension of lenses (eye), a bridge (the part which connect two lenses above the nose) and temples (the sticks which fix the glasses on the ears). Please, draw your attention that all measurements on EU produced sunglasses (at least those, which are made in Italy) will be in mm (1mm=0.0394" ).
In the picture the code is 63-16-125. The first number refers to the length of the lenses in mm (just the glass part, the frame is not considered, so draw your attention if the frame is large). In our case according to the picture with a black frame, the length of lenses is 63 mm or 2.48". The second number refers to the bridge. In our case according to the picture with a black frame, the length of the bridge is 16 mm or 0.63".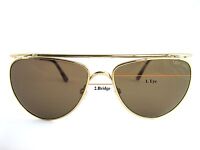 The third number refers to the temple. In our case according to the picture with a black frame, the length of the bridge is 125 mm or 4.92"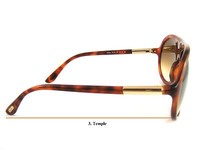 In order to understand if the sunglasses will be too large or too small, it is enough to calculate the width of sunglasses using a formula "lenses+bridge+lenses". Please, don't forget to add a couple of mm for a frame


Filter category
Filters serve for light transmission limit.
There are 5 filter types:
Filter 0 - very light lenses, 80-100% light is transmitted. Recommended for dimmed brightness (rainy, cloudy days)
Filter 1 - light lenses, 43-80% light is transmitted. Recommended for high contrast brightness (cloudy-sunny days with not very bright sun)
Filter 2 - medium dark lenses, 18-43% light is transmitted. Recommended for medium brightness (sunny days)
Filter 3 - dark lenses, 8-18% light is transmitted. Recommended for high brightness (very sunny days, beaches)
Filter 4 - very dark lenses, 3-8% light is transmitted. Recommended for extreme brightness (mountains, seaside, snow). The only one type of filter prohibited for driving
Non of the filters can be used for direct observing of the sun.
A type of filter can be written inside the sunglasses or on the box/plastic bags/certificates supplied with sunglasses


Country of origin
Country of origin can be specified or not. A lot of sunglasses produced in Italy will have "Made in Italy" sign written inside the sunglasses. However, it is not very uncommon that this sign will be missing (Just Cavalli, Replay, Miss Sixty sunglasses, etc)


PPE - personal protective equipment
The PPE class is normally specified in the paperwork. Fashion sunglasses are rated class 1 which means that they protect from the harmful effects of the sun's rays and offer UV Protection according to main international Standards.

PPE is divided into 3 categories:
class 1 - simple (protect an individual from minor harms such as minor impacts and vibrations, minor atmospheric agents, sunlight, etc.)
class 3 - complex (intends to protect against mortal danger, or against dangers that may seriously and irreversibly harm the health of an individual)
class 2 - neither simple nor complex, described by special directives.
We hope that this guide was useful for you!
Good luck with sunglasses!