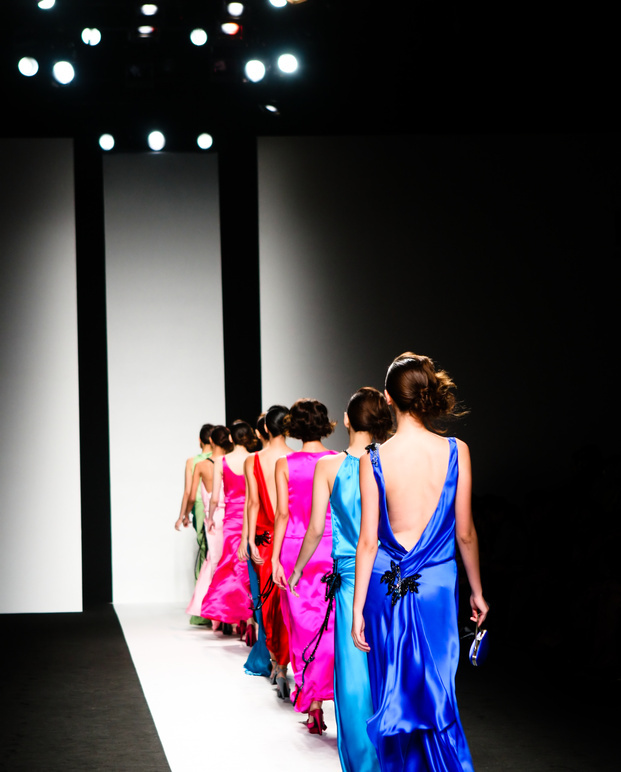 It can be a daunting feeling to try to integrate fashion designers' visions into a person's wardrobe. Collections have a tendency to seem highly conceptual and only vaguely wearable, making the clothes seem appropriate only for actresses and heiresses. Venues like the 2014 Fashion Week in Brisbane proved that designers do care about the average woman and want to produce wearable clothing. This particular Fashion Week offered several collections from designers that aim to flatter every woman's figure.
Akira: past meets present
A true veteran in the fashion industry, Akira's vision presents the wearer with timeless, feminine pieces that harken from the past, suit the present trends, and shall remain current in the future.
His collection featured at the 2014 Fashion Week in Brisbane combines soft, flowing fabric with strong geometric shapes and asymmetrical hemlines. He primarily dips into the colour palette of goldenrod yellow, dark orange and rich purple. He pairs most looks with platform heels that have ankle straps in vibrant hues, such as orchid pink or deep red. However, the clothes could easily give off a relaxed feeling with flats, sandals, or boots.
Maiocchi: eclectic and effortless
Maiocchi puts out a collection for the 2014 Fashion Week in Brisbane that flatters any figure. This is a concept that is synonymous with their name because it has always been one of their core values.
Deanne, the designer, juxtaposes inspiration for this collection from world travel, vintage vibes, and Eastern craft processes against the backdrop of simple silhouettes for this collection. The end result is easily wearable ensembles that simply stun with saturated colours, delicate florals, and overlapping stripes. The primary colour palette incudes deep violet, black, and a wide range of reds. The collection consists of dresses and skirt separates with a variety of necklines. The skirt hemlines hit just at the knee or slightly below.
Ginger and Smart: work meets play
Ginger & Smart turned heads at the 2014 Fashion Week in Brisbane with a collection that transitioned seamlessly from the workplace to the weekend. Designers Alexandra and Genevieve Smart stick to the mostly neutral colours of black, grey, and white with cobalt, claret, and touches of aqua thrown into the mix.
Their pieces can be dressed up or down depending on the accessories, such as swapping heels for flats or boots, adding or removing jewellery, or giving oomph to the hair and makeup. The line has a luxurious feel thanks to high quality fabrics and excellent manufacturers.
Sacha Drake: cleverly convertible
Sacha Drake's collection showcased at the 2014 Fashion Week in Brisbane strikes a chord with wearers because it aims to be both functional and flattering without compromising on chic style.
The ensembles are easily interchangeable with one another. The designer relies on heavy doses of black and white with classic patterns such as vertical stripes, polka dots in various sizes, swirling feathers, and lace. Interspersed amoung the neutral outfits are decidedly feminine floral pieces in soft pinks, purples, blues, and green with pops of bright yellow tossed in for contrast. Some outfits are paired with black or pink quirky hats. The models have long, side swept hairstyles and natural makeup.
Daniel Lightfoot: black ballroom
Daniel Lightfoot's collection for the 2014 Fashion Week in Brisbane unequivocally proves that black does not have to be synonymous with basic. His stunning evening wear collection couples plunging necklines with high slits up the leg that look dramatic without crossing into risqué territory, making them wearable for nearly any night time formal event. Many of the gowns feature sheer panels and cut outs to amplify the sensual aspect of the collection.
Rather than selecting only satin or silk, the standard issue choices for formal wear, the designer integrates georgette, chiffon, and jersey into his work. The embellishments and accessories practically glow against their dusky backdrop thanks to Swarovski crystals and sequins. He compliments several of the gowns with extra long pearl necklaces that reach nearly to the models' knees.
How to buy clothes inspired by what to expect at the 2014 fashion week in Brisbane on eBay
Now that you have investigated collections featured at the 2014 Fashion Week in Brisbane, turn to the reliable sellers on eBay to integrate inspiring pieces into your closet. From any eBay page, enter the term into the search bar. Be specific because it helps narrow the results. For example, typing "black maxi skirt" yields more exact results than simply typing "skirt". Let the designers' vision from Brisbane Fashion Week loose in your own life with your new clothes from eBay.