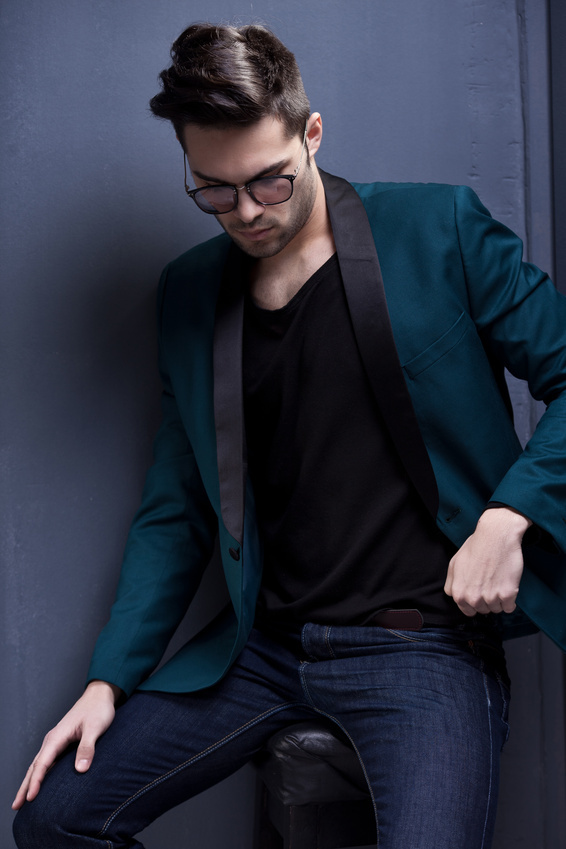 Choosing what to wear with jeans for a smart casual look can be difficult. 'Smart casual' is rather a vague term and is open to different interpretations. Finding items of clothing that go together well with jeans for a smart casual look is easy if one follows this guide and take in its considerations.
This guide will go through the various tops, shirts, jumpers, cardigans, shoes, and other items that can help to make one look great. All of the items mentioned in this guide can be found in the Men's Clothing section on eBay.
What Is Smart Casual?
Smart casual can be a confusing term, and can be as equally as embarrassing if misinterpreted for various events. The Smart casual look for men can really range, and is therefore important to find the right balance so one is never overdressed or underdressed. The Smart casual look for men will normally consist of a smart pair of jeans.
A darker pair of jeans is normally more suitable for the smart casual look, but this is not set in stone. Smart casual is normally the look people would go for when going to a nice bar for a drink, or an informal family get together. It is important to try and look well-presented without looking like one has put much thought and effort in to the outfit. The next part of this guide will outline the various pieces of clothing and accessories that will really give the wearer a smart look, as well as not appearing like one is dressing up.
What to Wear with Jeans for a Smart Casual Look
Collared Shirt
A collared tailored shirt is a must for the Smart casual look. Most collared shirts will go with any pair of jeans. It is possible to buy shirts that are mainly made for suits, and others that are specifically for casual wear. Any of these can be worn if worn with the right clothing and accessories, like a blazer for example. Be sure that the shirt works with the accessories and other items of clothing that are being worn.
Blazer
Blazers are perfect for any Smart casual event. Blazers can be bought in a variety of colours and cuts to fit any body shape. Blazers can come in polyester, cotton, and tweed. A nice blazer will look great with a collared shirt, dark jeans, and smart shoes. Some people do like to wear trainers with a blazer, like Converse All-Stars. The most important thing about the blazer is the cut and the fit. Even the most expensive blazer can look bad if it doesn't fit well so be sure to know exactly the size one wants.
Jumpers/Cardigans
There are a large number of jumpers and cardigans that are available in different cuts, colours, and materials on eBay. The main cuts of jumper come in V-neck, round neck, and polo neck. V-neck jumpers look great with a collared shirt underneath whereas a round neck jumper will usually look smarter with a plan T-shirt underneath, or by just wearing the jumper itself.
The main materials used for jumpers are cotton, polyester, cashmere, and wool. Many of these will look great for the smart casual look, but may need to be cared for in different ways. For example, a cashmere sweater will need to be dry cleaned, so this needs to be considered before making a purchase. Cardigans will work with collared shirts and t-shirts and offer great versatility.
Shoes
It is usually a safe bet to wear a smart pair of shoes when going to a smart casual event. The different shoe types that are available on eBay include loafers, brogues and tie-up shoes. As aforementioned, the smart casual looks better with a darker pair of jeans, so it is important to find a pair of shoes that complement or match these. Popular colours include black, brown, tan, and blue. There are different types of material used for smart shoes like leather, which can give different effects, such as snakeskin and a polished smooth look.
Trainers
Probably the most debateable part of the smart casual look is whether to wear shoes or trainers. However, it can often depend on which types of trainers one would be wearing. For instance, a pair of running trainers would not be suitable. It would be best to consider a trainer without a thick sole, such as Converse All-Stars of Vans Eras. These plimsoll-like trainers look trendy and can go well with smart attire. Be sure to find a suitable colour, as the plimsolls can come in a huge range of palettes.
Watches
A nice watch can really help the wearer to stand out and really finish off the smart casual look. There is a huge range of different watches available on eBay, from brands such as Tag Heuer, Emporio Armani, Citizen, and Casio. Sports watches generally don't work for the smart casual look, but the safest option is to go with a steel or leather strap. These straps can go with a large number of styles, as well as smart casual.
Jewellery
Buying jewellery can be difficult for a man without looking tacky or flashy. It is better to find one or two understated, but well-made pieces rather than a big bulky bracelet or chain. Rings and bracelets can set off the smart casual look nicely, but it is important to only wear one or the other. This is also the same with wearing a watch; one quality piece looks a lot better than a few pieces.
How to Buy Smart casual Clothing on eBay
eBay offers a wide range of smart casual clothing and offers an easy, fast way to purchase them. When searching for smart casual clothing, go to the eBay homepage and search for 'smart casual' in the search bar. This will then redirect the shopper to a whole list of products where one can read about and see pictures of the items available.
There are two ways to buy items on eBay, and they are 'Buy It Now' or bidding.
eBay offers auctions similar to a traditional auction. Once the desired product has been selected buyers will be able to see how long the bidding has commenced for and when it is due to finish. The buyer can then input their bid into the system based upon what the previous buyer has inputted and it will be visible for other buyers to see. At times, the seller can enter a minimum selling price that has to be reached in order to sell, and if buyer's bids do not reach this they will be notified. Additionally, when the auction is coming to an end, buyers can be alerted via email from eBay.
'Buy It Now' is another option to buy on eBay. Unlike the bidding option, the seller will outline a price which they are willing to sell the product for and buyers have the option to pay that price and therefore buy it now. Unlike the auction option, buyers are guaranteed to get the product and to receive it quicker. However, the downside is they may end up paying more for it, instead of seeing what happens at auction.
It is easy to look for some great deals on smart casual clothing on the eBay Deals page. Just take a look in the 'Fashion' section and search for bargains.
Conclusion
The smart casual look can be quite a tricky style to buy clothing and accessories for, but hopefully by following this guide, the task will be made much easier. It is important to consider all of the points made in this guide and also be fully aware of what smart casual means to other people going to the event. A massive range of smart casual clothing, such as shirts, blazers, jeans, shoes, jewellery, and watches, are available in the Men's Clothing category on eBay.