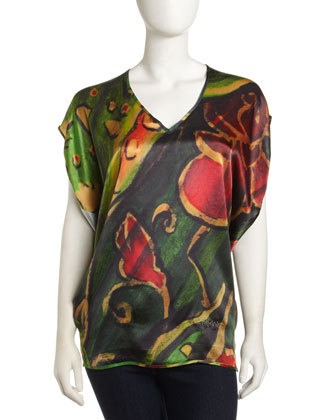 There is something about the look and feel of satin that seems to dress up any outfit and make any woman feel fancy. So much more than a fashion piece, a satin blouse is incredibly functional. It is an affordable alternative to silk and can be worn in many situations: daytime, night-time, work, and play. Yet, many women are hesitant to buy a satin blouse or wear the one they own because they are unsure of what to wear with a satin blouse and how to make this versatile element of their wardrobe really 'work'.
That is why a simple overview of basic styles and style scenarios which use satin blouses is so helpful. In addition, a quick review of sizing, as well as the benefits of shopping for a satin blouse on eBay rounds out the lessons that most people need to make this versatile women's fashion choice shine.
Five Different Ideas for Wearing a Satin Blouse
Learning what to wear with a satin blouse is much easier if one thinks of this piece within a fashion scenario rather than as a prescriptive 'do this, not that' ultimatum. Since each satin blouse is obviously different, women need general ideas to apply to their lives.
So, although the following five ideas are designed around a simple, solid coloured, button-up satin blouse, their placement within women's real lives is a great starting point for creativity. Each of these scenes incorporates simple wardrobe items that most women already own and can therefore be altered to fit a wardrobe, and satin blouses of different colours and styles without much reach.
A Satin Blouse for Dinner with Friends
When out on the town in a casual setting, a satin blouse is easily dressed down. Try pairing it with denim and either heels or flats. In warmer months, cropped pants also lend a flirty feel to the outfit and pair nicely with satin in general. In the case of a button-up satin blouse, layering is also possible. Women can wear a camisole or tube top under the satin blouse and allow it to 'billow' about. This allows for easy temperature control indoors and out, as well as enhances feminine elements of the outfit.
A Satin Blouse for a Day About in Town
When shopping in town or walking in the park, longer denim trousers set a more sophisticated tone. This is also a time to choose flats or small-heeled shoes since the idea is comfort and utility. Since this scenario is more about 'business' than flirting, a satin blouse is best used as a lower layer under a sweater or vest. Plus, this type of base is easily paired with a long trench coat, allowing a satin blouse to be easily transported through all seasons.
A Satin Blouse for Running Around with the Kids
Even in the most casual of circumstances, a satin blouse still fits the bill. When picking up the kids at school or running weekend errands, a satin blouse can be paired with cropped leggings, flats, and a light trench coat. This creates a put-together look that is also quite comfortable and conducive to the constant running that children often require.
A Satin Blouse for Cocktails in the Evening
When it comes time to take to the town in a more formal manner, such as for cocktails or girls' night out, satin blouses are best paired with skirts or dresses and tights. Try to contrast the colour of the blouse with the colour of the bottoms to make each element of the outfit 'pop'. This means opting for black tights and a skirt with a white or cream satin blouse, for example.
This is another opportunity to use a satin blouse as a bottom layer as well. The blouse can be tucked into a skirt and paired with a short jacket or layered under a jumpsuit. When it comes to footwear, heels are essential with this look since they instantly dress up the outfit.
A Satin Blouse for Business Meetings
The versatility of a satin blouse is truly phenomenal since it is easily transported to the professional realm as well. A simple satin blouse of any colour or cut is easily combined with either a skirt or pant suit and gives off a much more luxurious and successful feel as compared to cotton dress shirts. Depending on the cut of the suit, either low heels or flats can be combined with the outfit, but be careful not to wear a heel that is too high. The goal is to present a stylish, yet professional vibe.
Sizing a Satin Blouse
Before beginning a search for the perfect satin blouse, buyers should be aware of the general sizing that they require. While all brands offer a slightly different variation, the information in the table below provides buyers an idea of which sizes are most appropriate for their needs. All sizes are in centimetres.
| | | | | |
| --- | --- | --- | --- | --- |
| Size | Across Shoulder | Bust | Waist | Sleeve Length |
| | 35-36 cm | 84-88 cm | 63-69 cm | 59-60 cm |
| | 36-37 cm | 89-95 cm | 69-75 cm | 60-61 cm |
| | 37-38 cm | 96-101 cm | 76-81 cm | 61-62 cm |
| | 38-39 cm | 100-105 cm | 82-88 cm | 62-63 cm |
These sizes are by no means exact and which size is right for each woman depends not only on her measurements, but also the way in which she wants to wear the shirt, loose or tight. Before committing to any purchase, make sure to cross-check individual sizes with the size chart provided by the seller. If there is no size chart, ask the seller to provide the measurements from the garment itself.
Buying a Satin Blouse on eBay
There are truly many different ways to make a satin blouse work with a wardrobe, but this is only accomplished if one owns that satin blouse. Luckily, shopping online with eBay is a great way to get not only the perfect satin blouse, but also all the other women's clothing items mentioned here that can be paired with it. Buyers simply need to register for an account and learn the ins and outs of searching. Also, you can search for your next blouse or top on eBay's deal page.
Searching on eBay
When buying clothing on eBay, it is essential to know the right way to search. Unlike one-size-fits-all items, the best way to approach the searching process is through specific search terms. For example, typing "satin blouse" into the main search bar yields thousands of results, most of which may either not fit the person or not be her style. Instead, enter as much information as you know, such as "black satin blouse size M". This presents a far more narrowed field of results and saves a lot of time.
Conclusion
The versatility of satin as well as its overall look and feel makes items like a satin blouse an essential element to any woman's wardrobe. However, owning one is not enough; one also needs to know what to wear with a satin blouse. This leaves many women hesitant to buy a satin blouse or wear the one they own.
Yet a few simple scenarios from a real woman's life reveal that the pairing possibilities range from jeans to business suits, leaving a little something for everyone to use from the shopping mall to cocktail hour. Using these ideas, along with basic knowledge about the sizing of a satin blouse and how to search for and buy satin blouses on eBay, is the only way to make sure that one is ready for the challenge of integrating this functional wardrobe piece into a permanent rotation.