The technology of
game camera
is hard to keep up with as everything is changing so fast. For a good quality, reasonably priced, easy set-up, and with many modern features, "The Spy Trapper" is an excellent choice to add to your hunting gear.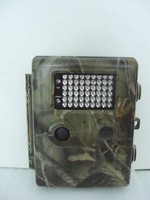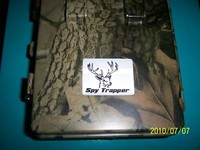 This DK series digital
game camera
traps images respectively in the 3MP, 5MP and 8MP modes which can be viewed on a built-in 2" color display panel. The Spy Trappers weather resistant camouflage molded casing protects your internal battery and functions. It captures quality color images in daytime and black & white at night. The "No Flash" uses the 54 built-in emitters to illuminate a 25-meter viewing range, which automatically turns on in low light. Each image taken is time and dated on its 16MB internal memory. It accepts SD/MMC cards with a 2GB capacity. The Spy Trapper can take multiple shots 1/3 pictures per frame and record videos set up for 30 seconds. The LCD on this
hunting game camera
displays date, time, number of images, time delay and the battery status. Each of these models has a motion sensor with adjustable PIR sensitivity which can be programmed from 10 to 990 seconds delay length between triggers. It uses a laser light to aim and set the camera at the area covered. The Spy Trapper runs on a lithium-ion rechargeable battery that is good for 20 days or via a DC 12-volt battery adapter. This
hunting game camera
has a USB port for downloading onto your computer and shipped with the software. A/V cables for viewing on your television are also included.
Ten Reasons WHY To Buy The Spy Trapper?
1) It's as easy to set-up as it is your alarm clock.
2)Takes images in your choice of 3mp, 5mp,or 8mp.
3)Takes multiple shots of 1/3 pictures.
4) Motion trigger sensor with adjustable PIR sensitivity / program from 10 to 990 seconds
5) Records video set-up 30 seconds.
6) It has a large 2" color display screen.
7) No Flash- 54 built-in infrared emitters to illuminate coverage area.
8) No noise shutter.
9) Easy to remove SD card and accepts a 2GB capacity replacement card.
10) Easy to recharge battery with a 12-volt battery adapter.
Bonus Reason: This particular
game camera
has a replacement lithium-ion rechargeable battery available. One can be in use at all times with no down time on camera use.
This
Spy Trapper hunting game camera
has various features to meet your needs and requirements making this an easy decision for you the consumer.