It's finally 2011 and Elinz Electronics is ringing in the New Year with all kinds of funky new gadgets. Some of you may have noticed the new single DIN units that we've been putting up lately for customers who love our bigger units but don't have enough dash space for them.
(For those who don't know, DIN simply refers to your number of dash slots. Double DIN means you've got 100mm height of dash space, single DIN means you've got 50mm.)
Here at Elinz Electronics, we not only try to source the best in the market, but we also take the time put ourselves in customers' shoes and play with every new item we have to make sure we know the ins and outs before promoting it on our website. After learning first-hand about all of the new units, we're proud to say that if we were in your shoes, we'd be extremely happy customers. Here's why:
D710G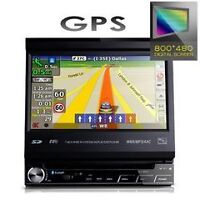 Some of you may remember the old single DIN unit that we were selling. The D710G is its brand new and highly improved big brother. Not only has the interface been revamped to give it a classy new look, but it now also boasts all the functions of our most top-of-the-line double DIN unit, including:
- A comprehensive GPS system with 2010 Australia-wide mapping software
- A TV tuner for freeview Australian channels*
- A nifty and easy-to-use removable panel to take with you when parked in a public space
In addition to those, the unit has RDS functionality. This basically means that the radio system is highly improved over some of our other units. Like all the units that we currently offer, this unit has a TFT LCD screen for fantastic, crystal-clear DVD and VCD viewing.
DSPEEDOMETER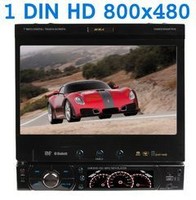 If you're looking for a multimedia player with a sharp and funky look, the DSPEEDOMETER is bound to just blow you away. By far one of the most attractive units we've ever seen, the DSPEEDOMETER gets its name from its cool illuminated front panel design. The unit does not have GPS or a TV tuner, but we are happy to recommend it to anyone who is looking to boost their music or DVD-viewing experience. Here's why:
- Unlike the D710G, this unit has a subwoofer output to connect to a sub and up to four speakers
- The DSPEEDOMETER can be connected to pre-existing steering wheel controls** for more convenient music and volume selection
- The DSPEEDOMETER has new and improved ipod functionality***, allowing you to select tunes from your favourite artists, albums or playlists
TURBO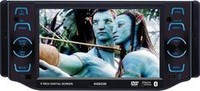 Last but not least is our most affordable single DIN unit. Although the Turbo is the smallest unit that we have, it is by no means the most unpopular. In fact, we often recommend this unit simply because it's bound to fit into any car. Because of its comparatively small size, there is absolutely no risk of the screen interfering with the gear stick while moving up and down. It may not have GPS or TV like the D710G, but it's definitely comparable to the DSPEEDOMETER with its sub output, removable panel and improved ipod functionality***. Like the other units, it has the widest screen possible with a sharp 800*480px resolution for crystal-clear DVD viewing.
Interested in buying a unit but not sure what to get? Feel free to email sales@elinz.com.au or call us at 1300 881 773. We're always happy to help customers make the best choice for the functions that they want.
* TV tuner is analogue only. Analogue antenna not provided with purchase. If interested in digital TV, please consider purchasing the freeview box which comes with a digital tuner and antenna.
** Compatibility is dependent on individual car models. Please contact us for further information.
*** With certain ipods only. Please contact us to check compatibility of your ipod with our units.