When purchasing wigs there are a few points I can give you.
*Know what the wig is made out of:
-sellers will try to trick you into things the wig is human hair by titling the listing as "human tied", these wigs are synthetic, not human hair.
-the best type of synthetic wig is a kaneklon fiber. Also known as "high quality Japenese synthetic fiber"
- If the seller does not include the type of fibre the wig is made out of look for a picture of the inside of the wig.
* A good quality wig will look like this: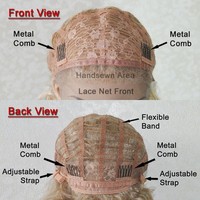 *Shipping
-If the seller is offering Free Shipping the wig will take just over a month to arrive.
*Price:
-A good quality plain synthetic wig should only cost you around $20 Aus
-A good quality plain synthetic lace front wig should only cost you around $40 Aus
Happy Shopping :)