When should I start wearing a maternity bra?
According to the Australian Breastfeeding Association the breasts begin to prepare for your baby quite early in pregnancy, some woman will feel uncomfortable or will fully outgrow their usual bra sooner than others.
As a general rule most changes to the breast have happened by around 16 weeks and this is a good time to be fitted for a new Maternity Bra, if you haven't already been fitted.

Is it true I shouldn't wear an underwire bra?
Many women would prefer to wear an underwire bra but underwire is not recommended during pregnancy and breastfeeding. The reason for this is your changing breasts.
Firm underwire can put pressure on already tender breasts. When breastfeeding, the breasts increase and decrease in size and retained fluid during pregnancy can cause your breasts to swell in size.
Underwire bras can be uncomfortable when the breast is fuller and having this pressure can lead to blocked ducts and mastitis.
How does a maternity bra differ from a normal bra?
There are many different styles and designs of maternity bras available.
A good Maternity bra should have the following features.
Extended hook and eye clips
Drop feeding cups
Wide diaphragm for support
Soft lining for comfort
Inner sling for support inside the cup and to keep straps in place while feeding.
No underwire
Will I get the same support from a Maternity Bra as an underwire?
Maternity bras are designed in such a way that you will get the same support from a maternity bra as you would your everydayl underwire bra and you will be a lot more comfortable.
Should I wear a bra to bed?
Wearing a bra to bed is a personal choice. Some women like to wear a bra to bed for support and to hold breast pads in place.
An alternative to this would be a feeding singlet with a supportive cup or shelf bra and nursing clips, making it much more comfortable and convenient.
How many bras will I need?
During pregnancy it is recommended to have at least 2 bras, 1 lighter and one darker to go under any outfit.
During Breastfeeding you should have 3-4 bras as your breasts may leak milk and may need changing more frequently than usual.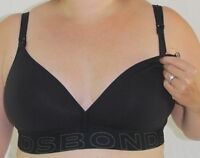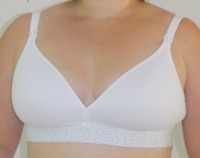 Discover

Bumps @ redthread7 - comfort and style for breastfeeding mums.