Which Sizzix System To Buy?
Before investing money in a die cutting system, it's important to think about what you are going to use your die cuts for. If you want to cut your own alphabets, then the Sizzlit system might be for you, since the Sizzlits range has the greater number of alphabet designs available. If you want to cut out a variety of materials, such as cork, fabric, leather etc, then the Sizzix Originals system might be more suitable.
Sizzix Original System
The Sizzix Original system was the first truly affordable personal die cutting system. It consists of the:

Originals Dies (Shapes and Alphabets)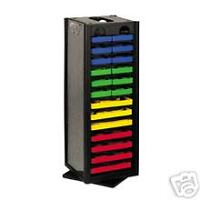 Advantages
Variety of Materials
- The Sizzix Originals dies have the advantage of being able to cut a wide variety of materials:
Cardstock, Paper, Vellum
Fabric, Felt, Foil, Funky Fur
Magnet, PaperWood
Poly Foam, Pop-Up Sponge
RuffleBoard
Self-Adhesive Rubber
Shrink Plastic, Static Cling Vinyl
Thin Cork, Thin Leather
Thin Metal
Sizes of Die Cuts
- Because there are three sizes of dies, you can create dies that range from quite small (2 3/8" X 2 3/4"), to those that are very large (4 3/4" X 5 1/2"). So, for example, if you like tags, there is a large variety of tag dies available, with the smallest at a die cut of 1/2" x 1 1/4" or largest of 3 1/8" x 4 3/4"- large enough for a mini-album or journalling block.
Disadvantages
Cost
- The Originals system are still quite costly. Because they are more robust than the Sizzlit system, they cost more to make and therefore more to buy.
Size and Portability
- The Originals also take up a fair bit of room. They are also heavy, so if you want to take them with you to crops, it is a major comittment.
Sizzix Sizzlit System
The Sizzlit system consists of:

Sizzlit Converter (to use Sizzlits dies in Original Machine).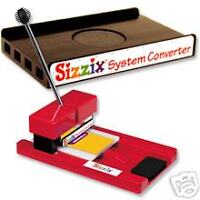 Advantages
Portability
- Because the dies are so much smaller, it is possible to carry several alphabets and over 60 Sizzlits dies on a smaller tote bag, including the Sidekick machine. If you are looking for a system to take to crops, this is the most suitable.
Cost
- Sizzlits dies come in sets of four, for about $30AU. So you get four dies for the cost of one large original die.
Variety of Dies
- I love alphabets, at this stage there are 21 alphabets for the Sizzlit system, and 3 for the Original system.
Useable with Sizzix Machine
- You can use the Sizzlit dies with the Original machine, if you also purchase the Converter. (Note: from personal experience, while this works in theory, you get a much better cut with Sizzlit dies if you use the Sidekick).
Disadvantages
Suitable Materials
- Because the Sizzlits dies are so much thinner, the cutting blade is much smaller. The result of this is that you can only really cut paper and thin cardstock using the Sizzlit dies.
Size of Die Cut
s - Again, because of the size of the dies, you only ever get fairly smaller die cuts using the Sizzlits dies. This is not a problem most of the time, but an important issue to consider.

I hope you've found this guide useful. If you have, please take the time to vote for the guide. If you have any questions not answered in the guide or suggestions for other guides (I love writing them!), please click on my username in the top right hand corner to send me a message.