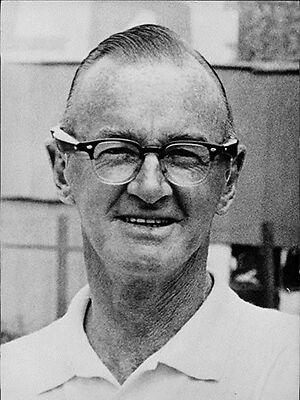 Tennis fans in Australia often hear the name Harry Hopman, especially in association with the Hopman Cup. A natural athlete who came to the game late, Hopman was a legend in his own time who redefined tennis in Australia. Today, Hopman may be something of a mystery to modern fans who are unfamiliar with his game-changing legacy. Australian tennis enthusiasts who do not know a good deal about this legend might want to take a moment to get to know him and the impact he had on tennis in Oz and beyond.
A late arrival to tennis
Hopman was born in a town outside Sydney to an educated family. His father was a schoolteacher and eventually a headmaster. While tennis pros today start as early as possible, Hopman did not come to the game until he was 13. Football was his first love, and it was only after winning a singles tournament, during which he eschewed men's athletic shoes and played in his bare feet, that he found his love for the game. In four short years, he would go on to represent New South Wales in the Linton Cup Juniors' team competition.
Launching into a tennis career
Hopman trained and competed in early adulthood even while maintaining a full-time job. On the court, Hopman excelled at team endeavours, pairing with Jack Chapman to win several junior and senior doubles titles. The two players had different styles on the court. Hopman played a faster game at the net, while Chapman dominated the baseline. Those differences made them an ideal doubles team.
Hopman also had an ideal partner on the court in his first wife, Nell Hall. The husband-wife team competed successfully for years as a doubles pair, winning four Australian titles and even reaching the finals at Wimbledon.
Covering sports as a journalist
Hopman was a mental athlete as well, working professionally as a journalist to cover sports for the Melbourne Tribune. This career gave Hopman the flexible hours he needed to train and compete. It was an ideal arrangement for the paper, as well, giving it often-exclusive access to Hopman's insider perspective, especially concerning the Davis Cup.
Davis Cup championships
Hopman began what would be a lifelong relationship with the Davis Cup in the 1930s — a relationship that would define his legacy. Hopman's first forays at the Davis Cup involved competing as a player on the Australian team. The team during this time faced defeat after defeat. Finally, in 1938, Hopman took on the role of captain, and the team reached the Challenge Round final for the first time before losing to the U.S. Hopman took charge of the team again in the next year, leading them to a 3-2 victory.
World War II interrupted this momentum, and the Davis Cup was not played for several years. When it returned, the selection committee chose another player to captain the team. When the Australia team continued to lose, the authorities once again turned to Hopman, launching what people called the Hopman Era of Australian tennis.
The Hopman era
From 1950 to 1969, Harry Hopman reigned supreme as the non-playing captain and coach of the Davis Cup Australian team. During this era, the team earned 15 championship titles, firmly establishing Hopman as the man who resurrected Australian tennis. This successful run resulted in many of Hopman's players going pro. Many of Hopman's protégés on the Australian team achieved Wimbledon glory, including Ashley Cooper, Neale Fraser, and Rod Laver.
A transition to the States
In 1970, Hopman decided to leave for the United States. Perhaps sensing some momentum in tennis in America, he ended up establishing himself and his family in Florida where he eventually built the Harry Hopman International Tennis Camp where he would coach and guide an enormously productive generation of American players, including John McEnroe.
How to buy Hopman memorabilia on eBay
Fans of Australian tennis and the legend of Harry Hopman have access to a wide variety of sports memorabilia and tennis products on eBay. If you want to explore your options, find the search bar on any page on the site and run a keyword search for an item. Use specific terms such as "signed Hopman photo" or "Hopman memorabilia" to zero in on items.
Tennis is an important part of the Australian legacy in sports. Thanks to the life and dedication of Harry Hopman, Australian fans have a good deal of which to be proud as they play and celebrate this international sport.