PortoGear is proud to offer wholesale lot deals with drop ship for Small businesses (SME's) who want to sell products on eBay, online stores and Retail shops. We are offering all of our deals with free shipping to all over the world. You can check a lot of Deals offer with best possible price, short MOQ with free shipping to your door step.
Our Wholesale Lot Deals gives you the following advantages:
• Fast Selection
• Free shipping
• Secure Payment via PayPal
• Minimum quantities
• Wholesale prices
• Door Delivery
• No Agent for customs
• Counted lead time
• Returns accepted
• Low investment
• No risk for inventory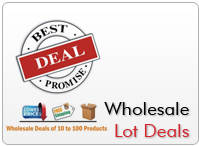 Why I go for Wholesale deals instead of direct buying from manufacturer?
By ordering products direct form manufactures you have to face following problems/Risk factors involved in such transaction.
Product Selection:
It is our in common practice that we search manufacturer through some B2B portal or from some online references. We visit their website to check out for their products or we have our own selection. This process may need about 7 to 8 emails and estimated 10days to final the product selection and specification of product. One huge problem that every one faces that when we submit our buying request any business Portal, your Mail box will be packed with replies including related and non related deals from around the world, sometime manufactures offer you such products which are not related to our requirement at all. So go ahead and have an experiment and you will have 100+ selling offers in your inbox with phone calls and faxes day and night.
Prices :
Here a risk is involved, as we have just selected the product form a picture and we don't have any idea how the product will turn out as the feel and quality is unseen. While we sell these products in real environment in front of the customer. After this the price evaluation from different manufacturers begin. In general all of us are always seeking low price with best quality. A very common example, I am looking for a leather fashion jacket and price I have receive is from 40US$ to 85US$. Now this is a little really weird for me that which one is the best. To cover up this concern we have to step up into next phase.

Sampling:
You will ask from manufacturer to send the sample and he will ask for the payment for these. Sometime manufacturers offer you without charge sampling but you have to pay the shipping cost or have to use your import account for DHL and FedEx. From this stage you are you going to start investment. You are paying on words and you really don't know that what will be the outcome after asking samples from different manufacturer.
Feedback:
Finally you received the samples from different manufacturers now at this phase you will see that how much of your expectations came true. Suppose if we finally found a product that is good in price and quality as per our expectation.
Finally going to make an Order:
Now you have decided that you are going to place an order with your required quantities. From this phase you are approaching to high risk level.
Payment:
A big risk factor is going to involve that why I pay to someone, whom I never know. You will ask from manufacturer for Advance payment, L/C DA and other payment terms. But tell me is that really secure as PayPal?
Lead Time:
A lead time will be provided to you by your manufacturer. This time factor is decided mutually. Sometime really get a hard time to receive products as per committed time frame.
Shipping:
If you manufacturer offering you FOB prices then you have to take care for your shipment from Factor Origin port to your nearest port. You can decide shipment by Air or By Sea as per your calculation. Be clear that what terms you confirm with your manufacturer,
X-Factory:
Manufacturer is offering products with no handling. You have to source any agent or shipping company to pick the products form Factory.
FOB:
free on board mean that manufacturer is responsible to deliver the good till Sea port or Air port. After that you have to hire your own agent for next handling.
C&F:
Cost and Freight mean that manufacturer including the freight charges into product price till your destination
CIF:
Cost Insurance and Freight that manufacturer already added the cost of product, insurance fee and freight charges into invoice.
Door Delivery:
You are getting the product at your door step and you are not responsible for any charges including handling, customs, insurance and freight of product. This is best deal when you are importing small quantities.
Customs/Duties:
Customs and duties differ from country to country as per law of state. You have to hire a clearing agent for submitting your file/documentation to your custom authorities. Certainly you have to pay extra amount to Agent and duties are always paid by importer as per state law.
Handling Charges:
Finally your shipment is being released by customs after paying duties and other changes. Now you will have to move products from Sea Port/ Air Port to your warehouse which also adds to your product final value.
If you found any problem in your order regarding to sizing quality or something else that you were not expecting you have no choice to find any replacement. You order is final and you are now up to manufacturer that how he treat with you.