Swarovski makes the worlds most beautiful beads, therefore more people choose to use them in their jewellery-making or craft projects than all other crystal beads. You will see these top quality beads used in wedding and formal dresses, tapestries, artworks and jewellery for all occasions. They are sparkly and eye-catching and take your creation to a place higher than you can even imagine!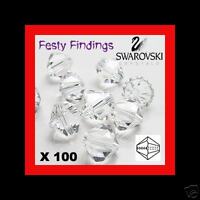 About the Swarovski Company
Swarovski beads are made in a factory in Wattens, Austria. The world famous beads are created using a formula perfected by Daniel Swarovski and his three sons, he was an Austrian inventor and businessman who founded his company in 1895. Swarovski was inspired by the International Electric Exhibition to create a precision cutting machine able to produce finely crafted crystal beads in large quantities. Swarovski Components is still renowned today for the brilliance, clarity, and uniformity of its crystal beads.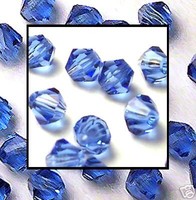 About the Beads
All Swarovski crystal beads are fired using a combination of quartz sand and natural minerals, then cooled slowly to avoid causing stress to the crystals. The formula for Swarovski crystal beads is made from a minimum of 32% lead (compared to competitors 24%). This full lead content as well as the secret manufacturing process, produces high quality Swarovski crystal beads with a diamond like brilliance which makes each bead optically pure, or flawless to the eye. Swarovski's signature colors are created during a slow heat-controlled process as different chemicals are added. The beads are further transformed by the addition of different finishes or coatings on part or the beads' entire surface.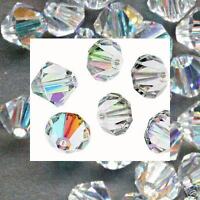 So Why Buy Swarovski?
These crystal beads and other components are the finest quality in the world. You can be assured that by using beads with the Swarovski name you will be adding considerable value to your products, whether you are making jewellery for fun or producing quality items for sale.
What sets Swarovski Crystals apart from crystals from other manufacturers for decades is their flawless precision cutting, polishing and full lead content. The clarity and cut of these Austrian crystal beads allow light to pass through and reflect in a prism of colors, giving a brilliance that surpasses all other crystal beads.
What is their value?
There are so many different shapes and sizes so I shall give you an example of pricing of the 4mm bicone shape (5301). In the local bead shops in Sydney I have seen these beads going for anywhere between 40-60c each! They are well worth it as they are gorgeous beads but here on ebay you can find them for much more reasonable prices in different sized packages for as little as 12c each! At this price why would you want to use any type of inferior crystal beads!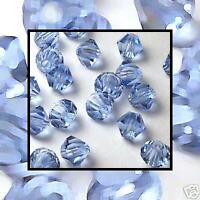 My own personal Swarovski buying tips:
1. Buy from ebay stores at a Buy it Now price so that you can have a reliable source that is readily available, there are fakes out there but once you find one seller that you are happy with stick by them.
2. Buy more than one pack of Swarovski beads in one invoice for you will find that most sellers combine postage adding to your saving overall. You will also find that they sell high quality findings too.
3. Check out the sellers feedback page and see what others have said of the authenticity, beauty and value of their Swarovski beads before you buy.
Don't forget to check out my ebay store for authentic Swarovski crystals!
And if you liked this guide make sure you click yes below!