Night Sweats and cool-jams
Night Sweats are a common symptom of menopause, which occurs very inconveniently when we are sleeping, often requiring a change of pyjamas or bedsheets.
Sleep hyperhidrosis is not related to outside temperature. The sympathetic nervous system(responsible for slowing down the body) becomes ineffective when regulating body temperature. More often than not, the sufferer will wake feeling too hot or too cold in wet clothing, requiring a change of clothing. Night sweats may be related to a number of health conditions including hormone imbalance, Lupus, Chemotherapy, Diabetes or Anxiety and Depression.
One of the most common conditions with hormone imbalance in women is menopause. The hypothalamus is an organ that sits at the base of the skull… It helps control body temperature when we are sleeping. The hypothalamus uses a set-point to regulate the body's systems, including, body temperature, blood pressure, and body weight. It receives inputs from the body, then makes the proper changes if anything differentiates from this set-point. The set-point can temporarily change, but usually remains remarkably fixed from day-to-day. Low estrogen levels, common to menopausal women not being received to the hypothalamus is often specifically what causes night sweats in women. The hypothalamus is the part of the brain that controls body temperature, sex hormones, appetite, and sleep. Reduced natural estrogen levels fool the hypothalamus into believing that the body is too hot. Subsequently, a night sweat occurs in an effort to purge the body of this fictional excess heat.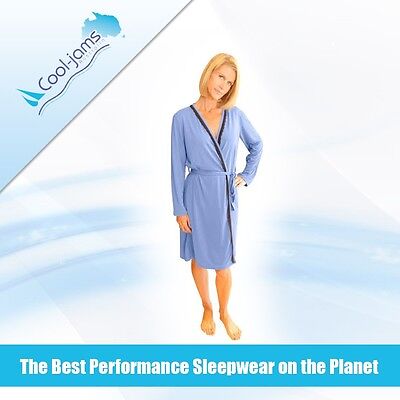 Cool Jams for Night Sweats
Cool-jams wicking performance sleepwear helps regulate body temperature when sleeping, ensuring you have a better nights sleep