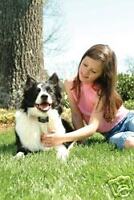 Why do dogs bark?
Dogs bark for a number of reasons, but first let me say that barking is a normal behaviour; it's only when dog barking becomes inappropriate or persistent that it needs to be curbed. Dog owners should try to remove things or situations that cause their dog/s to bark. For example: if a dog is barking at people through a hole in a fence, then repair the hole in the fence. Most dog barking is a result of separation anxiety; this is where your dog is anxious because you or your family have left for school, work or have gone on holidays and your dog is missing you. Often the dog will vocalise by barking. Whatever the reason, you should try to establish why your dog is barking and if humanly possible, resolve the problem before buying a bark control collar.
Why should you buy a bark control collar?
Be realistic. If you can't solve your dog's barking by sorting out your dog's problems as mentioned above then you may need a bark control collar. Your dog wants your attention a lot of the time and if no one is there to give that attention i.e. you need to go to work to pay the mortgage or you're dropping the kids off at school etc then these will be the times that the dog will be barking a lot. You may only need to put the bark control collar on your dog when you go out. Soon your dog will realise that to bark causes them an uncomfortable sensation and if you make these times that you are away as small as possible to begin with then your dog will get the least amount of corrections and learn that there is no reason to be anxious because you will soon be back, so in this way he is trained to be quiet and reduces their anxiety. There are bark control collars and no-bark collars that suit small dogs to the largest of dogs.
How does a bark control collar actually stop dogs barking?
Firstly, a bark control collar does exactly that, it controls barking. A "no-bark collar" does exactly that, it puts a stop to dog barking altogether. The basic difference between the two are that the bark control collars are mostly collars that start correction at a low level but can (not always) automatically increase in intensity if the dog continues to bark (such as the Petsafe BC103 bark control collar or the Innotek BC-50 bark control collar). The Petsafe collars go back to the lowest level of correction if the dog stops barking for 30 seconds or more. Some anti bark collars like the Dogtra brand have intensity levels that are set by the dog's owner. These are a no-bark collar. In any event the dog has the opportunity to stop barking and avoid the correction altogether. The latest model YS-300 Dogtra no bark collar also has a vibration only feature.
Various types of bark control collars

(these are my views)

Sonic & Ultrasonic bark control collars can be effective on small pups and small dogs with timid personalities but the use of these collars on any dogs with a stronger personality and their effectiveness falters.

Citronella bark collars work on small/medium to medium sized dogs that don't have a strong personality. The size of the control box on the citronella collar can sometimes be a bit too large for very small or toy dogs, while large or stubborn dogs can sometimes not be effectively curbed from barking by the citronella spray.

Hand-held ultrasonic remotes can be effective at times with timid and smaller dogs but the downside is that you need to be there to press the button when your dog barks.

Static correction bark control collars & anti bark collars have the highest success rate and provide the most consistent results. In our experience about a 99% success rate. Static correction bark control collars and anti bark collars come in sizes to suit small breeds all the way to the largest of breeds. It's best to seek advice first on what type of anti bark collar is best for your dog before making any decisions.

You can message us from eBay and we can provide a solution that will work for you based on years of experience in the industry. You can also visit our

eBay store

to see our range of

bark control collars

.

Whatever your dog's breed, age and status (sexed or de-sexed), DogMaster staff can help.

Freecall 1800 300 364

Visit our website http://www.dogmaster.com.au