This guide will show you why its so hard to find 100% complete, original, 1980s Generation 1 (G1) Transformers in Australia
BOXED

.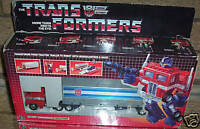 1st Generation Transformers are the original toy robot figurines and the best! However, they had many small removable parts that were easily lost. Furthermore, take a close look at this box. It reads TECH SPECS: Clip and save! Use the special decoder to decipher your tech specs! SAVE FOR SPECIAL TRANSFORMER PREMIUMS = 4 ROBOT POINTS.
This promotion encouraged the cutting and discarding of the original boxes

, though the clippings did become collectable. The size and value of the toy determined the number of robot points available to be clipped from the box.

Even without the box, when selling your Transformer it will always attract the highest price if its complete plus has the instruction manual and tech specs from the box. These missing bits and pieces can be sourced on eBay, some people out there have even made a whole business supplying G1 bits in their eBay store. Get them shipped from overseas, its well worth the effort and you'll be rewarded with a nice profit.

A figurine in mint condition is a collector's Holy Grail but to find one complete and boxed at all is a small miracle.
I have used my 1984 Hasbro Optimus Prime Autobot to illustrate this guide. He's a beauty!
Please use this guide to get the best price for your collectable or to kick yourself for cutting up your box in the 80s.
Remember... its a world transformed. Where things are not what they seem. Where there's more than meets the eye. It is the world of The Transformers, of the heroic Autobots and the evil Decepticons.

Trading Assistant Directory
Since you've read this far I am sure you found this guide useful so please vote!