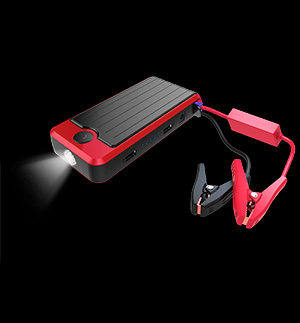 YOU'LL HAVE THE POWER!!


We love gadgets, and many of our gadgets love power. We want our gadgets to be happy, so we try and keep them well-charged. To keep them charged in the wild, there are many options. But we wanted to find the best - for us and for you. And after searching and searching, we're so happy to present the Powerall . Not only will it charge your phone and/or tablet - it's also powerful enough to jump-start your car (up to 20 times on a single charge)! Read on for even more awesomeness.

Yeah, you read that right: it Powerall can start a car. It's because it has over a gajillion v'amp-ohm-watts raging through it or something . It can charge two devices at the same time. And it really can start your car if the battery is dead with the included jumper cable attachment. On a full charge, the Powerall can start up to 20 cars. That's a lot of power. And that's when we knew we needed the Powerall . You should get it, too. Your gadgets (and vehicle) will thank you!

A great travel companion that you can take with you on the go to charge all of your portable electronic devices, such as smart phones, tablets, cameras, camcorders, GPS unit, MP3 players, wireless headphones, and portable gaming systems. It's equipped with two 5V / 2.1A USB ports that can charge two separate devices fast and simultaneously. Once devices are fully charged it will go into sleep mode to preserve the battery.