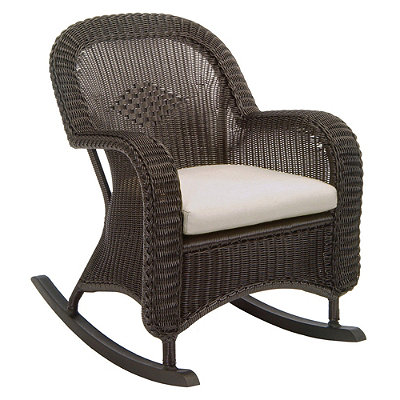 Homeowners typically take immense pride in the appearance of their decks, patios, and porches. Once they construct their outdoor entertainment venues, homeowners then add the amenities that complete the open space. The heart of any outdoor entrainment setting is the furniture that provides comfort to the guests who relax with drinks and the colourful sunset. An increasing number of homeowners have turned to wicker outdoor furniture to entertain family and friends. They can shop for wicker outdoor furniture at home and garden shops that employ knowledgeable employees who answer questions about everything wicker. Knowledgeable shoppers can quickly find the right wicker outdoor furniture seller on eBay. Shoppers of all knowledge levels should first review the numerous factors involved in the wicker outdoor furniture shopping process.
Wicker Outdoor Furniture Overview
Natural wicker presents a high level of comfort and aesthetic appeal, which makes natural wicker a popular type of indoor furniture. Wicker furniture manufacturers utilise several natural materials that include cane cores, rattan stalks, reed, and bamboo. However, most manufacturers construct outdoor wicker furniture with synthetic materials, such as paper-wrapped, high-tensile plastic or resin to augment strength and durability. Outdoor wicker chairs do not possess the same level of style as indoor wicker chairs. To increase strength and durability, manufacturers have altered wicker outdoor furniture designs to include aluminium frames.
How to Buy Wicker Outdoor Furniture
Outdoor decks and patios have evolved over the years to include more complex layouts and additional amenities. Some of the deck and patio amenities include large outdoor kitchens and fire pits that make size one of the top wicker outdoor furniture buying factors. Think about the factors considered during the indoor furniture shopping process and apply many of the same principles to wicker outdoor furniture. The main difference is that buying wicker outdoor furniture involves a few more factors that can complicate the shopping process.
Create a Budget
Wicker furniture, especially pieces made with at least some natural materials, can be expensive to buy. Create a budget before performing any research. A budget not only determines the maximum amount of money spent, it also determines whether homeowners can afford a wicker outdoor furniture set or must buy a few chairs, and then eventually add pieces for a set. The budget only relates to wicker outdoor furniture, not other deck and patio amenities.
Placement Options
Outdoor wicker furniture that homeowners place under canopies or within screen porches does not need to possess the same level of strength and durability as the wicker furniture pieces placed in open spaces on a deck or patio. Direct sun exposure represents another important placement factor, as UV rays and heat can cause wicker outdoor furniture to degrade slowly. Space availability is another placement factor that requires homeowners to measure decks and patios to discern the size and number of wicker pieces. Wicker outdoor furniture tends to take up more space than aluminium or plastic outdoor furniture.
Colour
Many homeowners prefer white wicker outdoor furniture because the colour accentuates a home's old-fashioned appearance. However, consider darker colours for wicker outdoor furniture, especially homeowners who live in areas that receive above average rainfall. White-coloured outdoor furniture can fade after repeated exposure to moisture. Consider reddish-brown wicker to present an earthy, relaxed ambiance. Olive green and black are two other colours that appeal to homeowners who want wicker outdoor furniture that seamlessly integrates with the environment. Make sure to stick with the same colour for every piece of wicker outdoor furniture in a set.
Home Exterior Decor
Homeowners buy indoor furniture to complement interior decor, such as matching the furniture colours with the drape colours. The same principle applies to outdoor wicker furniture. Homeowners who want wicker outdoor furniture to enhance a home's sophisticated exterior should consider pieces constructed in box-like, angular shapes. Wicker pieces that possess smooth, rounded edges present an antique feeling that appeal to homeowners who live in older homes. Home and lifestyle sales professionals receive training to point homeowners towards outdoor furniture that complements the exterior home decor.
Shop for Durability
Buy wicker outdoor furniture finished with resin or vinyl to extend the life of the furniture. Manufacturers treat resin and vinyl to resist the damage caused by rain and snow. Resin wicker furniture also resists the fading and cracking caused by intense heat and cold. Untreated wicker rattan succumbs to the pressure that people place on the frame, which is why manufacturers have turned to aluminium frames to improve wicker rattan strength.
Thoroughly Examine the Materials
Manufacturers construct high-quality wicker outdoor furniture with densely woven and smooth material patterns. Tight weaves can handle more weight pushed against the patterns. Inspect the quality of the reeds to detect any tearing or fraying that can eventually cause the furniture pieces to fall apart. The reeds should be pliant and not dry, as dry reeds can crack on impact. There should be no splinters or gaps in the reeds, and the reeds should be smooth to the touch. Each wicker outdoor furniture leg should have taps or casters to protect against impact from other pieces of furniture.
Test Sit
Take time to sit on each piece of a wicker outdoor furniture set to determine comfort and strength. Lean back in the chairs and stretch the arms and legs across a recliner. Apply pressure to each piece to see if the furniture withstands considerable weight. While cushions add more comfort, homeowners can do without an added expense if they find wicker outdoor furniture that already provides supreme comfort.
Assembly
Some homeowners skimp by purchasing wicker outdoor furniture that they must assemble. Wicker rattan can be a difficult material to handle. Improperly connected joints cause instability that leads to damage. Consider wicker outdoor furniture that comes assembled. This may eventually be a moot point, as manufacturers appear to prefer constructing pre-assembled wicker furniture.
New vs. Used
Many furniture experts question the wisdom of purchasing any type of used furniture due to durability issues. However, diligent shoppers may find furniture shops that offer near mint condition used wicker outdoor furniture at substantial discounts. The first buyer may have changed his or her mind and returned a set in the same condition as it was when it left the shop. Homeowners can also find near mint condition wicker furniture at reduced prices online at eBay.
Where to Shop
Deciding whether to buy new or used wicker outdoor furniture is only one factor that determines where homeowners shop for the furniture. Another factor is how much knowledge they possess about wicker furniture. Novice shoppers may want to consider shopping in home and garden shops that employ highly trained sales professionals who can direct them to the wicker outdoor furniture that matches all of their buying criteria. Shoppers that are more knowledgeable should consider the convenience of shopping online at eBay.
Buying Wicker Outdoor Furniture on eBay
How do you find a wicker outdoor furniture seller on eBay who meets your shopping criteria? The answer is in the rectangular box that eBay places on every web page. The search engine box directs you to sellers who match the specific keywords that you type into the search engine. For wicker rattan furniture, type the colour you want in an individual piece or a complete set. For instance, typing "beige rattan outdoor furniture" or "black wicker outdoor furniture" reduces the number of search results, and hence, the time you spend on an eBay search.
You can take it another step by specifying the type of wicker outdoor furniture, such as "brown outdoor wicker chair" or simply browse hundreds of outdoor furniture deals. Once you receive a list of potential sellers, visit each seller product page before you reach a buying decision.
Conclusion
Buying wicker outdoor furniture involves considering several factors. Homeowners first must establish a budget to ensure they do not overspend for individual pieces or an entire set. Then, they must consider colour and design schemes, with the intent of complementing their home's exterior decor. Space presents another factor, as wicker furniture takes up more room than other types of outdoor furniture. Homeowners should thoroughly examine the materials used to construct wicker furniture and test the strength of the materials by sitting on the chairs and couches. The end of the wicker outdoor furniture shopping process requires buyers to decide on whether to buy new or used wicker furniture, as well as determining where they plan to shop for their wicker outdoor furniture.