More interesting than a video game
- an upcoming musical marathon with loads of instruments on offer, such as the guitars, steel drums, vibraphones, harpsichords, toy pianos, singers, tubas and even dog suits.

This isn't a game that tells you how to play, or scores you. Instead, you just move your body with the Wiimote and hit buttons—the game makes sure you play the right notes to perform one of the included songs, and Shigeru Miyamoto and company did a good job of playing a Mario theme. This is ultracasual, as players will be able to jump in and play one of fifty instruments, including guitars, violins, Taiko drums... it's like a music simulator with some very heavy training wheels. The drums will use the Wii Balance Board that came with Wii Fit to use kick drums, and tutorials may be able to actually teach you how to play drums for real.
Nintendo has announced plans to launch a music game for its hit Wii game console this year, taking it into the fast-growing software segment pioneered by Guitar Hero.
Wii sales have topped those of more technically souped up and expensive rival consoles from Microsoft and Sony with its motion controller that can be swung like a bat or a sword, broadening its audience well beyond hardcore video gamers.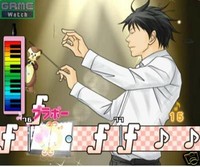 Wii Music will let players simulate more than 60 different instruments. Activision's Guitar Hero turned the music-playing genre into arguably the hottest category for video games.
Guitar Hero already plays on all three game consoles, including the Wii, helping to build the industry's appeal among players beyond core fighting and race-style titles.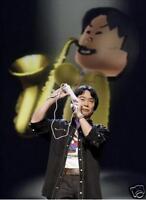 "A true paradigm shift has taken place in the global games market," Nintendo President Satoru Iwata told the E3 video game conference, the most important industry event.
A more sensitive Wii MotionPlus controller add-on also will debut next spring with a new suite of Wii sports games from the company.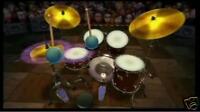 <-----
<-----

Nintendo widened the uses for the console with its Wii Fit balance board and on Tuesday said it plans to begin selling this year Wii Speak, a group microphone that works with its Wii game console and can be used for online games.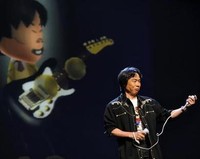 On the other hand, Wii Music won't let you keep score, miss a note, or lose a song; it doesn't get much more casual than this.
Features:
Play it again: Use the playback mode to see your jam recordings brought to life with dramatic camera angles.
Pick up the baton: Command an orchestra in the conducting game where you'll wave the Wii Remote controller like a conductor's baton to lead a Mii orchestra through orchestrated music. Make them play quickly, slowly, strongly or gently.
Ring a bell? Play a handbells game where you'll swing your Wii Remote and Nunchuk controllers to play your two handbells as part of a larger ensemble. Everyone on the team has a job to do: Play one of your notes only when the tune demands it.
An ear for music: Take a tone quiz that tests your musical ear by giving you challenges, like putting note-playing Miis in order from lowest to highest pitch.
Bang the drum: Play a virtual drum set in the drumming mode, the one mode in Wii Music that also uses the Wii Balance Board accessory (sold with Wii Fit). You'll use the Wii Remote and Nunchuk controllers as drumsticks, and place both feet on the Wii Balance Board—which work as virtual pedals for the bass drum and hi-hat cymbal.
The game band pack is around $250, while the game itself will be only $80. iHubCentral have Wii Guitar for $49, Wii Microphone for $25, and many more wii accessories! And if you'd like to learn more about Wii or wii accessories, please be sure to add iHubCentral to your favorite reviewer and VOTE YES!