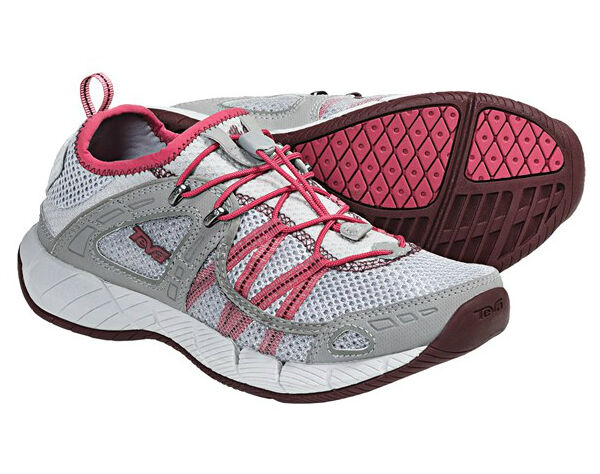 The sporty nature of women in Australia has given rise to a rise in suitable equipment and clothing for them to play, train and compete in. Footwear is an important part of this, with many styles and designs of women's athletic shoes produced on the competitive market.
Although many consumers prefer to shop for shoes on the high street, using the Internet to acquire footwear has become more popular over time. If care is made over the purchase, taking advantage of the increased selection and lower prices found online can be a trouble-free and straightforward process.
eBay is home to many types of women's athletic shoes, so this guide will look at buying a pair in relation to using the site.
Athletic Shoes
Athletic shoes are footwear designed for physical exercise or sporting activity. Their casual appearance has seen them develop into a fashionable accessory for some women also. For sports, however, different styles of athletic shoe have been developed to suit diverse requirements.
When coming to make a purchase, consumers may come across various terms that are used for athletic shoes. They are also commonly known as:
- Trainers
- Sandshoes
- Joggers
- Sneakers
- Tennis Shoes
The main consideration for athletic shoes is to enhance sporting performance by ensuring the feet are comfortable and protected whilst moving. Constant stress caused by exercising should be minimised with a good pair.
Support should be provided to the heel, ankle and lower leg, as well as the foot. Blisters and rubbing should also be minimised or eradicated with their use, allowing physical activity to be continued for longer without aggravation.
Types of Athletic Shoe for Women
There are various models to consider when coming to make a purchase. This section will take a look at these, which can help selecting the correct pair for a particular activity or sport.
| | |
| --- | --- |
| Type of Shoe | Description |
| Running Shoe | Running shoes are manufactured to cope with long stints of constant running movement. They are designed to increase speed and traction on a surface. Comfort and shock absorption are also considerations, especially for rougher surfaces. |
| Walking Shoe | For basic walking, athletic shoes have been developed with less cushioning than running shoes. They are designed with lightweight materials and quality controlled systems, however, to keep the whole of the foot comfortable, from heel to toe. |
| Tennis Shoe | For the constant sudden changes in movement during the game of tennis, specialised shoes have been developed to increase performance and even prevent injury. Extra padding is usually incorporated into the sides to keep the foot stable whilst playing. |
| Basketball Shoe | Basketball shoes for women are usually made with a high-top design, providing extra support for the ankle when jumping, turning and sprinting. Breathable materials and cushioned padding also help to make playing the game more enjoyable. |
Other types of women's athletic footwear can include more professional racing shoes or those designed specifically for use on gym equipment. Less common sports, such as squash and volleyball, have also had specialised shoes that are produced for its particular requirements.
Remember, if buying the shoes for a particular purpose then completing further research into how certain designs can assist will only be beneficial.
Characteristics of Women's Athletic Shoes
Although the sizing of the shoe is imperative in selecting the correct pair, how the foot actually feels when it is worn must be considered too. Some women's feet may be the same size but are actually shaped differently. Some of the aspects to look at include:
- Comfort: Choosing the correct size will help with how comfortable the feet feel inside the shoe. Any rubbing, however, will provide discomfort - even if they are the correct size. Tying the laces or Velcro tightly should not cut off circulation to the foot but provide that snug feeling. Some athletic shoes have extra padding inside to cope with constant physical strain.
- Grip: For use both indoors and out, suitable grip is needed for simple walking or running activities to more strenuous sports, such as basketball or tennis. A good pair of athletic shoes should provide good traction, tailored for the surface it will be used on. A good sense of grip will improve control when running and allow athletes to spring off from a standing position more efficiently.
- Support: The quality of footwear should also improve support provided not only to the foot but also to the ankle and lower leg. Trainers with higher arches at the sides of the foot can help with this, along with sufficient lacing that ensures the foot stays firmly in place.
- Brand: All the leading sporting brands, such as Adidas, Nike and Reebok, all manufacture various styles of women's shoe, along with less recognisable Dunlop, Asics and New Balance. Each shoe will be advertised with certain characteristics that will claim to produce better results. In this sense, evaluate each one closely and read personal reviews from previous buyers for a more balanced viewpoint.
- Material: Women's athletic footwear will be made from different materials depending on the part of the shoe. The sole will be made from harder substances, such as polyurethane, and can also have air or gel inserts to enhance suspension. The higher part of the shoe will usually be made from leather, canvas or suede. Soft foam is commonly used inside as to provide cushioning for the foot.
Buying Athletic Shoes on eBay
There are plenty of women's shoes on eBay to suit any taste and any sporting need. The potential choice is much higher than can be found on the high street and likewise from other sporting outlets online. To use the site efficiently then follow the points below:
- To make a search select the 'Fashion' link, and then 'Women's Shoes' category. On the left-hand side of the page select the 'Athletic' tab, and then begin to review the results.
- To narrow the listings down, either type in specific terms depending on personal preference. For example, 'blue trainers' or 'size 6 Adidas' will reveal listings with these words in their title.
- Alternatively, use the refinements menu to simply narrow down the results. Choose instantly between the desired size, brand, main colour and condition of the shoes, as well as the price range. Using the auction buying facility or buying pre-owned items will generally unearth better deals.
- If worried about missing out on potential savings then always look on the eBay Deals page in addition to the regular shopping site. Check out the 'Casual Shoes' section of the 'Women's Footwear' page within this part of the site.
- Review any purchase carefully and be sure not to overspend from the preferred budget. Asking the seller questions to ensure their authenticity is recommended, along with using PayPal, as the payment method.
Conclusion
Women's athletic shoes are designed to improve comfort and also performance whilst exercising. The various designs of them on the market are tailored to suit particular sports or activities commonly pursued by women across the country.
To find the pair most suitable for individual requirements then shop around from different sources online and in store to achieve a more refined idea of the market. eBay is useful for this, as many products can be reviewed in the same place and narrowed down in relation to specific refinements.