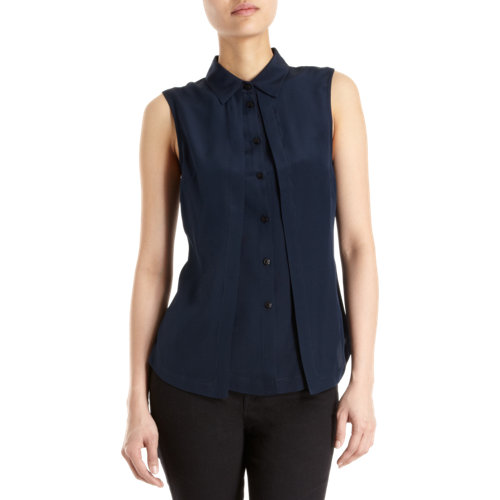 A women's blouse can turn heads in an office or a at a cocktail party, and the loose fit of the garment helps its wearer stay comfortable while making a fashion statement. These benefits, however, cannot be achieved easily. Blouses vary a great deal in design, so not every blouse suits everyone. Women can find the blouses that are right for them if they pay attention to a few key points regarding this article of clothing.
To start, women should be familiar with a few blouse basics, such as the different style categories blouses can fall into. Next, shoppers should consider how certain blouse features can flatter one's body. Familiarity with women's blouses can help shoppers find flattering pieces that are just right for the occasion.
Women's Blouse Basics
Broadly defined, a blouse is a loose-fitting shirt that has a feminine appearance. It is a garment commonly found in women's wardrobes, and one can find women's blouses designed for different occasions and settings. As a traditional garment, the blouse has been a prominent piece in cultural costumes from the Austrian Alps to the lowlands of Southern India. Historically, it has alternated back and forth from peasant style to aristocratic fashion. The blouse today is a common garment that women across the world and various social classes wear at work and in casual or formal settings.
Part of the difficulty in choosing women's blouses comes from the garment's wide variance. Shoppers can form a clearer idea of the blouses they want and shop more efficiently by understanding the many styles that blouses come in. Most of today's blouses fall into one of three major style categories: peasant, button-down, and wrap. The table below summarises these styles.
| | |
| --- | --- |
| Style | Description |
| | Relaxed fit throughout; based on blouses peasants wore centuries ago; predominantly casual |
| | On the lower end of the looseness scale; features buttons down the front; often collared; suitable for office or casual wear |
| | Two sides fold over one another and tie off instead of buttoning together; elegant look; can be appropriate as casual or more formal wear |
Remember that there are many other variations on styles of blouses. Also, blouses within each of the style categories can vary a great deal. For example, the button-down shirt can some with ruffles. Different details, patterns, necklines, and sleeves can dictate the setting for which a particular blouse is appropriate.
Features in Women's Blouses
When looking for a blouse, it helps to consider not only the style but also the other details on a blouse. Features such as material, colour, size, cut, patterns, and embellishments can make a blouse more appealing.
Material
Once the preferred style is determined, a shopper can begin to narrow down the choices within that style, based on the fabric of the blouse. Once can choose from a variety of natural and synthetic materials and blends, such as viscose.
Natural Fabric
Cotton is a dominant natural fabric in the clothing industry, so shoppers should find a large selection of casual women's blouses made from this material. Breathability and softness characterise cotton, and it may be lightweight or heavier. Linen comes from the flax plant. It is slightly rougher than cotton but is very lightweight. The latter quality makes it a great choice for summery women's blouses. The protein fibre of silk becomes a lustrous fabric when woven into a textile. Women's blouses of this material are generally smooth and have a sheen that works great for formal occasions.
Synthetic Fabric
Polyester dominates the world of synthetic fabrics the same way cotton does the world of natural fabrics. This material is versatile, as manufacturers can mould it in different ways for use in women's blouses. Polyester's main qualities are its light weight and ability to dry quickly.
Colour
Women's blouses come in a variety of colours, and shoppers can narrow their searches for the right blouse by following a few rules regarding colour. Reds and pinks are a good choice for those with green eyes and a tan skin tone. Blues and greens vary a great deal in tone, but darker shades generally suit darker features and lighter shades lighter features. Whites and blacks are versatile colours, suitable for all facial and skin features and pairing well with most other garment colours. Whites are generally more appealing on blondes and blacks on those with dark hair.
Size
Not matter what the style women's blouse is, it can only look good on the wearer if the size is right. The table below presents the bust measurements that correspond with different sizes.
| | | |
| --- | --- | --- |
| Size | Numerical Size | Bust Measurement (cm) |
| | 6 to 8 | 80 to 85 |
| Small | 8 to 10 | 85 to 90 |
| Medium | 10 to 12 | 90 to 95 |
| Large | 12 to 14 | 95 to 100 |
| Extra Large | 14 to 16 | 100 to 109 |
These measurements are general guidelines to sizing women's blouses. Manufacturers may cut their blouses to run small or large, so one should consult the seller as to whether or not a particular blouse runs true to size.
Cut
Women can hone in on blouses that flatter them by paying attention to the cut of the sleeves and neckline. Certain cuts look better on a specific body type than other cuts do.
Sleeves
Length is the first design element to look at regarding the sleeves of a women's blouse. Short sleeves and sleeveless blouses make sense for wear in warmer temperatures. When it comes to blouses that do have sleeves, the cut of the sleeve impacts how the blouse looks. A bell sleeve and bishop sleeve both flare out, with the former remaining wide at the cuff and the latter cinching. Both of these sleeves help a blouse minimise wider shoulders. A dolman sleeve, on the other hand, is wide at the top and narrows towards the wrist. This look flatters women with narrower shoulders.
Neckline
The neckline of a blouse also influences how the blouse looks on a woman. The crew neck sits relatively high, thereby shortening a longer neck. A scoop neck tends to lengthen a neck because it droops more. A V-neck has the same lengthening effect by creating a lower exposure point beneath the neck. A boat neck sits high and runs wide, and this broadens narrow shoulders.
Other Details on Women's Blouses
Other details, such as embellishments and patterns, impact how a blouse looks on a woman. Designers are creative, so embellishments and patterns can vary widely. Blouses can be plain or printed. A general rule of thumb is that a woman who wants to look slim should avoid blouses with large prints. Ruffles down the front of a blouse are a common embellishment, and these draw attention to the wearer's face. Vertical stripes serve to lengthen the torso. There are no rules for how many other embellishments and patterns affect the look of a blouse, so the shopper must use her judgement when choosing a blouse with any of these details.
How to Buy Women's Blouses on eBay
You can buy women's blouses from local and online clothing shops. eBay also offers a large selection of women's blouses. You can easily locate the blouse you want by starting your search at the search bar on any eBay page. If you want to browse the selection on the website, use a general term, such as "blouse", and choose the series of categories related to women's clothing and blouses when eBay returns the results. You can then filter by features such as colour, material, and size. If you have a specific blouse in mind, you can use a more descriptive search term, such as "bell sleeve blouse" to get results that show only the blouses that apply to that search term.
You can save money on women's blouses by checking the eBay Deals page. Here, you may find the perfect blouse at a promotional price under the women's clothing category.
Conclusion
The wide variety available in women's blouses makes it challenging to select one that flatters the figure. Understanding the defining characteristics of a blouse and being familiar with the main style categories for the garment helps shoppers organise the options. Women can then narrow down their choices further by looking at features such as material, colour, size, and cut, and other details such as embellishments and patterns. Understanding how these features can accentuate one's body helps women know what to look for.
After one has developed an idea of which women's blouse to look for, she can visit eBay to conduct her search. By knowing how to search the site and find discounts on blouses, women can look their best without spending a fortune.