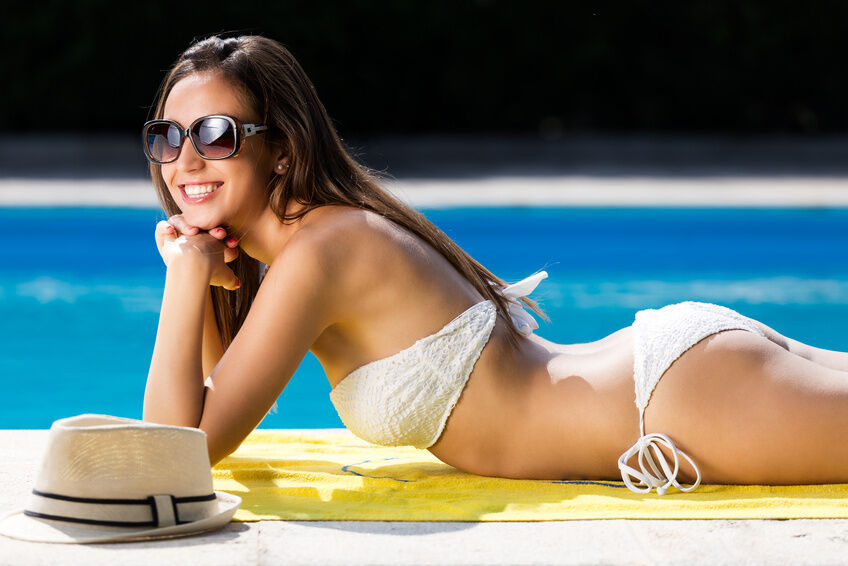 Trends in women's swimwear fashions typically include some classic styles that hold firm year after year, along with a few newer looks that are sure to be seen on Australian beaches when families head to the coast to enjoy a vacation. Whether women are sunbathing or surfing, swimwear that fits in with the latest fashion trends will keep beachgoers comfortable and beautiful by the sea.
Old-Fashioned Suits in Style
Old-fashioned looks that once dotted beaches decades ago are in-style for women who prefer more coverage when they head to the beach. s-style one piece swimwear in color combinations like horizontal black and white stripes or red with white polka dots offer full coverage for the more conservative beachgoer, and halter tops finish off the vintage look for a stylish outfit without requiring women to feel exposed when they're on a family vacation or sunbathing solo.
Bold Prints
Muted tones and patterns are out; bold prints are what's in when it comes to women's swimwear. Bright flower designs adorn swimwear that comes in all shapes and sizes, while prints like tropical birds and geometric shapes adorn the trendiest bathing suits. Even solid-colour swimwear is moving towards brighter tones, featuring colours like coral reds and turquoise.
Tankinis
While bikinis that show a lot of skin are still popular, tankinis that show just a hint of skin while leaving more to the imagination have become a staple. High brief-style bottoms are usually included with a tankini, with the bottom piece ending just below the navel. Tops offer full coverage for the chest and may even offer some arm coverage for a comfortable style that is ideal for active women who plan to spend the day swimming rather than just lounging.
Cutout One Pieces
One pieces with cutout designs are some of the most unique swimsuits out there today, offering a high fashion look without showing too much skin. A form-fitting, one piece bathing suit forms the base for this stylish look, and cutouts of various sizes showcase emphasize particular areas of the body. Designs may be featured in these cutouts, or straps may run across the cutout for an edgier look. A major benefit of choosing one piece swimwear with cutouts is the fact that these suits are both stylish and functional, as they provide the support and coverage needed for active water activities.
Wetsuit Inspiration
While wetsuit-inspired swimwear may technically fall into the "tankini" category, unique features of this style sets it apart from the rest. For example, the top of a wetsuit-style bathing suit will have a zip-up design, and the bottom looks more like a short than a swimsuit bottom. Neoprene, the main material used for wetsuits, is prominently used to make these bathing suits, and gives off a unique matte look. Like tankinis, wetsuit-inspired swimwear can be used functionally by women who prefer to be active when they spend time at the beach.
Whether women go for classic swimwear styles or the most fashionable trends, choosing functional swimwear that also highlights natural curves is a must. All of these styles and more can be found on eBay.