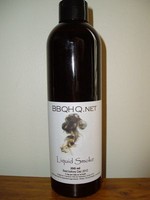 Liquid Smoke
Now you don't need to own a Smokehouse to have that wonderful smokey country flavour on any meat that you cook at home, with my wonderful Liquid Smoke.
Originally created for the food industry due to concerns over cancer causing agents on the surface of smoked meats - and to shorten the time frame to produce products that have the wonderful taste and aroma. Do not be fooled though - this is REAL SMOKE distilled into water, with a touch of food acid to preserve it. So it is very natural and 100% REAL!
I am not exaggerating when I say this simple and convenient product - will RADICALLY ALTER YOUR BARBECUE AND OVEN ROASTING RESULTS!
Imagine smoky flavours throughout your top-side roast or roast chicken! Simply marinade, rub it on or inject it deep within with one of my Marinade Injectors
The possibilities and variations are limited only by your imagination! Your barbecued or roast meat will never taste the same again!
As a bonus - if you decide you would like to make your own hams at home - the smoke can be added to the meat, shortening the time required to make a ham! This product is a MUST HAVE item for any serious cook, BBQ-er or Foodie!
Around 1/2 teaspoon per kilogram of meat (or to taste) is all you need to add wonderful Hickory aromas, take a look at my Ebay Store today.
Cheers
Steve