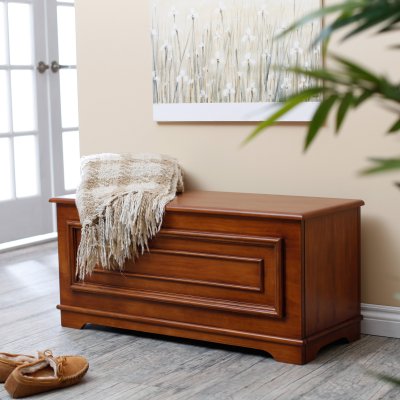 Wooden chests are a valuable item in the home and are a great option for storage. Their well-built nature and sturdy construction means that in the past they were considered the perfect choice for luggage. As time has gone by, wooden chests have increased in weight, meaning that their portability has decreased. The have since become a permanent fixture in many homes throughout Australia. It doesn't matter whether people are looking to store files, toys or clothes, they are sure to be the perfect storage option.
Consumers who are on the hunt for a new wooden chest can't go far wrong by looking at the deals found in eBay's dedicated home furniture section.
Types of Wooden Chests
The best known examples of the chests we see today originated way back in Victorian England, as they were a popular item during Queen Victoria's sixty- four year reign. Such period is well known for its high quality produce, and has served as inspiration to many items of furniture that we see today.
Chests are made out of various woods and can be embossed and styled in a variety of ways. They are distinguished from each other in function and purpose; the following are the types of wooden chests that shoppers are likely to come across:
| | |
| --- | --- |
| Type of Chest | Description |
| Travel Chest | Sometimes listed as a steamer chest, they feature two sides, each of which has a different purpose. When the chest is stood on end it will split to reveal a section that allows for clothes to be hung. Other modifications on this form of chest can include drawers and hidden compartments. |
| Wall Chest | A wall chest can often be labelled as a dresser chest, and is a style that has a unique hinging system. When positioned against a wall or flat surface, the lid will open without the need to move the chest. Wall chests are usually quite small, thus are only suitable for child's bedrooms and offices. |
| Trunk | A sturdy piece of furniture that is easily the most recognisable form of wooden chest. Shaped like a square or rectangle, it usually features a variety of extras, such as drawers, mirrors and locks. |
Shapes
There is no standard size when it comes to wooden chests; in fact, the variety available makes it a tough market to wade through. The two main shapes to be found are dome and flattop.
Flattop
Flattop chests are a good idea if one is looking to use them for long-term storage; once full, the lid can be closed and another chest can be placed on top of it. If you are looking for a chest that can be used for loft storage, a flattop style wooden chest is recommended.
Dome Top
Dome top chests are the most stylish form of wooden chest, and used to be an item exclusively owned by upper class members of society. The shape is considered to be irregular, and it's interesting appearance comes at the cost of decreased manoeuvrability.
Buying Used
The antique and used wooden chest market is huge; in all honesty, it is probably the most popular way of buying such an item. When choosing to buy a used chest there are five things that shoppers should look out for in order to make sure that they're getting a good deal. Such elements are listed below, but always remember that you should never by a used item that you don't feel comfortable with.
| | |
| --- | --- |
| Condition | The condition of a chest should always be the key thing to consider when buying used. Most chests receive heavy use during their lifespan, but remember that they're built for such purpose. Even if it looks poor cosmetically, its core elements could still be strong. Always think of what it will look like when given a bit of work in order to recognise its true value. |
| Rarity | Even though most chests have been mass-produced, there is actually a market for rare models. Anything that has been custom made or is a one off production will command a high price at auction. Investing in a rare wooden chest isn't just a storage option, it is an item with future resale value. |
| Size | It isn't too difficult to figure out that larger chests (due to the amount of wood used) tend to cost more. Take into consideration how the extra size can affect delivery charges before committing to a purchase. |
| Original Features | Buying used isn't a foolproof process, but in order to ensure quality shoppers should be on the lookout for chests that have all their original features. Chests that don't have all their original features can actually lower its value by almost half. |
| Durability | Comparing age to condition gives an indication of how durable the chest is. Remember that a chest will need to withstand everything a home can throw at it, and then some. |
Additional Features
A wooden chest isn't just limited to its exterior appearance and the volume of space inside. Shoppers should be on the lookout for the following when picking up a wooden chest:
· Secret Compartments
· Trays
· Drawers
· Clothes Hangers
· Pouches
· Dividers
When shoppers are looking for a chest that offers more than just storage, they should find a wooden chest that features at least one of the items mentioned above. They add versatility to the way items are stored and allow any items placed inside of the chest to remain organised.
Brands
With the manufacturing history of wooden chests dating back hundreds of years there are plenty of companies around that make them. The top names in the history of wooden chest construction include:
· Truesdale
· Hartmann
· Leatheroid
· Haskell Brothers
· Goyard
· Clinton
· M.M. Secor
· Moynat
· Molloy
· Taylor
· Shwader (now known as Samsonite)
· Louis Vuitton
· Crouch and Fitzgerald
How to Buy a Wooden Chest on eBay
Shoppers who are looking for a new storage option can't go far wrong by acquiring a wooden chest. Not only are they classic in style, but also they're storage functionality is unrivalled. To see what chests are available, (both new and used) log on to eBay and select Home And Garden from the options on the left. Then select Furniture to reveal all that has been placed up for auction. On the results page there should be a list to the left that is full of search filters. Use these to hone in on a wooden chest of interest and tailor your search results.
When paying for an item, eBay advises doing so via PayPal. This means that the Buyer Protection Programme covers the transaction. To find out more about how eBay goes about protecting shoppers have a look at the buyer Protection page.
Conclusion
Wooden chests are a part of history and have stood the test of time as a traditional home storage option. They're part of a global heritage of storage options that once had uses as a form of luggage. Wooden chests are generally manufactured using the highest quality wood and feature intricate designs. They make storing and organising items a simple process. Simply put, when looking for a durable and versatile storage option, shoppers should always look to buy a wooden chest.
eBay has become a tremendous resource for wooden storage options, and have used and new options available at budget friendly prices.