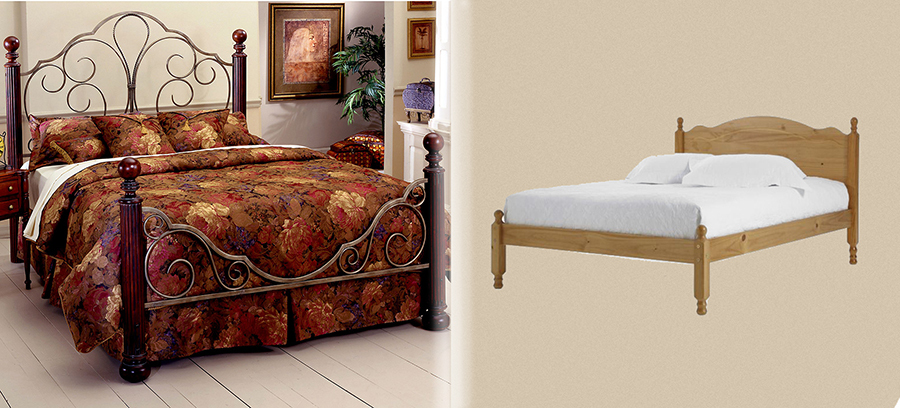 A bed is probably the most important piece of furniture in any bedroom. Buyers usually considerwooden and metal bed frames, but to make an informed purchase, they should know the features and advantages of each type. Both frames can be good choices. Wooden or metal, the frame can last for many years; however, the two frames differ mainly in price and looks. Before purchasing a bed frame, buyers might want to compare the pros and cons of wooden and metal frames. By taking into account what they want out of a bed frame, buyers can surely select the best frame for their bedroom. Besides from furniture shops, buyers can purchase their frames on eBay as well.
Wooden Bed Frames
Buyers can find wooden bed frames made of various kinds of wood includingmahogany, pine, and oak. Each type of wooden bed frame has its own distinctive colour and grain structure. By knowing the features of the main types of wood, buyers can be one step closer to making a decision.
Wood Type

Features

Advantages

fine-grained

quite hard

reddish-brown

resists warping, shrinking, swelling

Oak

beautiful fine grains

resists fungi and insects

durable

Maple

fine texture

very hard, dense, sturdy

very easy to shape

durable

Pine

sustainable wood

easy to shape

uniform grain and texture

soft texture

cost effective

resists warping, swelling, shrinking

Cherry

dense

usually red

resists warping and shrinking
Many buyers love the natural, cosy, and classy appearance of wooden beds. While the colour of a bed frame depends largely on its wood, buyers can find wooden bed frames in numerous designs. Besides a simple frame design with no headboard, there are frames with ornate carvings, built-in shelves, and also posts for a canopy.
Each wooden frame is unique as every wood has its own distinctive grain. For instance, even when comparing two cherry wood frames of the same design, it is easy to spot some differences in their looks and texture. By giving them good care, wooden beds can last for generations. In addition, owners can choose to refurbish a wooden bed frame after some years and give it a new look. Although wooden bed frames tend to be quite costly, they are well worth the money as they can last many years and turn any bedroom into a cosy place.
Metal Bed Frames
Metal bed frames can look very stylish in a modern bedroom. Buyers can choose hand-made antique wrought iron beds to complete the classic look of their bedroom, or even go for modern beds with contemporary designs. Metal beds are versatile as they are available in almost any design, colour, and finish imaginable. Buyers can find metal bed frames in conventional, classic, and even designs worthy of an art gallery.
Metal bed frames are tough, solid, and can withstand a lot of weight. Even though they are sturdy, these structures are also usually lightweight. Because metal is easy to paint, it is a very popular choice for making children's bed frames in bright colours like red, blue, and even pink. Another advantage of buying a metal frame is that it is cost effective and requires very little maintenance. After all, metal cannot be damaged by mould and insects.
Comparing Wooden and Metal Bed Frames
Both wooden and metal bed frames have their advantages and disadvantages. When it comes to aesthetics, there is no clear winner between the two. Both kinds of bed frames appeal to different buyers and go along with different themes. Generally, wooden beds look natural and rustic, whereas metal ones can have any look from utilitarian, to elegant, to futuristic. In terms of cost, metal frames are often cheaper than wooden ones. Because metal is widely available and easier to obtain and process than wood, metal beds generally cost less than their wooden counterparts. Wooden beds can convey a feeling of warmth that metal ones just cannot.
Both wooden and metal bed frames can last very long, but oftentimes, the paint or finish on metal frames tends to fade or chip off and buyers need to recoat the paint. However, if owners take good care of their beds, they may not need to apply new paint or finish at all. Sometimes, the weight of a bed frame is an important factor to buyers. Wooden beds tend to be heavier than metal ones of the same size. While some consumers like bulky bed frames, these pieces of furniture can be difficult to move. Whether buyers want a wooden or metal bed frame, they can choose from a wide variety of sizes, styles, and qualities of bed frames, especially when shopping online.
How to Buy a Wooden or Metal Bed Frame on eBay
To find a bed frame on eBay, use the search bar on any eBay web page. Type 'oak bed frame', 'king size metal bed frame', or any other relevant keyword. Check also eBay Deals for attractive offers on beds and other furniture items. Choose a frame according to material, size, colour, and design, considering your budget. Read the item description including price and delivery fee. If you buy from a local eBay seller, it may be possible to arrange a local pick-up, if the seller agrees. Choosing the right kind of bed frame can not only save you money in the long run, but also embellish your bedroom and make it truly your own.