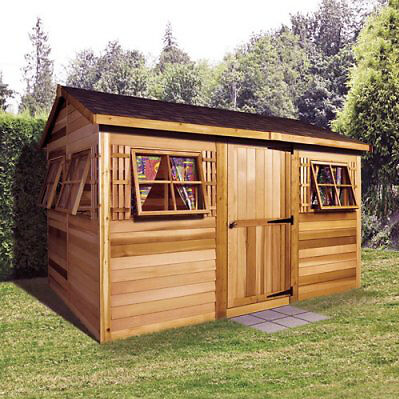 Not everyone has an oversized garage, roomy attic, or expansive basement in which to store tools, lawn equipment, gardening supplies, and other outdoor miscellany. That is why the garden shed has grown in popularity. Providing a convenient space that does not infringe on automobile or living space, a garden shed is an attractive, stylish, and convenient space to "get it all together". A freestanding unit, the garden shed is a dedicated location for not just lawn and garden gear but outdoor toys and games, pool equipment, and recreational accessories. As garden sheds are available in a wide range of styles, sizes, and materials, it is essential to first obtain an overview of features and qualities. Armed with this understanding, buyers are better prepared to find just what they need on eBay.
Wooden Garden Sheds
Wooden garden sheds hearken back to the barns found on old homesteads and farms. They have a classic look that never goes out of style and can fit easily into any setting or landscape design. Available in a range of styles and sidings, a well-chosen wooden garden shed can hold sway as a small house in the backyard. As seasons and tastes change, a wooden shed is easily updated with a fresh coat of paint, vibrant trim, or a new roof.
Also worth remembering is that while a garden shed with wood planks or siding is perhaps the most attractive or classic, it requires more frequent upkeep than a plastic or resin model. Despite such treatments as paint, stain, or polyurethane, wood left out in the elements is bound to deteriorate or even rot. Therefore, it is important to plan for annual waterproofing and other protective treatment to get the most out a wooden garden shed investment.
Another option is to look for a shed made of a wood with naturally occurring protective resin, such as cedar. However, even this type of wood requires extra care in the form of a biannual coating of UV-inhibiting sealant. As with other woods, cedar planks also benefit from a coat of stain, either tinted or clear. Although garden sheds made of plywood or particle board are inexpensive options, they are not recommended for rainy regions, as water readily seeps in and hastens deterioration.
Plastic Garden Sheds
Perhaps a bit more modern looking is the plastic garden shed. Easily assembled, this structure is available in a range of colours and styles to suit any outdoor décor. Unlike their wood counterparts, plastic garden sheds require very little maintenance and last for many years; they are also immune to insects and wood rot. In addition, while a wooden garden shed requires periodic upkeep by way of painting, staining, or waterproofing, a plastic garden shed is immune from rusting and chipping and never needs painting.
Things to Consider When Buying a Garden Shed
Without a doubt, the most important consideration when buying a garden shed is finding one that meets the needs of the homeowner. If the shed is not large enough to hold the requisite tools and equipment, including lawnmowers, it is not of much use; conversely, a structure that is too large for its surroundings may look out of place and unattractive. Striking the right balance between interior and exterior space is a must.
Design
The same also applies to the shed's design. Situated in the yard, behind the house, a garden shed should coordinate somewhat with the main home, or at the very least, not clash with it. Homeowners should view the garden shed as an extension of the main residence, as it sits on the same landscape and enhances the same yard. Whereas a classic brick home may call for a characteristic wooden shed, a modern house might best coordinate with a plastic shed. Similarly, any of the home's extra flourishes, such as arched windows or detailed shutters, can be added to the garden shed, as well.
Quality Over Price
Of course, everyone has a budget, and buying a garden shed has to fit into those plans. However, there are a few things a buyer should consider before zeroing in on the least expensive model available. As previously discussed, both functionality and appearance are vital determinations. Paying less money for a smaller model that cannot hold all of the necessary tools and equipment is not a bargain; similarly, installing a garden shed that completely clashes with its environment, including the home and surrounding landscape, is a decision that causes almost immediate regret. Therefore, carefully balancing needs and aesthetics with price is essential.
Site Installation
Some municipalities require permits before garden sheds or other outdoor implements are built or installed; others have placement guidelines, such as required distance from roads and property lines. Before pressing that "buy" button, it is always a good idea to check local regulations and obtain the proper permissions.
Before positioning a garden shed, the area must first be prepared for placement. The use of cinder blocks, concrete slabs, or smaller stones helps ensure a level surface for installation. The shed's floor must be supported, as well; here, pressure-treated wood works the best.
Accessories
When making their first outdoor storage purchase, many people think practical rather than aesthetic, and this is okay. However, down the line, these homeowners may wish to accent or outfit their purchase to make it more functional or better looking. Although accessorising is a lesser consideration than most when contemplating a purchase, it never hurts to be aware if a model offers the possibility of expansion or enhancement in the future, or if a new model becomes necessary if shelves, windows, or attics are desired.
Other Uses for a Garden Shed
Beyond the traditional, there are many other uses for a garden shed, notably those of a playhouse, hobby room, or workspace. A garden shed readily becomes a child's playhouse, with shelves for storing toys and floor space for hours of carpeted play. Add-ons, such as windows, porches, and half-door partitions, bring sunlight and livability to the space, sure to be a child's favourite. Other available accessories include skylights, lofts, and ramps.
For artists or crafters, a separate garden shed may be the ideal space for a painting studio, knitting hut, or scrapbooking room. There, those with artistic leanings may find a place that belongs to them and only them. A few extension cords or an installed electrical box can turn a garden shed into a modest workspace, with room enough for a small desk or table, chair, and lamp. Away from the hustle and bustle of the house yet near enough to run a household, a garden shed might be the ideal getaway.
How to Buy a Garden Shed on eBay
Armed with your list of features, both necessary and desired, you can go online to eBay and begin your search. There, you can type a variety of criteria into the search bar, including brand names, such as Durabuilt or Absco, composition like wood or plastic, size, or features, e.g., double door or window. When eBay returns your search results, you can skim the listings while taking note of colour photographs, title descriptions, price, and shipping costs, and other options. To access more detailed descriptions and additional photos, simply click the listing's title or photo. Also, be sure to check out the seller's profile and see the feedback other customers have left to determine whether they are a trustworthy seller or not.
Conclusion
Buying a garden shed is a convenient, attractive, and practical way to store outdoor tools, appliances, and accessories. A quick view of any subdivision proves the prevalence and reliability of these outbuildings. Garden sheds may be constructed from a number of materials, the most popular being wood and plastic. Before making a decision, buyers are advised to learn the benefits and drawbacks of each type, including design, upkeep, longevity, and add-ons. Weighing these factors makes choosing between the two much easier. Prior to narrowing down a budget, shoppers should review their size and feature needs. Once these have been determined, a visit to eBay is the fastest and easiest way to obtain a bargain and find the right shed.
Wooden Garden Shed|Plastic Garden Shed|Outdoor Shed|Outdoor Storage|Workshop