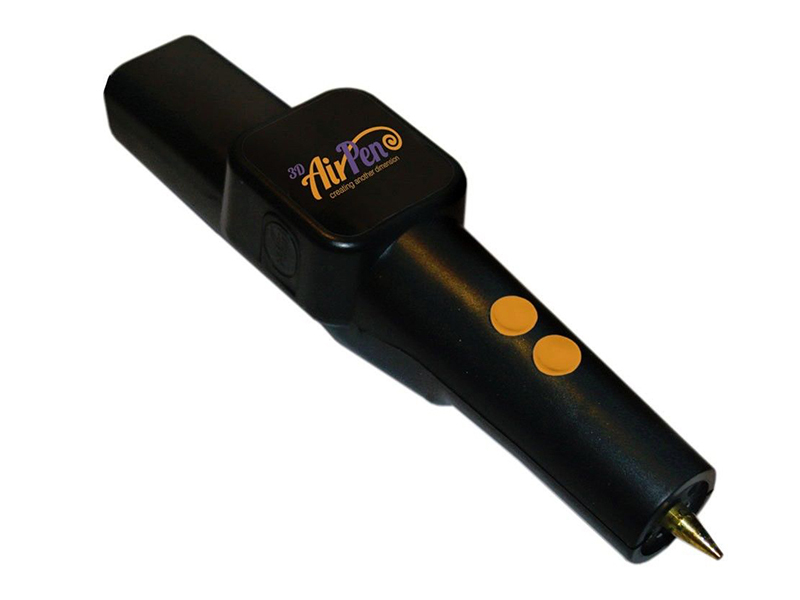 A 3D printing pen is a small and lightweight printer that can create solid, free-standing 3-dimensional objects from melted plastic ink. The images are rendered in a permanent, rigid state by simply drawing on air or doodling on space while the pen's nozzle is turned on to release the ink. The pen follows all the movements that the hand makes while the ink is extruded from the nozzle. Once the ink has cooled and solidified, it remains firm and free-standing, producing the 3-dimensional version of the outline or pattern that was drawn.
3D printing pens are intended for personal and home use. Unlike industrial desktop 3D printers, the pen version does not require 3D software installation, digital file model or an extensive knowledge in 3D modelling to produce concrete, tangible objects. Various projects where 3D printing pens are used include arts and crafts, DIY tasks and simple design projects like creating architecture scale models, toy prototypes and different kinds of miniatures.
3D Printing Pen Inks
Standard ink used for 3D printing pens are ABS (Acrylonitrile Butadiene Styrene) which is made from petroleum and PLA (Polylactic Acid) which is made from plants. These types of ink can be emulsified using temperature control and are quick to harden. Inks for portable 3D printing are shaped into strands or filaments which are inserted in the pen's casing, hence the need to make it elongated and cylindrical like a marker pen.
Choosing Your Best Match From the World's Smallest 3D Printing Pens
With different features and design, buying the right 3D printing pen from online retailers requires the same careful planning and consideration as you would use in choosing a standard document printer. Here are the world's smallest 3D printing pens to suit different skills and design requirements.
LIX
Measuring 16.4 centimetres long, 1.4 centimetres thick and weighing a mere 40 grams, LIX is considered the world's smallest 3D printing pen to date. Its ink filament is made of plastic, while the body is made of anodised aluminum. LIX uses both ABS and PLA ink. The smaller design was prompted by clamour for a slimmer and more lightweight 3D printing pen that has the precision of a 3D printing machine, offering a more comfortable yet controlled execution even with complicated drafts.
Cloudio2go
Measuring 17 centimetres long, 6 centimetres wide and weighing 400 grams, this pen is from the same company, Cloudio2go, that marketed pioneering 3D desktop printers. The pen version is made of plastic shell and uses a mix of ABS and PLA ink. The design is marketed for students and children and highlights better safety features and controls such as a lower heat setting, temperature regulation, intelligent standby and friction control.
3Doodler
Measuring 18 centimetres by 2.4 centimetres and weighing 200 grams, this pen uses ABS plastic ink (available in black, white and primary in matte or shimmer variants) and offers two-speed heating control. Users can choose from three nozzle sizes for fine, thin or thick doodling, making it ideal for the more artsy or creative 3D projects. Its manufacturer WobbleWorks also offers stencil kits for creating intricately detailed 3D objects like a model Eiffel Tower and wire art.
Chinavasion 3D Stereoscopic Printing Pen
Measuring 18.5 centimetres long, 2.8 millimetres wide and weighing 65 grams, this pen is ideal for design students and children. Users start by pressing the nib on paper to create a surface foundation and lifting the pen in the air to create free-standing vertical objects. Features include a stand-by function for temperature control, variable speed selection and a filament forward and reverse button that enhances the depth of the object produced.
CreoPop
Measuring 19 centimetres by 3.7 centimetres and weighing 113 grams, this pen is considered a game-changer in compact 3D printing. Innovative features include battery-operated power, six-speed control and use of photopolymer ink instead of melted plastic, which solidifies using the LED diode light button. Photopolymer can also create different ink effects and textures such as glow-in-the-dark or GID for toys and gadgets, elastic ink for fashion projects, conductive ink for electronics, magnetic ink for decors and body-paintable ink for tattoos and henna art.