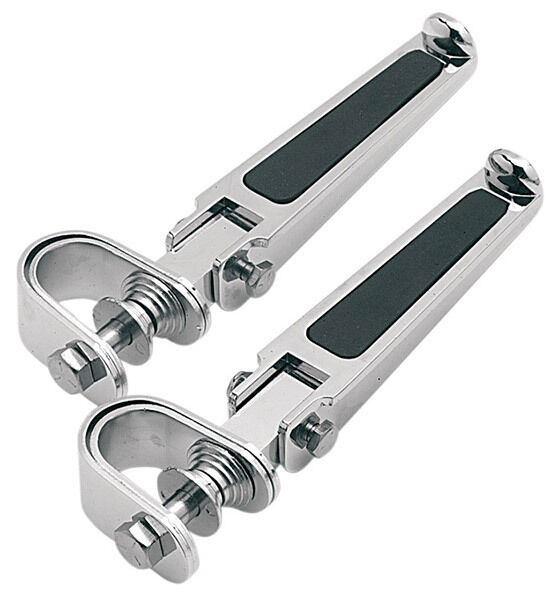 During a ride, motorcycle owners place their feet on slim, cylindrical rests called foot pegs. Occasionally, riders may notice that the foot pegs on their Yamaha bike are wearing out. In such cases, they may want to replace the foot pegs with new ones from the same brand. In other situations, owners may want to upgrade their original foot pegs with a pair of new ones from a different manufacturer. In either case, riders need to thoroughly investigate the benefits and function of Yamaha foot pegs, as well as elements of style and design. Shopping locally at brick and mortar stores that sell motorcycle parts should yield some Yamaha foot pegs. However, shopping on eBay usually offers buyers lower prices and a broader variety of choices.
Establish a Budget
Before beginning to shop, users should think about their budget. They need to decide just how much they are willing to spend on foot pegs. Yamaha foot pegs are typically very affordable, blending value with quality for a winning combination. Some models of Yamaha foot pegs may be slightly more expensive because of the materials used in their construction or because of their unique design. If buyers have a very tight budget or enjoy getting excellent bargains, they may want to look for used foot pegs. Pre-owned foot pegs are generally priced lower than brand-new models. However, buyers who are considering used products need to ensure that the foot pegs fit correctly on their motorcycle and that they still have plenty of wear left.
Look for Durable Materials
Foot pegs are a heavily used part of the motorcycle. Owners rest their feet on them constantly while riding. Often, they may shift their position and move their feet around slightly, causing additional friction and wear. Fortunately, Yamaha foot pegs are designed to withstand everyday use. They are made with durable, high quality materials. For instance, some models are made from billet aluminium and anodised to ensure a tough exterior finish. The high tensile strength of the foot pegs ensures their durability for owners.
Check the Grip
Foot pegs for Yamaha motorcycles and other motorcycles include some sort of tread or grip to help riders' feet stay in place. If their feet slip off the foot pegs during the ride, owners could temporarily lose their balance. In some cases, the sudden loss of balance can cause an accident involving injuries to the rider. Foot pegs with ridged designs and substantial treads ensure plenty of traction between the rider's boot and the peg, keeping the foot securely in place throughout the ride. Some foot pegs for Yamaha motorcycles are bar-shaped with a ridged surface. Others have a tread similar to a tyre. Still others feature an open design to allow both traction and airflow.
Ensure Easy Installation
Yamaha foot pegs have a reputation for being easy to install. If the Yamaha foot pegs attach withbolts and locking washers, they are generally simple to install. Foot pegs with rivets are more difficult to take off and put on. If buyers are looking online, they should search for foot pegs that come with an installation guide or owner's manual to make installation even easier. They should also double check to ascertain that all necessary parts and fasteners are included with the foot pegs themselves.
Consider the Fit
Not all foot pegs fit all motorcycles. For instance, some Yamaha foot pegs fit only the03-08 Yamaha R6, the06-08 Yamaha R6s, and the 04-08 Yamaha R1. Others fit different Yamaha models or feature compatibility with other motorcycle brands. While shopping, buyers should carefully read the product details on each set of foot pegs they may be considering. They may also need to check the specifications on the foot pegs they are currently using. Owners can then compare the specifications of the new foot pegs to confirm that they are compatible with the bike. Some Yamaha foot peg packages include adapters to ensure a correct fit.
Think about Placement
Motorcycles for single riders have a specific kind of foot peg. It is essentially the same style as the front foot pegs on a two-seater motorcycle. However, the rear passenger on a two-seater motorcycle needs a different type of foot peg. Buyers should ensure that they are purchasing the right Yamaha foot pegs for their motorcycle, whether they need pegs for the front, the back or both.
Calculate a Comfortable Length
In some cases, the foot pegs from the original equipment manufacturer (OEM) may be adequate, but a little short. Some Yamaha foot pegs are a little longer than the OEM foot pegs. This means that riders have additional room for resting their feet comfortably. Motorcycle owners with large or wide feet should ensure that their chosen foot pegs supply ample space. This is particularly important for buyers who own larger motorcycles and enjoy travelling long distances on their bike. Longer foot pegs may also be more comfortable for back seat passengers.
Decide on Style
Some Yamaha foot pegs are basic black, while others are metallic silver or chrome with black grip areas. A few models come in finishes such as brightred or gold. Buyers should choose a pair of foot pegs whose finish and and style match the overall look of their Yamaha motorcycle.
How to Buy
eBay is an excellent place to shop for motorcycle parts and accessories, including foot pegs. Simply type " Yamaha foot pegs" into the search bar on any eBay web page. Next, review the search results that appear. If there are too many, use eBay's search filters to narrow the results and create a manageable list of products that more clearly reflect your needs. As you shop, watch for free shipping offers,eBay Deals, and products that Top-rated Plus sellers have listed. Top-rated Plus sellers are those with stellar feedback scores, a history of good customer service and excellent products. You can also check another section of eBay's website, eBay Stores, where sellers can open their own shops and feature multiple products.