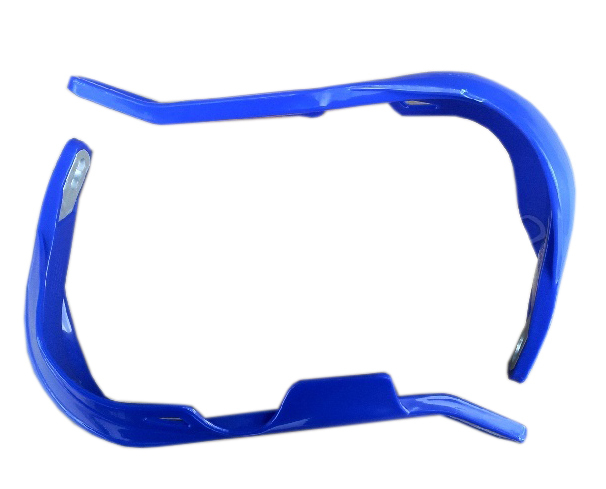 Yamaha taper bar hand guards protect knuckles and levers, above all else, when dirt riding. The more aggressive the rider, the more valuable these devices are. Riders say that hand guards generally pay for themselves in a single outing for anyone who describes him or herself as a "bark buster" or who admits to intentionally steering toward ledges, cliffs, and fallen logs. The correct hand guards for a given Yamaha bike depend partly on the rider's biking style. Bolt-on or metal-framed models both protect, but the wildest riders claim extra value from the extra price they pay for metal. It is also important to choose hand guards that fit the taper bar correctly. This prevents slippage while riding and eliminates many challenges during installation.
Hand Guard Style
Some brush hand guards bolt on near the end of the handlebar and others, made of plastic over a metal frame, may have more complex fastenings. All are durable but those who give their bikes the roughest rides often invest in metal-framed models.
Bolt-on Plastic
The most common and least expensive hand guards are molded plastic and bolt on near the end of the handlebar. Their many colours match the bikes' OEM paint. Like the plastics used in bike helmets, these plastics are extremely rugged and ready for abuse. Some brush hand guards, designed more for street than trail use, have vented sections. These weaken the guards' structure, but improve air flow at street speeds.
Plastic over Metal Frame
Several Yamaha motorcycle hand guards are constructed from plastic over metal frames for increased durability. These come in various shapes and designs. The Monster Pro handguard is available with 22mm and 28mm mounting hardware. Select the correct size for the bike's handlebar. The plastic shells for a pair of Tusk or Moose Racing hand guards are sold separately from the aluminium frames, allowing for separate replacement of any part that becomes damaged. The Barkbuster Ego is sold as an integrated unit, but the plastic shells may be replaced.
Fitted or Universal Fitment
The Yamaha stock ProTaper handlebar measures 1-1/8 inch at the center and tapers to 7/8 inch at the ends: thus "taper bar". Different models have slightly different lever configurations, however, so hand guards specific to a model are easiest to install. Manufacturers may indicate that their hand guard design is not suitable for bikes "with long clutch and brake levers" for example, but if uncertain, check before making a purchase.
Universal fit hand guards, like the Polisport Free Flow, sometimes fit a bike and sometimes do not. Sellers often provide fitment information about universal fit hand guards. One seller alerts buyers that their "universal" hand guard only fits hollow non-tapered handlebars and may interfere with the steering lock on a faired motorcycle. Check for such alerts before making a purchase.
Mechanically inclined buyers may not be concerned about such issues, of course. Many simply select the hand guards they prefer, then set about making the necessary adjustments to the brake and clutch. These are not always small changes. Those who already maintain their own brakes and transmission are best prepared for this project.
Buyers find the fewest appropriately sized hand guards for small dirt bikes, the two-stroke models with 65-85 cc engines and four-stroke models with 70-125 cc engines. For these bikes, many owners recommend Moose Racing hand guards for the best fit.
Popular Brands
Yamaha relies on ProTaper, Cycra, and Barkbusters, an Aussie company, to supply hand guards to its dealers. But when it comes to hand guards, "original equipment" is simply equipment from quality resellers. Beyond these companies, there are a number of manufacturers that various riders favour. Acerbis Rally Pro handguards gets votes because some riders think its shape protects hands and levers better than bolt-ons. Tusk has proponents because the plastic shell and the aluminium frame can be traded out separately as either gets damaged. Moose Racing handguards are said to be best sized for small bikes. These and several other brands are well-regarded for durability and protection in tough bush conditions.
Parts and Tools
Installing hand guards can be a simple project or more complicated, depending on whether the guards fit neatly around the existing clutch and brake installation. Call on a good mechanic if a task like bleeding a brake line seems too complicated. For a basic installation, make sure these parts and tools are on hand.
Spanner
Use a spanner to tighten mounting bolts and to adjust clutch and brake lines as needed. Use it again to check your bolts before every ride. Spending extra time checking before a ride is much better than spending extra time walking 20km through the bush after a breakdown.
Mount Kit
A hand guard m ount kit may be included with some hand guards. If not, these should be purchased separately. Look for mounts that fit both the hand guards and the taper bar correctly. Choose mounts made from a durable material such as anodized aluminium. Mount kits may include several clamps, a bar end fastening, a bar end insert, and other elements depending on the design of the hand guard.
How to Buy Yamaha Taper Bar Hand Guards
To locate Yamaha taper bar hand guards suitable to a particular motorbike on eBay, start by entering the model name and the term "hand guard" in the Search window on any eBay page. So, for example, " Yamaha WR450 hand guard" brings up hand guards suitable to your motorbike. If you have questions about the fitment of particular hand guards use the "Questions and Answers About This Item" tab on the product page to "Ask a question" of the seller. Good eBay sellers seek to maintain quality relationships with buyers and respond quickly to questions while offering solid deals. You are off and riding with hands and levers well protected in no time.