Electric kettles were invented by the English to speed up tea preparation times but the technology wasn't taken up due to fear of death by electrocution. Deadly or not, Australian's in the 1920s electrified ceramic jugs creating among the first affordable appliances available in towns and suburbs all across Australia being hooked up to electricity grids for the first time. Their popularity was such that ceramic jugs ultimately became a feature in practically every Australian kitchen for the half century spanning 1920s to 1970s before modern plastics and space-age alloys took over.

While authorities in Britain and America felt the mixture of water and electricity with the public was too risky to allow electric kettles to be mass produced, Australia used the electric element to go on to invent the electric jug. Electric ceramic jugs can be found to a limited extent in New Zealand, Hong Kong and South Africa.

In the beginning, electric appliances of any type were imported to Australia until the 1920s, when tariff protection was introduced and a local industry established. Early electric kettles resembled the metal kettles they had replaced for use over fires or hotplates. The advent of the electric element meant the perfect volume of clean, fresh water could be boiled quickly without the need for bottled gas or to first make a fire, plus, ceramic jugs were cheaper to produce than metal kettles they were non-conductive and were already commonly in production for use as pitchers. Potteries vied for the market by making their jugs as attractive as possible. They used drip glaze, marble effect and even speckled the jugs with colour by using a sponge.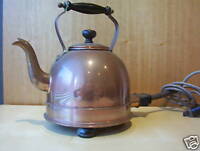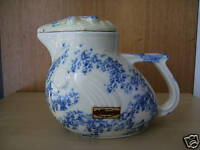 Fancy ceramic jugs became a status symbol during The Great Depression and WWII eras, the more eccentric the better. Jugs were made to resemble frogs, kookaburras and some actually had faces while others were especially made to boil eggs and warm milk. They were known as electric boilo jugs and the many different brand names available became household names over the decades. Early vintage jugs don't whistle or automatically shut off and could boil dry if left unattended, their only safety feature if it boiled dry was the spring-loaded plug that would jump out once the element overheated and blew. This was perfectly fine unless the plug landed in a sink full of water.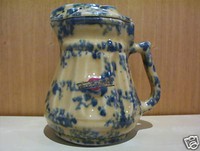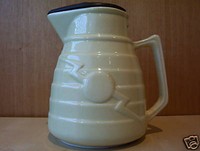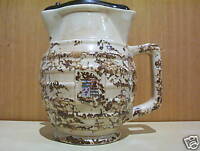 Numerous styles, patterns and designs have been produced over the decades reflecting the tastes and fashions of the day. Verging on antique status, select collectable jugs are increasing in value and are regarded as individual works of art. Eccentric, fancy, kookaburra and early urn shaped jugs are the most sought after. The earliest and most collectable jugs have ceramic lids and were made during the 1920s and Great Depression, with the invention of plastic, fragile ceramic lids were replaced with durable Bakelite through the 1940s-1960s. Newer plastics were developed during the 1970, whistles were added and shut off buttons responded if boiled dry. By the end of the 70s new plastics and lightweight alloys replaced the ceramic jug. From the 1980s to the end of the 20th Century, the automatic electric kettle had morphed its plastic form many times to reach the revolutionary climax of becoming cordless.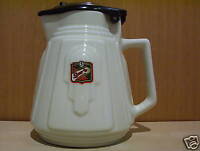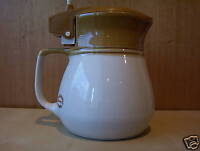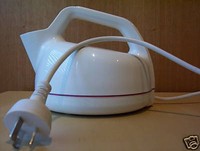 The most collectable jugs of the 20th Century were made in the 1920s, 30s and 40s by the major potteries of Bendigo, Lithgow, Koster, Mashman, Sunshine, "Hecla", "Nilsen" and "Cooper & Cook".
An additional prized collectable is the 'sampler'. Sample sized jugs were carried by travelling salesmen to show the new shapes and colours of upcoming models allowing orders to be taken. Samplers look like a one-cup sized jug with no element or space for an electrical cord. They are extremely rare and sometimes mistaken for part of a doll's or child's tea set.



Ceramic electric jugs are Australia's unique contribution to kitchenalia and are collected.
Since you've read this far I am sure you found this guide useful so please vote!