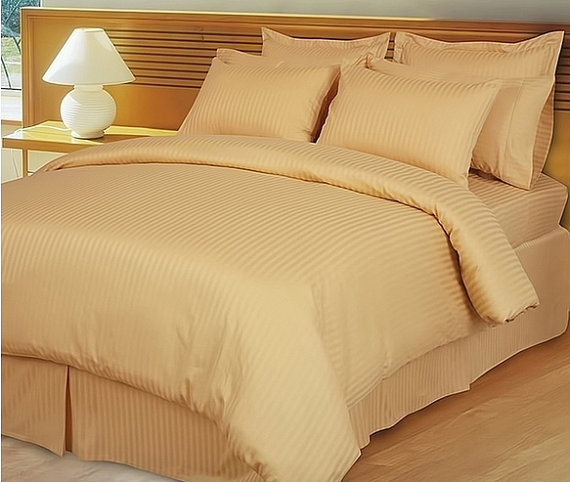 When it comes to buying bedding, it is hard to beat the durability and comfort of 100 per cent cotton. Cotton is the most common fibre used in bedding, and consumers looking for 100 per cent cotton quilt covers find a wealth of options available online and in stores. From different types of cotton to various thread counts and weaves, shoppers who take the time to learn about cotton bedding have an easier time deciding what to buy. For a more enjoyable experience, decide on the size, style, and comfort level of a 100 per cent cotton quilt cover before heading to an online marketplace such as eBay to purchase new bedding.
Types of Cotton Used for Quilt Covers
Consumers encounter many new terms when shopping for 100 per cent cotton quilt covers. Learn these terms and the characteristics of the different types of cotton for a better understanding of what thread count really means to make shopping for cotton quilt covers less confusing.
Cotton Terminology
Cotton receives labels according to the region in which it was grown. The chart below gives descriptions of several of the most common types of cotton used in bedding.
Type of Cotton

Description

A strong, long fibre, highly absorbent cotton fibre from the Nile Valley

Expensive, but durable

Supple, with a glossy sheen

An extra long long staple cotton

Grown in Israel, Australia, and the southwestern United States

More affordable than Egyptian

A trademarked name

100 per cent American Pima extra long staple cotton

Sea Island

An extra-long staple cotton

Produced in small quantities in the Caribbean

Exceptionally durable and soft with a silky lustre

Non-genetically modified cotton grown with environmentally friendly, certified organic farming practices
High quality cotton fabrics come from cotton plants with long staples or fibres. Their features are similar no matter their origin. The quality and comfort of fabrics made from short fibre cotton are inferior, and are thus a poor choice for bedding.
Cotton Quilt Covers Come in a Variety of Weaves
Weaving cotton fibres together in different ways create fabrics of varying softness, durability, and sheen. The chart below lists the characteristics of several types of weaves used for quilt covers.
Type of Weave

Characteristics

Extremely durable, patterned fabric made from the finest yarns

Difficult and expensive to make

Includes damask, tapestry, brocade, and matelasse

Dobby

Patterned, woven fabric that is less expensive than jacquard

Includes simple designs such as damask stripes, pique, and waffle cloth

Strong fabric with a soft drape and a diagonal rib or twill line

Sanded or brushed for added softness and durability

Smooth, lustrous fabric with a high sheen and thick, close texture

Drawbacks are that it is expensive and prone to snags

Plain

Strong, even fabric with average softness and strength

Accounts for most cotton bedding sold
The type of cotton weave not only determines softness and durability, but price. Shoppers should look for 100 per cent cotton bedding that offers the right level of softness and strength and also fits their budgets.
Understanding Thread Count
Thread count refers to the number of horizontal and vertical fibres in one square inch of fabric. In general, a low thread count number indicates a low quality fabric. As thread count goes up, the fabric tends to get softer and more durable. High quality cotton fabrics have thread counts between 220 and 400. As thread count rises above 400, the construction changes in a way that no longer guarantees a higher quality fabric.
Choose the Size, Style, and Comfort of a Quilt Cover
Quilt covers, or doona covers, should not only fit the bed, but should fit the design and climate of the room. Choose fabrics, colours, and patterns that suit the design style of the room and that keeps occupants comfortable while sleeping.
Quilt Cover Sizes
Manufacturers make quilt covers to fit most standard mattress sizes. The chart below lists approximate standard dimensions for different quilt cover sizes.
Bed Size

Approximate Size

(in inches)

Approximate Size

(in Centimetres)

55 x 83

140 x 210

Double

71 x 83

180 x 210

Queen

83 x 83

210 x 210

King

95 x 83

240 x 210
Single mattresses are also available in single extra long and king single sizes. Some consumers find it challenging to find quilt covers and other bedding to fit these specialty sizes.
Select a Quilt Cover by Pattern, Style, and colour
Bright colours can cheer up a dark room and add an element of fun. Jewel tones are rich and luxurious, and work well with formal furniture. A quilt cover set that includes extras like coordinating pillow cases, bed skirts, sheets, and window treatments creates a polished look.
Choose a Quilt Cover for Comfort
If your home is in a warmer climate, or if you keep your bedroom temperature high, you may need bedding made with lighter weight fabrics. In colder temperatures, quilts and quilt covers made with heavier weight fabrics offer more warmth. When shopping for a quilt cover, match the weight of the fabric to the average temperature of the room for maximum comfort.
How to Buy Quilt Covers on eBay
Quilt covers come in a wide range of sizes, fabrics, and styles. eBay has a large selection of 100 per cent cotton quilt covers and other bedding items to satisfy even the most discerning shoppers lookinng for great deals. Use category selections to find listings for a specific colour, size, or brand of quilt cover, or browse through all the current listings by simply typing "quilt cover" into the search box on any eBay page.
Get familiar with the terms used to describe different types of cotton bedding to avoid the confusion and anxiety of shopping for a new or previously owned 100 per cent quilt cover. Then, head to eBay to find a quilt cover that offers just the right fit.