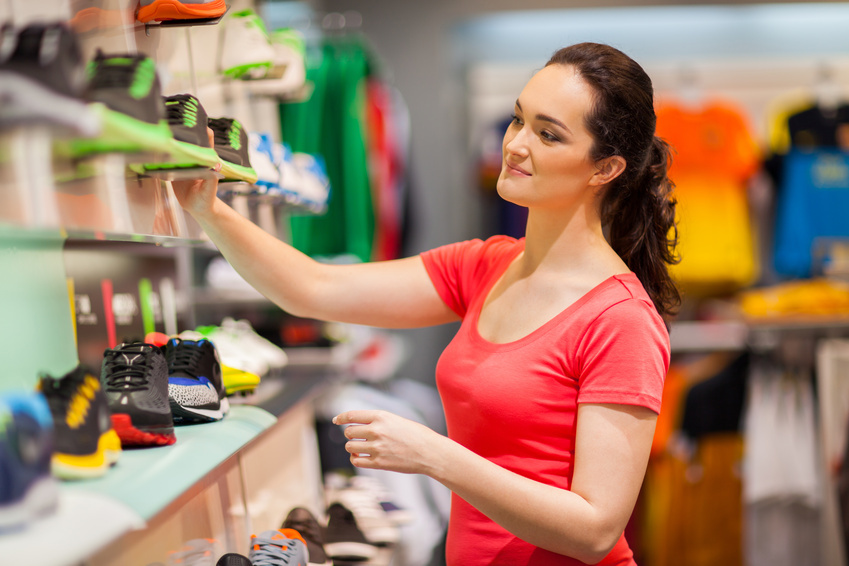 Whatever type of sport or activity a person takes part in to keep fit, a wide range of sportswear is available to suit them. Clothing designed to be worn for sport is often made out of lightweight, breathable fabrics which help the wearer to keep cool and dry during strenuous activity, and a range of clothes are available which are designed to be suited for specific sports. Sportswear can range greatly in appearance from form fitting, aerodynamic clothing to more relaxed, comfortable and loose clothing. Shorts, skirts, t-shirts and many other types of sportswear are available on eBay.
What to Look for in Sportswear
There are a few key factors to look out for when purchasing sportswear, in order to ensure it is practical and comfortable.
· Finding the right fit of sportswear is important to ensuring a comfortable workout. Clothing that is too tight can be uncomfortable and restrict circulation, while clothing that is too loose can get caught and inhibit performance. Some sportswear and accessories are available in one size fits all, while others are measured in specific dress sizes, making it easy to find the right size.
· It is best to buy sportswear which is made out of natural fibres, such as cotton. These fabrics are ideal for sports and fitness, as they are lightweight, and breathable, helping the wearer remain cool and dry. Sportswear is also often easily washed.
· Many sportswear materials made offer a wicking effect, where sweat and moisture is absorbed into the clothing and allowed to evaporate.
· It is important to match the needs of any specific sports the wearer will play, to their sportswear. Cycling requires tighter fitting clothing to reduce wind resistance and the risk of getting clothing caught in the bike, and materials such as lycra are a popular choice for this. Skirts or shorts are popular for tennis, meanwhile, as they accommodate the high speed side-to-side movement the sport requires.
· It can be useful to build a set of different pieces of sportswear which can be mixed and matched, offering the versatility to meet different needs and requirements.
A Typical Sportswear Kit
There are a number of pieces of sportswear which are versatile enough to be useful for almost any kind of sport or exercise, and making up a basic kit means that the wearer will be ready to take part in all kinds of activity, such as running, going to the gym, or taking part in court sports.
Sportswear Tops
There are a number of different options when it comes to sportswear for the top half of the body.
| | |
| --- | --- |
| Vests | Vests are a good choice for exercise and fitness. These lightweight garments keep the arms fully free for any activities, while also helping the wearer to keep cool. When exercising in warmer weather, vests may be the preferable choice, and both close fitting and more relaxed, comfortable options are available. |
| T-shirts | T-shirts are also a popular choice, and can help keep the wear cool while exercising. Longer sleeved shirts are also available, and can be suitable for playing sports in colder weather. Some may prefer these if, for example, they are self conscious about their arms. |
| Hoodie | For colder weather, an additional top such as a hoodie may also be worn, either while playing or exercising, or to wear on the way to and from the gym. |
| Sports Bra | A sports bracan be an essential garment, particularly for women with larger chests. Sports bras provide additional support and can enhance comfort, as well as help prevent injury. |
Sportswear Bottoms
Different bottoms are available which can be suited for different activities, as well as different weather.
| | |
| --- | --- |
| Shorts | Shorts are a popular choice, particularly for warmer weather. They leave much of the wearer legs free, and also enable a great deal of movement. Tight fitting shorts are best for sports such as cycling, whereas looser fitting shorts can be more comfortable for other activities. |
| Pants | Full length pants can provide additional coverage and protection to the wearers legs, and may be preferable for cooler weather. Some prefer to have full coverage of their legs. Pants might also be preferable for activities such as yoga or aerobics. |
| Skirts | For sports like tennis and badminton, some players prefer to wear skirts. These afford a great deal of mobility to the players. |
Sportswear Accessories
There are a variety of different accessories that can be highly useful for use with sportswear.
· Sports socks are available, and can help to enhance the wearers comfort during sporting and fitness activities. These are often designed to help ensure that the foot remains dry and comfortable.
· Sweatbands can also be useful. These are typically elastic, and can be made out of a range of different materials. They can be worn around the wrist to prevent sweat reaching hands and reducing grip, while headbands can be used to prevent sweat from getting into the eyes, as well as keep hair out of the way.
· Attention should also be paid to footwear. Athletic shoes can be found in a wide range of designs and materials which can be suitable for different sports and activities, and matching the right sportswear for a sport with specifically designed shoes can help improve both comfort and performance.
· Gym bags are available which can conveniently hold a set of sportswear for transportation to and from the gym, as well as additional items such as towels and water bottles.
How to Buy Adidas Sportswear on eBay
A wide variety of sportswear can be found on eBay, suitable for all kinds of sports and activities.
· The full listing of available Adidas Sportswear can be found in the Sportswear section of Women's Clothing, which can be found through the Clothing, Shoes, Accessories portal.
· The listings can easily be narrowed down with a variety of option, including price, condition, size and product type.
· Create a coordinated look by searching for clothes featuring a specific main colour, such as black, blue or grey. It is also possible to sort out clothes which feature any desired materials.
· Important information about a particular item is often clearly displayed in the item listing, such as brand or size, making it easy to quickly identify if a particular item meets any requirements. Further information, often including pictures, can be found on the item page, along with information about the seller, such as item reviews and feedback ratings. This helps to ensure that a purchase can be made with confidence.
· If a specific piece of sportswear is needed, it may be easier and more effective to make use of the search function, available at the top of every page. Entering a key word into the search bar will return relevant results, either from within a specified category, or from across the site.
· Don't forget to look out for deals on women's sportswear in the 'Women's Clothing' section.
Conclusion
Many different types of Adidas sportswear are available, offering suitability for different preferences and sports. A pair of pants can be great for jogging, while shorts or a skirt may offer the manoeuvrability that sports such as tennis require. Hoodies and jackets are also available, as well as a variety of useful accessories such as gym backs. A wide variety of sportswear, as well as footwear and other women's clothes can be found on eBay.