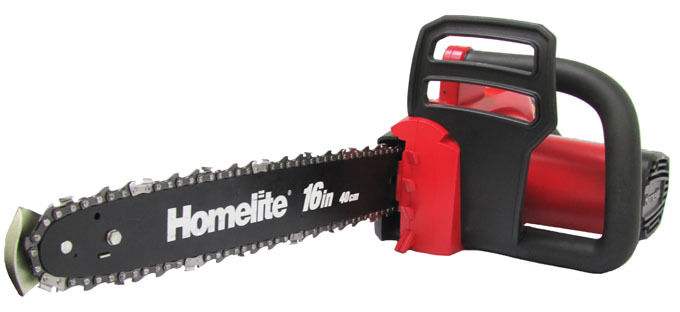 Chainsaws revolutionised several industries, including the logging and construction industries. Instead of working in large teams, the power tools allowed professionals to work in pairs or even alone on extensive projects. The powered saws have produced more of an impact on do-it-yourselfers who no longer have to contact tree removal services. As one of the leading chainsaw manufacturers, Homelite constructs a number of chainsaws to handle small brush jobs to bringing down the diseased oak tree in the back garden. Non-professionals can find every type of Homelite chainsaw at home improvement shops and on one of the leading e-commerce sites, eBay. Firstly, they should learn about the types of Homelite chainsaws and then reviews the important elements to consider before making a purchasing decision.
Types of Homelite Chainsaws
Homelite manufactures two categories of chainsaws: corded electric and gas powered. Consumers have two choices within the corded electric category and three choices within the gas-powered category. The following chart describes in detail each of the five types of Homelite chainsaws.
Type

Description

Three-point vibration isolation handle reduces hand and arm fatigue

Automatic oiler lubricates bar

Inertia activated chain brake

Clear fuel and oil tanks provide users with easy way to check fluid levels

40 cm 42CC

40 cm bar

Safe-T-Tip prevents rotational kickback

Two-cycle engine lubricant

Inertia activated chain brake

45 cm 42CC

Side access chain tensioning provides for easy cutting adjustments

45 cm bar and chain that can handle logs up to 85 cm in diameter

Inertia activated chain brake

35 cm Electric

Does not require hand tools to tighten chain

Cord retention hook to prevent unwanted power disconnect

Clear window to view oil level

Soft, comfortable hand grip

40 cm Electric

12-amp motor

Low profile chain prevents kickback

Automatic oiler keeps chain lubricated

Ergonomic
A corded electric chainsaw can limit user movement, especially for jobs that encompass an entire back garden or city park. Gas-powered Homelite chainsaws provide users with portability to move from one tree to the next without having to waste time arranging an electric cord. However, gas-powered Homelite chainsaws typically cost more than corded electric chainsaws and consumers must also factor in rising fuel costs. Both Homelite chainsaw categories possess highly durable materials that prevent cracks and dents.
What to Look for in an Affordable Homelite Chainsaw
Part of the process for choosing the right Homelite chainsaw involves selecting the correct bar length. Undersized bar lengths can cause cutting errors that threaten personal safety. Oversized bars make it difficult for the operator to raise the chainsaw to the correct cutting position. In addition to bar length, consumers must also consider chains, accessories, and condition.
Bar Length
Outside of strong vibrations, nothing comprises chainsaw safety more than an improperly sized bar. Chainsaw bar length defines the distance from the edge of the cutting tip to the point where the chain moves into the sturdy, protective body. Loggers refer to chainsaw bar length as the active area the saw cuts in one pass. Homelite chainsaw bar lengths vary between 35 and 45 cm. Every increase in bar length produces more weight and power. Therefore, consumers should grip running Homelite chainsaws for a few minutes to determine if they can handle the chainsaw's weight and thrust. Homelite typically produces bar lengths that exceed 50 cm for professionals who need more length to access tree branches that dangle over utility wires.
Chain
Non-professional chainsaw users should consider anti-kickback chains that provide more protection against common chainsaw accidents. Inertia-activated chain brakes not only prevent hands from moving dangerously close to the bar, the inertia-activated brakes also serve as a manual chain brake. Whenever the saw kicks back and forces the guard to hit the hands, the chain discontinues its forward motion. To enhance cutting performance, consumers should buy sharp chains. Dull chain teeth can slip on a cutting service, as well as create an inferior cut.
Homelite Chainsaw Accessories
Buying an affordable Homelite chainsaw does not mean skimping on the protective accessories required to ensure user safety. Protective clothing includes cut-resistant leg chaps and wool shirts. Homelite chainsaw users must wear a hard hat to prevent serious head injuries caused by falling debris. Although Homelite produces chainsaws that possess ergonomic hand grips, users should wear gloves to protect the hands from blisters. Eye protection should at least involve wearing goggles, although most chainsaw experts recommend wearing a full-face shield. Finally, hearing protection comes in the form of earplugs or earmuffs. Homelite chainsaw accessories pad the final bill, but preventing injuries lowers medical and insurance costs.
Used
Since Homelite chainsaw accessories can add a significant amount of money to the final bill, consumers should consider searching for used Homelite chainsaws. Homelite manufactures highly durable chainsaws that last for years. This means consumers can find a quality used Homelite chainsaw at a discounted price. The best venue to find high-quality used Homelite chainsaws is on eBay. Some eBay sellers offer Homelite chainsaws that they have only removed from the original packaging, but never operated. Because the seller removed the chainsaw from the original packaging, he or she must discount the practically brand new chainsaw.
Buying Affordable Homelite Chainsaws on eBay
To find an affordable Homelite chainsaw on eBay, use eBay's search engine to vet potential sellers. In addition to searching for never used Homelite chainsaws, you can type "Homelite Chainsaws" into the search engine to receive a list of Homelite chainsaw sellers. Once you reduce your seller candidate list to a manageable number, further reduce your list by only considering Australian Homelite chainsaw sellers. This ensures a shorter delivery time, which may be important if you need to clear debris within a municipal government mandated timeframe. Another important factor when choosing the right sellers involves the method of payment. Finding the best Homelite chainsaw bargain on eBay is irrelevant if the seller does not accept your preferred credit card.