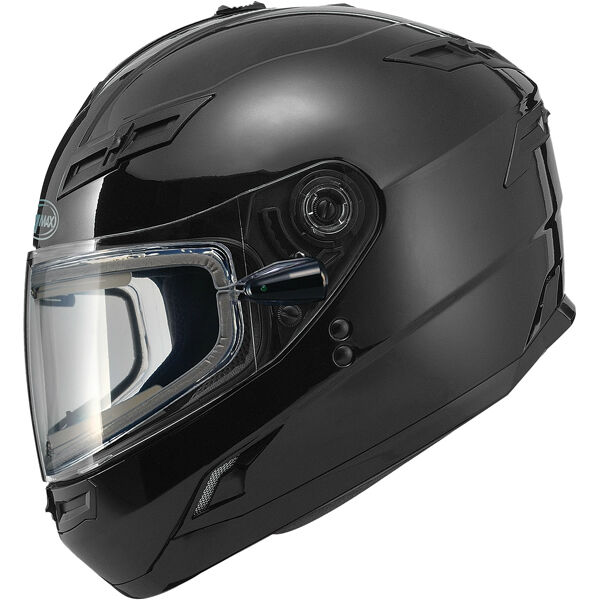 For motorcycle riders who get caught in the dark or inclement weather, being seen is the only way to stay safe on their bikes. Helmet lights which are made with ultra-bright LED bulbs are easy to place on a motorcycle helmet and they work as turn signals, brake lights, or simply as a way to illuminate the rider in the dark or during a storm. The lights are wireless, and the LEDs are placed on the rear of the helmet for best results. Buyers shop on eBay and from motorcycle shops to find the best deals on LED motorcycle helmet lighting.
Types of LED Motorcycle Helmet Lighting
Motorcycle h elmet lights are created with safe, planet-friendly, and long-lasting LED lights. The battery-powered, wireless lights are used in conjunction with a transmitter so riders do not have to worry about cords or wires while riding. The lights help riders feel safe if it is raining, foggy, or dark. Motorcycle helmet lights are simple to install and use.
Brake Light Strips
Purchase an LED light that also functions as a brake light. The LED lights are small red bulbs that install in an easy-to-use strip on the back of your helmet, and they illuminate when you use your brakes as an added precaution for drivers behind you. The helmet brake lights are water resistant so they are useful in all weather situations. Some LED lights flash while the brakes are applied, while others burn steady until you let go of the brake.
While some brake lights are applied with adhesive, some brands come with a strap to simply slip the LED over your helmet so it is easy to remove. Adhesive brake lights are cost efficient and work for all types of helmets.
Turn Signal Light Strips
Some LED helmet lights work in conjunction with your turn signals. There are also options that include a red brake light as well as orange turn signals to illuminate your helmet when you turn right or left. These lights are convenient and affordable, and work wirelessly just like LED brake lights. Lights which include a turn signal are generally a bit longer to accommodate the extra LED bulbs, but they are installed on the helmet the same way.
Single Lights
If you do not want to go to the trouble of installing a strip of LED lights, a single light is another option. Single LED lights are made of one bright bulb that is constantly lit for safety and added visibility. Single LED lights are clear or red, and easily stick to your motorcycle helmet with a strong adhesive. These are extremely inexpensive and stick to any flat surface on your helmet. They are also water resistant. LED lights are bright but do not use much energy, so they are environmentally friendly.
Single lights are also useful for bicycle riders and anyone else riding a dirt bike or off-road vehicle to stay safe and visible. These are versatile and do not take up much space or require additional equipment to properly install.
Helmet Headlights
A simple safety solution that does not require adhesive but is actually mounted on your helmet is a helmet headlight. These bright lights are usually made with one or two LED lights that look similar to flashlights. The LED lights are battery powered and are easily mounted to any type of helmet. The lights are waterproof and long lasting, and perfect for street riding and off-road situations. They are also useful as handlebar lights. Choose single or double versions of these bright headlights to keep you safe while cruising on your bike.
LED Lighting Kits
An LED lighting kit is the most affordable way to get everything you need to light up your helmet. Kits generally come with an LED light strip, wireless transmitter and receiver, batteries, and any tools needed to install the helmet lighting. Some kits offer added conversion tools to turn the helmet lighting into handlebar lighting if necessary. These are usually a bit more costly and include one or two headlight style LED lights that go on opposite sides of your helmet, as opposed to the strip of LED lights on the rear of the helmet with brake light kits.
Helmets with Inbuilt Lights
Though the cost is higher than purchasing LED lighting separately, if you are investing in a helmet and plan on purchasing LED helmet lighting to go with it, consider a helmet with inbuilt LED lights for a more efficient and timely option. Helmets which have inbuilt LED lights have an LED light strip already installed on the rear of the helmet, or lights along the sides of the helmet, or both. Some helmets offer various light settings that flash or stay consistently lit.
A popular brand that makes helmets with inbuilt LED lighting is Gmax. These are the perfect combination of safety of LED lighting with a sturdy, durable helmet.
How to Buy
Search eBay for budget-friendly ways to light up the night with your motorcycle helmet and to stay safe. To getgreat deals on helmets and LED lighting, key in "LED motorcycle lights" or " motorcycle helmet lights". Refine your search by price range to stay within your budget. Purchase single adhesive lights for the least expensive option, or a strip of brake lights that are wireless. For the best results, shop from Top-rated sellers.
Stay safe and visible when you are riding at night, in the fog, or on a rainy evening with LED motorcycle helmet lighting. Helmet lights stay lit up non-stop, or they work along with your brake and turn signals to alert cars behind you of your actions. Staying safe means being visible, and LED motorcycle lights are the perfect, affordable solution.