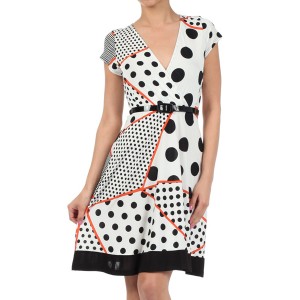 Buying affordable trendy dresses without sacrificing quality in not as difficult as it may seem. More often than not, the only difference between the two is the logo. Although many buyers are willing to pay extra for the name brand, those looking to cut costs and find an affordable trendy dress many need to search those by less popular designers.
Trendy dresses are appreciated for their fashionable yet comfortable feel. Available in a wide array of shapes, sizes, and styles, they are designed to fit into any woman's wardrobe. When purchasing affordable trendy dresses at retailers such as eBay, buyers should consider the various types.
Types of Trendy Dresses
There are various types of trendy dresses, each classified according to style and appearance. When searching for a trendy dress, buyers should keep in mind dress occasion in order to help them find the perfect fit.
Maxi Dresses
Maxi dresses are well suited for casual, outdoor settings. These dresses often feature spaghetti straps or a strapless design and feature an empire waist or natural waistline. Typically reaching floor-length, maxi dresses are flowy in form and commonly paired with simple sandals or wedges.
Shift Dresses
Shift dresses have little to no form, hanging loose from the wearer's body. Much resembling that of a long t-shirt, this trendy dress style may feature short or long sleeves. Depending on how one chooses the accessories the garment, shift dresses can be worn for a variety of settings, although it is mainly considered a form of casual wear. Women can give the dress definition by adding a belt or other accessory item around their natural waistline.
Shirt Dresses
Shirt dresses may feature either short or long sleeves. The dress itself resembles that of a man's shirt, but typically spans longer in length, generally reaching the wearer's knees. The front of the dress is button down in style, starting at the neckline and ending at the hemline. Unlike shift dresses, shirt dresses feature a defined waistline which is often accompanied by a belt.
Wrap Dresses
V-neck in design, wrap dresses have a form fitting top region and a looser skirt. As indicated by the name, the dress wraps around the wearer's entire body, opening in the front and covering the entire back. The dress typically fastens at the waist with a button, belt, or snap closure. Wrap dresses come in a wide array of sleeve lengths.
Cocktail Dresses
Cocktail dresses are well suited for semi-formal occasions, falling mid-length in fashion. Most commonly associated with evening wear, the dress can be dressed up or down depending on how the wearer chooses to accessorise her outfit. If worn during the day, women may choose to pair the dress with a cardigan or jacket. At night, the dress can be paired with a long necklace and high heels.
Clubwear Dresses
Clubwear dresses are usually reserved for nightclubs. These dresses are more elaborate and often contain sequins, beading, and other embellishments. These dresses may also have plunging necklines and reach far above the knee.
Taking the More Affordable Route
Buying a used dress is an excellent way to save money. Many dresses, especially those worn to evening functions or balls, are seldom worn more than once or twice. Buying used designer dresses makes items available that are ordinarily out of reach due to budget constraints. Before buying used clothing check the condition of the each garment, either physically or by asking the seller specific questions.
Fabric Performance
Delicate materials such as silk or satin are easily damaged, and dresses that have been worn more than once may show wear. Check whether the fabric is in its original condition, with no tears, runs, or weakened and worn patches. For example, there should be no evidence of pilling or thinly worn areas on cotton dresses. Similarly, satin should appear lustrous, not greasy from repeated wear. In addition, check for stretched fabric. If the dress was a little too small for the previous owner, stretched fabric may cause unsightly bulges.
Hems and Seams
Hems and seams are prone to damage. Make sure that all seams are intact and none are pulling apart. Check the hems for damage or missing stitching. This is especially important when buying dresses with long skirts as these are often damaged by being stepped on while wearing high-heeled shoes.
Stains
Check the back and the front of the dress for stains. Some marks may be removable with dry cleaning or washing, but this is never guaranteed. Whenever possible, opt for dresses that are recently dry cleaned.
Zips and Fasteners
Check zips and fasteners for damage. Buttons should be in place or replacement buttons should be readily available. If the buttons add detail to the dress it is important to replace missing buttons with identical buttons. Zips should be in working condition, opening and closing smoothly without snagging. Where the zip is damaged and easy to replace, point the damage out to the seller and ask whether this has been taken into account.
How to Buy Trendy Dresses on eBay
Buyers can find affordable trendy dresses at retailers such as eBay without having to compromise quality for price. Depending on the type of trendy dress you are looking for, what function you will be wearing it for, and the condition you want it to be in, buyers will find a huge selection at eBay's online marketplace. To shop for affordable trendy dresses on eBay, simply go to any eBay page, and enter any related key terms into the search bar.
Before finalising any purchase on eBay, make sure that you are satisfied with what you are reading in the item description. Although there may seem to be an overwhelming variety, it is more than possible to find the perfect affordable trendy dress with just a little research.