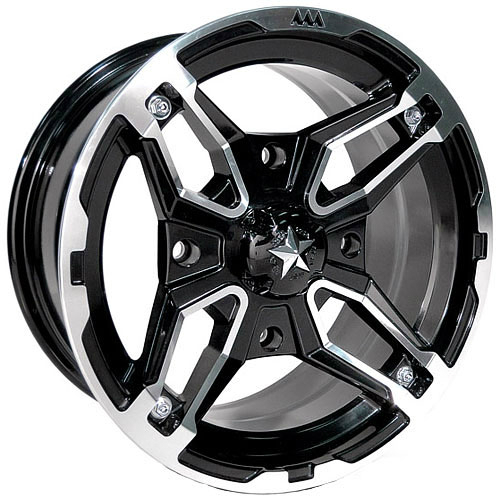 Manufacturers produce alloy motorbike wheels from an alloy of aluminium or magnesium. Both aluminium and magnesium alloy motorbike wheels provide better heat conduction and aesthetics than pure steel wheels. Alloy wheels are also lighter, while providing riders with the same durability as steel motorbike wheels. Lighter motorcycle wheels typically improve bike handling by reducing the unsprung mass. Alloy motorbike wheels reduce fuel consumption and improve brake performance under the most demanding driving conditions. Before motorbike owners purchase alloy wheels, they should first learn about the types of motorbike alloy wheels, and then follow a few tips to ensure that they find the right pair of alloy wheels.
Types of Alloy Motorbike Wheels
Solid and spoke wheels comprise the two primary motorbike wheel categories. Solid wheels cast the rim and spokes as one unit, while spoke wheels possess laced spokes. Spokes augment wheel strength, especially when manufacturers construct spoke wheels with one of the types of alloy.
Aluminium
Considered the stock alloy wheel for a large number of motorbike models, aluminium alloy motorbike wheels derive from a solid block of aluminium. Manufacturers can apply a chrome or polish finish to aluminium alloy to present more sheen. Aluminium alloy wheels can cost much more than magnesium or carbon fibre alloy motorbike wheels.
Magnesium
Motorbike owners who often ride their bikes around sharp curves and through winding roads tend to choose magnesium alloy wheels. Magnesium alloy provides more flexibility by absorbing the impact of sharp angle turns. Off-road bikers particularly favour magnesium alloy motorbike wheels for their combination of strength and flexibility.
Carbon Fibre
Carbon fibre possesses the highest strength to weight ratio of the motorbike alloy wheels. The lightweight material provides the best fuel mileage, which is an important benefit for cross-country motorbiking. As the most expensive alloy wheel, carbon fibre is the preferred wheel for professional road and off-road racers.
Alloy Motorbike Wheel Buying Factors
Manufacturers construct alloy motorbike wheels to withstand constant pounding and the impact of harsh weather elements, such as rain, ice, and wind. Most motorbike owners do not have to replace one or both wheels until most of the other original motorbike parts have lost their functionality. However, the day inevitably arrives when motorcyclists must choose a replacement motorbike wheel. Since alloy wheels can put a significant dent in a motorcycle owner's budget, it is important to consider a few buying factors before making a purchasing decision.
Condition
The high cost of alloy motorbike wheels may prompt some motorbike owners to consider buying used alloy wheels. Although used alloy wheels save motorbike owners money, the flip side of buying used wheels involves a degradation of quality. Used aluminium or magnesium alloy motorbike wheels are more susceptible to corrosion from harsh weather. Since motorbike wheels ensure rider safety, owners spend more money on new wheels . If other replacement parts are still relatively new, splurge on the motorbike alloy wheel purchase.
OEM vs. Aftermarket
Since alloy motorbike wheels constitute one of the more important motorbike parts, the urge may be to only consider replacing an alloy wheel with one constructed by the original equipment manufacturer (OEM). Yet, if the wheel size perfectly matches the dimensions of the motorbike, then motorbike owners can expand the number of alloy wheel options by searching for aftermarket alloy wheels. Virtually every major motorbike manufacturer produces a high-quality and durable alloy motorbike wheel.
Correct Wheel Size
The replacement alloy wheel must fit exactly onto the motorbike, down to the last millimetre. This means motorbike owners should take their bikes into a motorbike specialist to receive an accurate measurement of the wheel space. Wheel sizes include three measurements that motorbike owners can find on the side of wheels. The first measurement indicates the width of the wheel from one side to the other side. The second number denotes the ratio between the height of the wheel and the width of the wheel. Both the first and second numbers represent millimetre measurements. The third number measures the diameter of the wheel in inches. Alloy wheels that are too large cause dangerous friction and alloy wheels that are too small tend to cause the bike to lose balance.
How to Buy Alloy Wheels for Your Motorbike on eBay
eBay provides a powerful search engine that is easy to use. Simply type product-related keywords into the search engine, and then review the results to reduce the number of seller candidates. For alloy wheels, you can search by brand, such asKawasaki or Honda. You can also search for sellers who live in Australia to shorten the delivery times. Once you reduce your list to a few potential sellers, review the information each seller presents on their product pages. Aside from the enlarged photograph, you can also review accepted payment methods and delivery terms. eBay presents customer feedback on seller product pages to help you find sellers who have established strong reputations for selling quality motorbike parts and accessories.