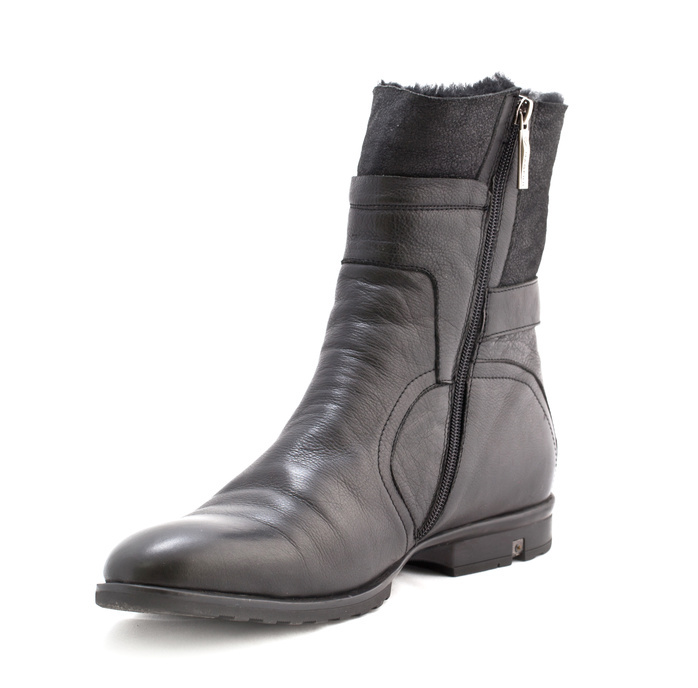 One's feet require love and attention, and shoes are worn to protect feet from the terrain being walked upon, as well as to keep them warm. Alongside this, they are often a fashion statement in their own right.
Men's boots are no exception to the rule. Buying ill fitted boots can lead to discomfort and in some circumstances injury. So how does one find a pair of comfortable boots that are practical and that look good?
eBay offer a wide range of men's boots that are designed to provide the wearer with protection, style, and comfort. This guide will offer an overview on how to buy comfortable boots.
The Different Styles of Men's Boots
The choice available of different styles of boots is extensive. These include but are not limited to:
| | |
| --- | --- |
| Work Boot | Work boots are designed to be practical in the work place. As a result, the aesthetic of the boot is not the main focus. These boots will be durable, have good grip, be sturdy and often have reinforced steel toes, depending on the workplace. |
| Blundstone Boot | Blundstone boots are distinguishable by the elastic ribbing on the ankle. The boot is a slip on design (enabled by the elastic). The blundstone boot came into fashion in the UK around the 1960s (known as Chelsea boot) and has developed since then. It is possible to purchase blundstone boots for both work and social events. |
| Dress Boot | Dress boots are meant to be worn at formal occasions. As a result the focus of the boot is largely on the aesthetic. They are available in myriad colours, designs, and lengths, including laces, slip-ons, and Velcro. As a general rule, avoid dress boots with a heavy sole that is likely to 'clomp' on hard surfaces and opt for a simple design. This will allow the boot to be worn with a variety of different outfits. |
| Combat Boot | Combat boots are essentially fashionable military boots. They have excellent tread, high support, and have a secure lace-up system. The role of a combat boot is indicated in the name and is suitable for bush walking and manual labour. However, in recent years they have also developed into a fashion statement. |
| Chukka Boot | Chukka boots are a boot made out of suede. The use of this material offers a more casual relaxed feel. As a result, the boots are suitable for casual wear. |
Points to Consider When Buying Comfortable Boots
There are few points to take into consideration when looking for a pair of comfortable boots. These are:
· Occasion: What are the boots required for? This answer will narrow down the search considerably. Just like shoes, boots will have their own purpose and it is important to take these functions into consideration.
· Size: Take time to measure one's feet properly to ensure that the correct size boot is purchased. In addition, remember to address the width of one's feet. Different boots will be more suitable for narrow feet or wide feet depending on the wearer's requirements.

Most shoe shops will offer a measuring service. It is also possible to measure the foot by standing on a piece of paper and drawing around the outside of the foot. This cut out of the foot is also sufficed to measure the length and width. Apply the measurements to a sizing chart to provide a starting point. Be aware that different boots may work to a slightly different sizing chart.
· Material: The type of material will indicate towards the quality of shoe. A softer more supple material will ultimately be more comfortable than a cheaper synthetic fabric. Be sure to note that materials like leather will require some 'wearing in' before they are comfortable.
· Comfort: It is important to know that different boots will offer different features and vary in comfort. Look to see if the boot offers any features, such as additional padding or arch support. These will all assist with the comfort of the fit. Do take advantage of a fitting. Take time to walk around in the shoe before making the purchase.
Buying Considerations for Comfortable Boots
With most purchases of any goods, there will be other factors to take into consideration before purchase. These include:
· Brand: Different brands will offer varying degrees of quality. As a general rule, the fit of a shoe is transferable to other designs by the same brand. As a result, some shopper's stick to what they know. Take time to research brands and to find out what their specialist product is.
· Cost: The material will largely determine the cost of the boot. For example, genuine leather is likely to be more expensive but will indicate a quality product. It is important to take this into consideration when setting one's budget. If purchasing off eBay, ensure to include packaging and postage into the budget.
· Quality. The quality of the product points directly to the life expectancy of the boots. Often extending one's budget to allow room to buy a better quality product will save money in the future.
How to Purchase Comfortable Boots on eBay
eBay is an excellent site that allows the shopper to locate and browse hundreds of products very quickly. The range of different boots is extensive. Alongside this, it is a safe and secure site. Use the following points to assist with shopping on eBay:
· Search: The first step is to conduct a search. Using the keyword search bar or advance search by entering broad search terms or exact products can do this. If a search of this nature is not appealing, it is possible to browse directly using the categories.
· Product: Once a product has been identified, the next step is to vet its suitability. Reading the description and photo posted by the seller can do this. Be sure to ask the seller for additional information if required. This process will ensure that the product is exactly what is required.
· Refund and Exchange: Given the importance it is to fit the boots correctly for optimum comfort and wear, it is best to address the seller's refund policy. Most sellers on eBay are customer service focused and want the buyer to be happy. This will be reflected in their policy.
· Money Exchange: eBay offer a number of different ways to exchange money for products. This process is the same as if in a shop and can be done by using debit cards or credit cards. UsingPayPal can also complete it the transaction. PayPal are a secure third party company set in place to facilitate the exchange.
· eBay Deals: Alongside eBay, eBay deals offer different deals. Do check out the site to see if there is anything suitable. eBay deals will also offer free postage.
· Additional information: If further information is required, visit Buyer Tips. This page will answer frequently asked questions and provide further insight into the above.
Conclusion
Wearing comfortable boots should not be a dream but a reality. Given the abuse shoes take over their lifetime, it is important to find quality boots to protect and support a shopper's feet.
eBay's extensive range of quality, comfortable boots is varied – there will be something there to suit every budget and taste. Not only that, the sheer range of other products on the site means that one can shop for other items at the same time.