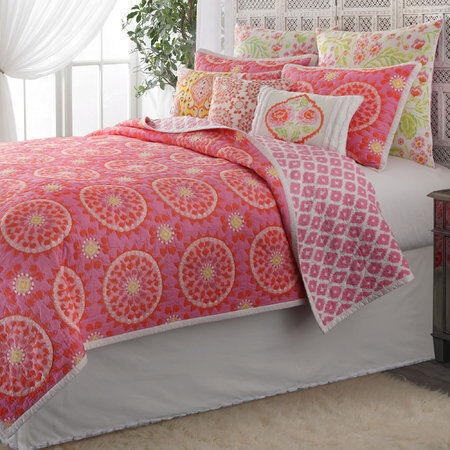 Many people use quilt covers, not just for the practical reason of providing their quilts with some protection, but also because quilt covers help to bring variation into the bedroom every now and again. Cotton blend quilt covers offer users many benefits over other materials like cotton, silk, and others. This is probably why such covers find a number of takers.
Visiting brick-and-mortar shops that sell bedding supplies is one way to find suitable cotton blend quilt covers, although online portals, like eBay, tend to give buyers more alternatives to from which to choose. In any case, buyers should learn about the different kinds of cotton blends on offer and also pay attention to aspects like thread count, sizing, and design.
Cotton Blends
Fibres of different fabrics, silk and linen, for example, can be woven together to make blended fabric. Cotton fibres, blended with a number of different fabric fibres, both natural and synthetic, produce different types of cotton blends, and this blending can help lower fabric costs. Cotton fibres blend with fibres of other materials, like polyester, spandex, rayon, and linen; moreover, when it comes to cotton blend quilt covers, cotton polyester blend quilt covers and cotton linen blend quilt covers are not difficult to find. Some manufacturers use formaldehyde, as this helps to produce cotton quilt covers that do not require too much in the form of maintenance or care.
Cotton Polyester Blend Quilt Covers
Cotton polyester blend quilt covers benefit from the fact that polyester fibres are crease-resistant. Cotton polyester blend quilt covers are also typically warmer than those made with just cotton. Buyers need to bear in mind that different cotton blend fabrics come with variable blend ratios. While a 35 to 65 per cent cotton to polyester ratio is common, buyers can find cotton polyester ratios from 20 to 80 per cent and those that reach a 50 to 50 per cent ratio. The higher the cotton content, the softer the fabric is.
Cotton Linen Blend Quilt Covers
Linen, unlike polyester, is a natural fabric and is famous for the coolness it provides during summers. In addition, linen, a material that can be soft, is considerably stronger than cotton, which helps to make linen cotton blends stronger than cotton. Cotton linen blend quilt covers tend to come with a 45 to 55 per cent cotton linen ratio. Buyers can even find quilt covers that use Egyptian cotton and Italian linen blends.
Comparing Cotton and Cotton Blends
uilt covers that use 100 per cent cotton can shrink when washed, which is something that buyers do not have to worry about when buying cotton polyester blend quilt covers. In addition, when the percentage of cotton is higher, the blended fabric retains many of cotton's beneficial properties, like good breathability and absorption as well as its ability to remain cool. Cotton polyester blends are durable and versatile, retain colour and shape longer, and they can feel lighter and softer, although they are not as breathable as 100 per cent cotton.
While cotton polyester blend quilt covers come with many benefits, people who suffer from allergies should use quilt covers made using natural fibres, like cotton and linen.
Thread Count
Paying attention to thread count when buying cotton blend quilt covers is helpful because of the variation on offer. Thread count, in essence, refers to the actual number of threads found in a square inch of any given fabric, which include horizontal wefts as well as vertical warps. However, buyers need to take into account that certain manufacturers increase thread count by adding extra weft threads. While this helps to increase the overall count of certain fabrics, this is essentially to increase thread count to unrealistic levels, while providing no actual benefit. When it comes to buying cotton blend quilt covers, thread counts of 250 to 300 are good starting points, and thread counts of 450 to 500 offer the better alternatives. Higher thread count essentially translates into softer, but more expensive, fabric.
Quilt Cover Sizing
Quilt covers come in different sizes, as do quilts. This is no different when it comes to cotton blend quilt covers. The table below helps to illustrate the different quilt cover sizes from which buyers can choose.
| | |
| --- | --- |
| Quilt Cover Size | Measurements (cm) |
| | 140 x 210 |
| Double | 180 x 210 |
| Queen | 210 x 210 |
| King | 240 x 210 |
Paying attention to size is crucial because ending up with a quilt cover of the wrong size can result in its going to waste. In addition to the sizes mentioned above, buyers can find quilt covers in cot and three-quarter sizes as well.
Design Alternatives
Buyers looking for cotton blend quilt covers have numerous designs alternatives. Quite like regular cotton quilt covers, cotton blend quilt covers can be plain, floral, striped, or with different prints. In addition to prints, buyers can find cotton blend quilt covers that incorporate embroidery in various forms. It is these factors that give buyers the ability to look for cotton blend quilt covers in accordance to their bedrooms' existing decor.
How to Buy Cotton Blend Quilt Covers
eBay, with its range of bedding deals, gives buyers various cotton blend quilt cover alternatives to search through. Buyers can use this platform to find all kinds of cotton blend quilt covers, be it cotton polyester or cotton linen, and most of the design alternatives on offer come in different sizes. eBay buyers also have the option to look through what its top-rated sellers have to offer and some eBay sellers gives buyers the ability to receive free delivery in some cases.
Buyers looking to save some money also have the option to look for used cotton blend quilt covers when shopping through this platform, although a buyer, in such a scenario, should pay attention to the given quilt cover's condition.