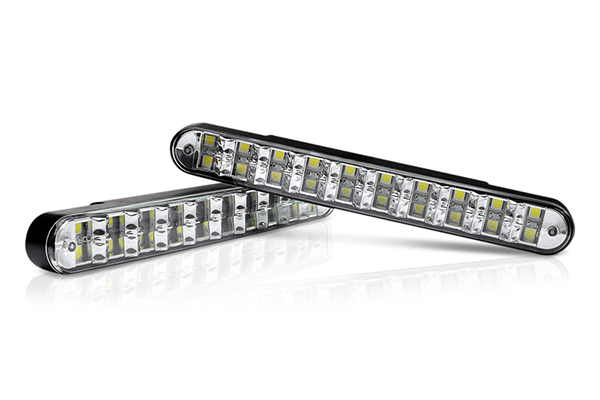 Numerous studies conducted since the 1970s indicate that day running lamps improve safety and reduce vehicle accidents by a significant margin. Although many older model vehicles on the road today are not equipped with day running lamps from the factory, installing a day running LED lighting kit can help avoid accidents. LED day running lights have significant advantages over standard lighting in terms of visibility, longevity, and overall power consumption. There is a wide assortment of LED lighting kits available, ensuring that LED day running lamps are available for nearly any vehicle, regardless of how old it is.
Advantages of LED Lights
LED lights in general offer several advantages over their incandescent counterparts. Once consumers understand the overall benefit of installing LED day running lamps on vehicles, it makes the purchase decision an easy one.
Visibility
LED stands for light-emitting diode, which is a small lamp that produces light that is much brighter than that of an incandescent bulb proportionally. Since LED lamps are small, many of them must be grouped together to be effective, but the lamps emit light in only one direction so they produce a more effective light stream than standard lighting sources. The LED light stream is also brighter and clearer than standard lighting, which helps them to stand out better, especially in situations where visibility is reduced.
Longevity
LED lights do not rely on heat to produce light. Unlike incandescent bulbs, which rely on a thin burning wire filament, LED lamps are a semiconductor light source that utilise electrons to produce photons that emit light. This process does not rely on moving parts, which means there are very few elements of the lamp that can fail. This helps ensure a longer service life than standard light bulbs and makes LED lighting more practical over the long term.
Efficiency
LED lights require less energy to produce a higher level of lumens proportionally to other types of lighting. LED lights also focus light in one direction rather than allow it to disperse in all directions, which is a more efficient use of energy and means smaller bulbs together can produce more light than a single larger bulb while using less energy. This equates to more light production using less power.
Durability
One of the practical aspects of LED day running lamps is their durability. LED lamps have very few separate internal components sealed together in a durable epoxy lens, which has the effect of making the LED one simple component. The epoxy lens makes the LED lamp resistant to moisture and damage from debris that can impact the unit while driving. The connecting posts at the base of the LED lamp are also encased in the epoxy shell and help to anchor the lamp into its connector, which prevents the internal components from receiving damage from vibration or impact.
Types of Day Running LED Lighting Kits
Several versions of LED day running lights are available, depending on the type of vehicle and where the driver prefers to have them mounted. LED day running lights are resistant to the elements and road debris, unlike incandescent bulbs, which makes them an ideal addition to a vehicle's running light system. Deciding which type of LED day running light kit to purchase depends on the type of vehicle and where it is mounted. Round LED running lights look and operate well when mounted in place of existing fog lamps in the front cap of the vehicle. Placing strip and grill lights just above or below the headlamps is common. One can also place them on a grill space in the centre of the front end or below the bumper line where the intake grills are.
Fog Lights
Fog lights mount in precut spaces on the underside of front bumper covers. They also mount on the bottom of the front bumper. They come in different shapes and designs and are the larger and brighter of all day running lamps.
Strip Lights
LED running light strips are long and slender in shape and are useful for mounting above or below headlamp assemblies or gaps in the front portion of the vehicle. They are ideal on straight edges of vehicles, such as the underside of bumpers.
Round Lights
Round LED lights are large and capable of producing a great amount of light due to the LED lights grouped close together in a circular pattern. Smaller versions group together side by side for greater light production.
Grill Lights
Grill lights attach to any grill portion on the front end of the vehicle. They mount directly on the grill for wiring ease and feature cornered edges for a more unique appearance.
Combination Lights
These lights combine round LED day running lights with a series of strip lights. They dramatically increase visibility by offering a multiple lighting arrangement, with round lights on the edges and strips in the centre. This creates a brighter display than standard round or strip lights.
How to Buy Day Running LED Lighting Kits on eBay
Once you have decided to install a set of LED day running lights on your vehicle, the next step is to utilise the advanced search tools on eBay to find exactly what you want. From any eBay page, enter a specific keyword, such as " LED day running lights", into the search box on that page. You can search through the list of available listings displayed until you find the exact LED running lights you are looking for. Buyers shopping on eBay enjoy the convenience of having all of the top sellers and products in one location that is easy to navigate. The competition between sellers also ensures great deals for buyers on their running lights.