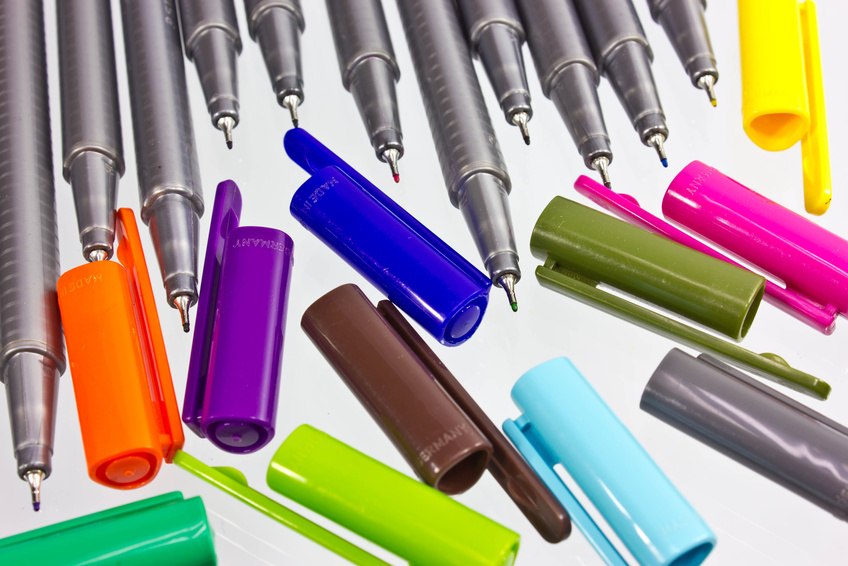 There are many pens available on the market for writers and artists, and one of the most popular is the fibre tip pen. The fibre tip pen's tip is actually made out of fibres (often felt) that are porous and pressed tightly together, and these fibres allow ink to flow out of them for colouring or writing. Fibre tip pens are also often called marking pens or felt-tip pens. Shoppers interested in fibre tip pens can learn more about them and how to select them for purchase below.
Uses for a Fibre Tip Pen
Fibre tip pens can be used for a wide range of projects. Thin-tipped fibre tip pens are often used for regular everyday activities, like letter writing, or for labelling plastic products or home goods. Fibre tip pens with broader tips can be used for art projects as they are able to leave a wide swath of ink on a page; they are a popular choice for children's art classes or colouring book activities.
Benefits of Using a Fibre Tip Pen
There are many benefits of using fibre tip pens. They are often known to improve a person's penmanship because the ink dispenses very close to the page and offers more control than a typical ballpoint or plastic tip pen. They also come in a wide range of colours, which means they are a great choice of implement for creative art projects. Fibre tip pens also dry quickly, which means they are less likely to smear or require time before turning a page or touching a piece of paper they have been used on.
Disadvantages of Using a Fibre Tip Pen
While using a fibre tip pen has many advantages, it also has a few drawbacks. First, it's not possible to change the ink colour of a fibre tip pen. The fibres in the pen are permanently one colour, and thus, the pen is not reusable. Next, a Fibre Tip pen dries up, which means that if not properly stored or kept for a long time, the fibre tip pen becomes unusable. Finally, the fibre tip pen cannot be refilled, even with the original colour ink, so they must be replaced regularly.
Choosing the Right Fibre Tip Pen
Shoppers looking to choose a fibre tip pen can find some important considerations for selection below.
Tip Width
The tips of fibre tip pens vary in size. Fine tip fibre tip pens are useful for drawing thin lines and writing -- which makes them good for everyday use at work or school. Medium tip pens are versatile and can be used both for writing art, interchangeable. Broad fibre tip pens are often hard to write small letters with, but they are useful for creating art projects or writing large characters.
Ink Type
The ink within a fibre tip pen varies by material. Many fibre tip pens have ink made of alcohol, which makes the ink permanent. Less permanent are those made from oil inks. Alcohol and oil-based inks are not meant to be used on paper, but rather harder surfaces like plastic or glass. Pigment ink is an acid-free type of ink that does not bleed through papers, making it a good choice for writing or schoolwork.
Water Resistance
The ink in some fibre tip pens is water resistant, which means that if it is painted or highlighted over, it does not smear. Other fibre tip pens have ink that will smudge if touched by another liquid. Alcohol-based inks tend to be permanent, and thus water-resistant, but many fibre tip pens will be labelled as "water-" or "copic-resistant" if they can be used in conjunction with other liquids or inks.